Grey Gardens, Southwark Playhouse |

reviews, news & interviews
Grey Gardens, Southwark Playhouse
Grey Gardens, Southwark Playhouse
Broadway novelty scores anew in London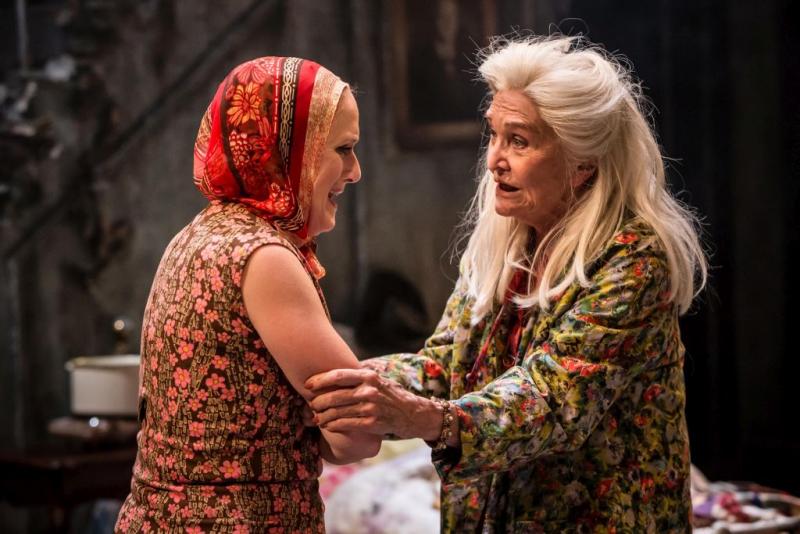 Mother darling: Jenna Russell and Sheila Hancock as Beales daughter and mother in 'Grey Gardens'
One of the more unusual Broadway offerings of recent times crosses the Atlantic with considerable style in an Off West End premiere of 2006 New York entry Grey Gardens that punches well above its weight.
As luxuriantly cast as it is elaborately (and carefully) designed, Thom Southerland's loving production honours a peculiar slab of Americana that clearly won't be to all tastes, and some won't see beyond the second-act camp to locate the symbiotic portrait of love and loss that underpins the material.
But step back from designer Tom Rogers' cunning scrap heap of a set, and you'll find that composer Scott Frankel and his lyricist Michael Korie and book writer Doug Wright have a lot to say about domestic damage in a show that sometimes suggests Gypsy refracted through the distinctive prism of Mommie Dearest. (One of its oft-repeated phrases, indeed, is "mother darling".) And in a more mainstream show, Jenna Russell's performance would take the town much as Imelda Staunton's Momma Rose did last year. (Russell as the second-act "Little" Edie, pictured below)
Sure, "Little" Edie Bouvier Beale and her mother, Edith, exert the prurient fascination that comes with watching any grand family in freefall, especially when there's the Kennedy connection to up the gawp-worthy stakes: these women, first presented in the Maysles Brothers' era-defining 1975 documentary of the same title, were the cousin and aunt, respectively, of Jackie Kennedy. The latter indeed appears in the show alongside her sister Lee as an energetic child who gets shooed away when the mother-daughter sniping in her midst begins to build.
The documentary, like a later and very fine Jessica Lange/Drew Barrymore TV film that came out after the stage musical, focuses on the two generations of Beale women within the dilapidated environs of Grey Gardens, the East Hampton manse gone to ruin that they shared with various stray cats, raccoons, and the debris that one might expect from two society women of old who long ago ceased to care what the world made of them. (Interestingly, a revival of the musical this past summer, starring Betty Buckley in the role here taken very ably by Sheila Hancock, was staged at a Long Island venue not far from the actual house.)
The abiding conceit of this version of events is to expand upon the well-chronicled portrait of these ladies in decline with a supposition-heavy first act, set at an engagement party in the same house 32 years earlier, so that we see the women in something resembling their prime – though even there, the claws are out, both subtly and not, between the artful saboteur of a mother and a daughter whose interest in performance clearly riles a mother who harboured ambitions of the same. "Save Puccini for the shower," daughter snaps at mother, though what mum ultimately does is far worse in terms of smothering her child's chance to fly the family nest.
Various commentators have asserted that the first act is either altogether superfluous or merely a set-up for the superior post-interval dynamic, which devotees of the film will recognise has been artfully transposed to the stage, key moments from the women's bickering, brio-laden verbal roundelay preserved intact. In fact, the portrait of a party gone spectacularly sour works very well in its own right and allows in practical terms for Russell to dazzle as both mother in act one and her own daughter in act two – a gift of a dual assignment that Russell bats out of the park with the insouciant abandon that in 2007 won Broadway originator Christine Ebersole her second Tony Award.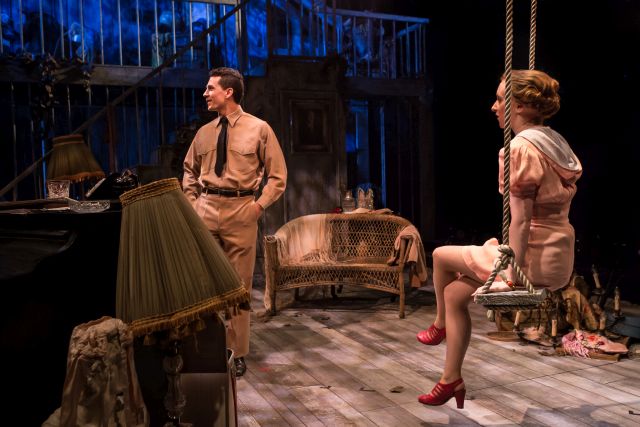 First glimpsed as a diva without a proper audience, Russell morphs in act two into a novelty act who seems to delight no one as much as herself, though the actress has great fun working the Southwark audience, as if we were paying private obeisance to a talent that has been unfairly left to languish. (The first act "Little" Edie is played by a wispy-seeming yet strong-voiced Rachel Anne Rayham, pictured above with Aaron Sidwell as the Kennedy that got away, who has something of the gamine quality of her Broadway predecessor, Erin Davie.)
Russell gets the bulk of a rich and varied score that in the first act neatly fillets several decades of American popular music, from minstrel show-style numbers through to Jerome Kern-worthy trilling and a nod to John Philip Sousa along the way. But the two second-act showstoppers (the much-covered "Another Winter in a Summer Town", preeminently) let this gifted actress let rip, Russell parceling out her talent across differing members of the same family as she did to rending effect some years back as Dot and Marie in Sunday in the Park with George.
Her formidable co-star, Hancock, inhabits the lone part of the Beale matriarch in extremis, presented here as a sharp-tongued, silver-haired harpy who desperately needs the same daughter whom she is quick to deride as a "relic". Ah, families: it was ever thus, right? Except that Grey Gardens' singular achievement is to seem absolutely and bracingly unique.
Jenna Russell gets the bulk of a rich and varied score that in the first act neatly fillets several decades of American popular music
rating
Share this article