P'yongyang, Finborough Theatre |

reviews, news & interviews
P'yongyang, Finborough Theatre
P'yongyang, Finborough Theatre
Confident ensemble work propels new play that attempts to go inside North Korea
Saturday, 16 January 2016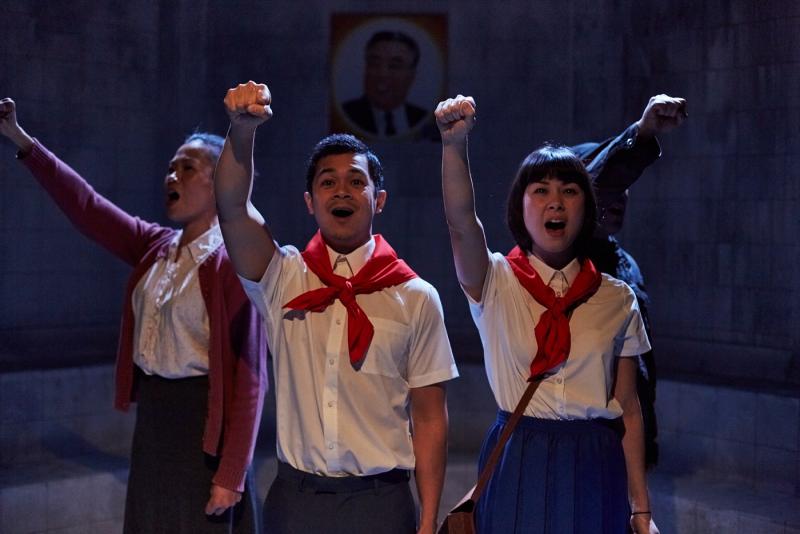 A glimpse of North Korea, 'the country established by the people'
Every incarnation of totalitarianism has its own specific mythology, which exists in different forms as it is believed at home and "translated" abroad (or not, in both cases). North Korea surely occupies a special place in any such hierarchy, possibly because we've entered the late phase of totalitarian statehood (which seems doubtful), or because the incarnations of third generation dynastic Communism have become so peculiar that they stand out even by the standards of the genre.
Either way, it's a risky business when an outsider tries to take us inside such worlds: it can involve a step of suspension of disbelief too far, or risk just recycling the accretions of historical hearsay. Seoul-born, British-raised In-Sook Chappell's new play P'yongyang can't help skirting such issues, but achieves a sincerity in performance which convinces in Chelsea Walker's production: its fine, spare cast of four let the text, uncomplicated in itself but redolent, speak with just the right resonance for the compact space of the Finborough.
They're caught up in the national myth of their homeland
The characterisation of the two main players is established right at the start, only to be subtly rebalanced during the course of the play. We encounter them first aged 15, at the end of the 1980s: Chi Soo (Chris Lew Kum Hoi) is confident, his sense of himself and what he intends to all the more striking for the contrast with the gauche diffidence of Eun Mi (Anna Leong Brophy, pictured below). They're caught up in the national myth of their homeland, "the country established by the people" as the play's opening anthem describes it, and eager, as they audition to go and study performing arts in the glamorously distant P'yongyang, to serve it through the myth factory that is its cinema industry. They know its stars and its stories by heart, as well as the special importance that film has to the "Dear Leader", Kim Jong-il, whose image looks down on proceedings throughout.
But their paths diverge, dictated by the Orwellian division of this young society into three ideological classes – core, wavering and hostile. Chi-Soo is shocked to learn that he belongs to the third category, and his charisma can do nothing to reverse the stigma of being the son of a traitor: his father had fought on the South Korean side during the war, going through re-education camps before being allowed back into society and a gruelling job as a miner. In his willingness to denounce his father as "less than a dog", Chi-Soo has lost track of how he's grown up in a happy, loving family, one which has kept hope and humanity despite its circumstances. Maintaining hope against the odds becomes a recurring theme.
Her shyness overcome, Eun-Mi proceeds along the path of her dreams, making it to the capital and embarking on a career as an actress. But the hint dropped at the beginning of the play, that for women any such induction into the elite involves "attending upon" the leader(s) in their many palaces, gains a bitter truth, as she enters the circle of "The Producer", as the Kim Jong-il character is referred to here. He's laconically caught by Daniel York as a man whose mind may be smaller than his ample forehead, but who's capable of self-irony as he wields his nefarious power.
Eun-Mi has entered a world of city luxury – complete with telephone and French cognac that's pressed on her – but its pleasures are fickle and short-lived. Chi-Soo's world changes in the other direction, as rural areas endure famine. As they struggle to control their own destiny, life reunites and then separates them again, before a final re-encounter is contrived a decade later, in a new world which has brought new disillusionments.
I'm not sure that Chappell's ending – it's as if the action is suddenly switched off – works as a conclusion to her tale of these two characters following their hard-trod road to liberation (literal) and self-knowledge (relative). But the brio of the ensemble playing more than compensates: Brophy and Hoi maintain an almost crystalline honesty throughout their travails, and there's brisk and effective doubling from Lourdes Faberes (as Chi Soo's mother and Eun Mi's companion in big-city decadence), and particularly York as the boy's father, pictured left, and the nation's despot. One surreal moment has Kim lamenting the contrast between the film industry he's done so much to shape, with its Socialist Realist pathos, and the new approach of Lars Von Trier's Dogme movement, going "back to the basics, back to simple storytelling and acting". That may seem an unlikely comparison, and there's artifice of course in the staging, but the freshness of P'yongyang does indeed come through in its simplicity.