The Assassin |

reviews, news & interviews
The Assassin
The Assassin
How not to kill your former fiancé in medieval China
Thursday, 21 January 2016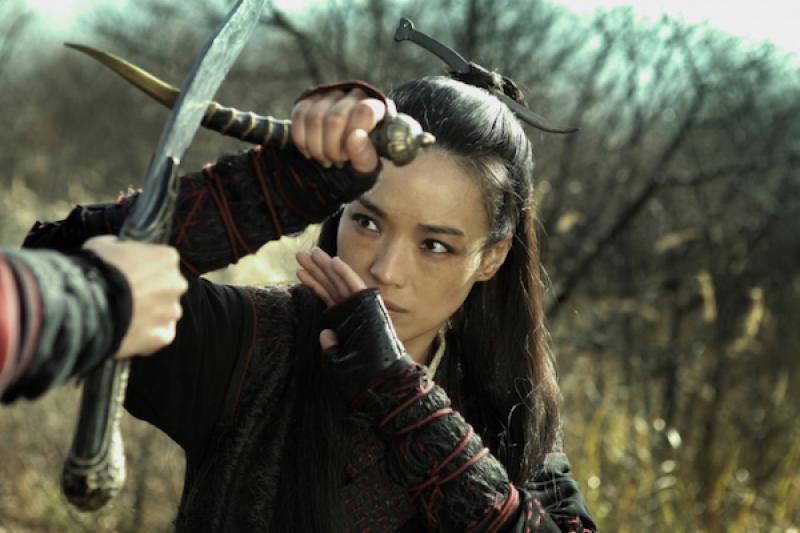 A reluctant angel of death: Shu Qi as Nie Yinniang.
Hou Hsiao-hsien's The Assassin, a film of surpassingly exquisite visual beauty, centres on a deadly hit-woman in ninth-century China who for humanistic or sentimental reasons can't bring herself to kill all her designated victims. That the Taiwanese master Hou dispatches the movie's stylized skirmishes and ambushes bloodlessly, and with uncommon brevity, emphasizes that it wasn't the chance to depict violence that drew him for the first time to the wuxia martial arts genre.
Quentin Tarantino won't be remaking
The Assassin
any time soon.
Lithe, black-clad, and unsmiling, Nie Yinniang (Shu Qi) executes her prey mechanically when she's not being tugged by her heartstrings. She's first seen, in the lustrous black and white prologue, emerging from cover to slit the throat of a mounted commander. She next steals into the chambers of a wealthy dignitary, but decides not to murder him after secretly watching him play with his young son. Jiaxin, the witchy nun-princess who kidnapped her 13 years earlier when she was 10 and trained her to eliminate corrupt officials in northern China, is incensed that her protégée is afflicted with a moral conscience. To teach her a lesson, Jiaxin orders Yinniang to assassinate Tian Ji'an (Chang Chen, pictured below), the military governor of Weibo, the most belligerent of the fortified strongholds threatening the hegemony of the ailing Tang Dynasty (618-907).
If politically justified, the commission is spiteful: Yinniang was once betrothed to Tian, and it's implied her pre-adolescent affection for him didn't evaporate when the engagement, which was arranged by his stepmother, Princess Jiacheng, was called off. Like Jiaxin, Jiacheng (both are played by Sheu Fang-Yi) is formidable; the Emperor's sister, she had married Tian's father to keep the peace between the Imperial Court and Weibo, though one imagines she reported any signs of rebelliousness to her brother. Hou contrasts stealthy matriarchal power with flailing male wrath. Tian rules by fear: he exiles one adviser for his public defeatism and sends archers to the lair of the aged sorcerer whose submersion of a voodoo doll enshrouded Tian's pregnant favourite courtesan(Nikki Hsieh) with poisonous smoke. When Tian confronts his wife (Zhou Yun) for hiring the sorcerer, however, she's so unfazed all he can do is throw things like a spoiled child.
If this seems like too much detail, I've included it because Hou tells the tale elliptically, omitting swathes of exposition and vital information about the characters' relationships. Yet so elaborate is each composition, whether the camera is trained on the actors, landscapes, or dead zones, it's clear Hou didn't create "the world of the film" to serve the narrative; instead, that world is the film.
It's unsurprising, therefore, that the main narrative strand, Yinniang's desultory "quest" to murder Tian, doesn't drive the action, though she continues to enact perfunctorily the duties of a Wuxia knight. She's diverted from her mission by having to save the exiled adviser from being buried alive in a forest, simultaneously rescuing her father, who was escorting him to an outpost. While visiting her wounded father in his farmhouse refuge – her cool deserting her as she reflects sadly on her compromised position – she's challenged by a woman disguised in a mask that might have been forged from the same malignant gold as Mordred's helmet in John Boorman's Excalibur.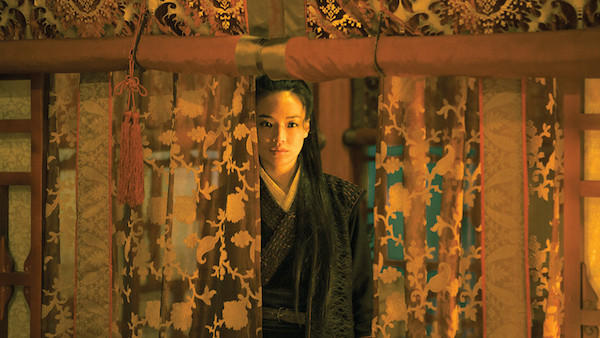 Yinniang (pictured left at Weibo) repels the assailant after discovering she's Jiaxin, her master; more indelible than her unmasked face is the ghostly silver birch grove in which they fought. Yinniang here seems further away than ever from severing Tian's carotid arteries. Hou doesn't deconstruct the wuxia but uses it as a conduit for his realist perfectionism and channelling such tenets of Buddhism as compassion, pacifism, and humility.
The Assassin was adapted from a short story in the chuanqi (prose romance) tradition that Hou had read as a youth. Seven years in the making, it integrates wuxia visual tropes into his own aesthetic while avoiding the lyrical metaphysics of Ang Lee's Crouching Tiger, Hidden Dragon, or packaging them into splendorous global entertainments like Zhang Yimou's Hero and House of Flying Daggers. As painterly as his depiction of 1880s brothel life in Flowers of Shanghai and the 1911 segment of Three Times, The Assassin is not pictorial for pictorialism's sake, but a meticulous evocation of psychological space. (Pictured below: Nikki Hsieh as the hexed courtesan.)
Cinematographer Mark Lee Ping Bin's use of the confining, square-ish Academy aspect ratio (for all but one sequence) renders the sumptuous, amber interiors claustrophobic; his angled panning shots insinuatingly ratchet up the tension. Wafting clustered curtains become screens for spying and eavesdropping.The juxtaposition of dark and light colours in the silks and brocades of the opulent clothes can indicate inner turmoil or, when clashing with a backdrop, a character's alienation, notably Yinniang's as a returnee to Weibo. Wisps of candle smoke and the small drifting clouds that issue from braziers suggest obfuscation in an elite society where saying what you think isn't the rule. In a film of mostly muted exchanges and sparse dialogue – Yinniang barely speaks – a hawkish aide-de-camp's shrill expostulation scythes through the Weibo politesse.
If Yinniang is sometimes distressed by her predicament, Hou allows her to recover her equanimity. Lee's trademark long shots show mountain passes and rocky promontories that mock through their permanence and implacability the trite human project. Interspersed with birdsong or a Weibo lady singer's cryptic lament, such delicate ambient music as there is in The Assassin underscores the serenity that virtuous warriors in myths and Westerns apparently feel when, as does Yinniang, they ride away from other people's obsessive struggles for power.