DVD: Carol |

reviews, news & interviews
DVD: Carol
DVD: Carol
Despite not winning any Oscars, Todd Haynes's Fifties drama is a masterpiece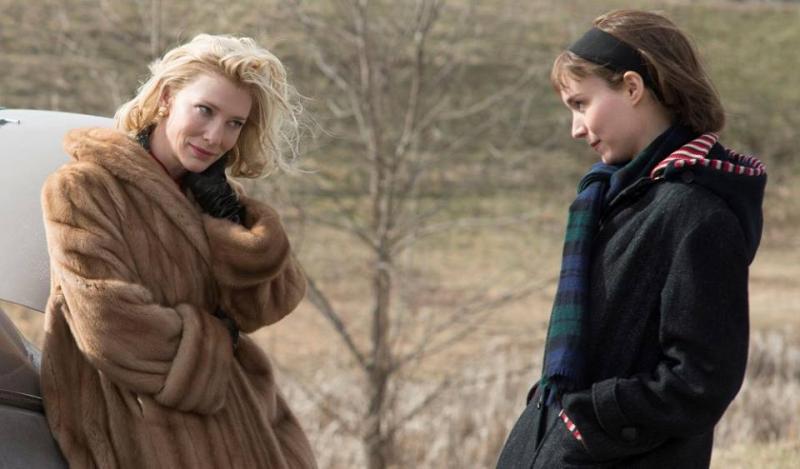 Love in a cold climate: Cate Blanchett and Rooney Mara
I hope Todd Haynes isn't consumed with bitterness about the way Carol was ignored at the Oscars – mind you, a world where the dreary Spotlight can get Best Film probably isn't one he misses much – but the discerning filmgoer can be in little doubt that this is a masterpiece.
A lesbian love story derived from Patricia Highsmith's novel
The Price of Salt
, it's as poignant and haunting an exploration of the ways of the human heart as you could hope to find, graced with central performances by Cate Blanchett and Rooney Mara which are as brilliant as they're dissimilar.
As Carol Aird, a fashion-plate upscale beauty embroiled in an imploding marriage with the resentful and incomprehending Harge (fine if thankless work from Kyle Chandler), Blanchett skilfully projects the restlessness and yearning behind her impeccably-styled cat-like facade. Meanwhile Rooney Mara, as Therese Belivet, makes the long march from timid 1950s Manhattan shop girl beset by gawky, gormless boyfriends to the heady heights of womanly self-knowledge, her mind and emotions fired by the transgressiveness of her relationship with Carol.
But, as soundtrack-composer Carter Burwell notes in the excellent interviews bundled with this DVD release, this was a team effort where, for once, everybody was aiming unerringly towards the same outcome. Burwell's plaintive music lends an aura of ambiguous bittersweetness. It blends with wonderfully immersive production design and Ed Lachman's fastidious cinematography – shot on Super16 for a grainy, nostalgic texture ­– to swirl us back to the post-World War Two era when the United States shivered in Cold War paranoia and malignant McCarthyism and couldn't yet conceive of the let-it-all-hang-out Sixties.
Since contemporary Manhattan bears no resemblance to its early-Fifties self, the crew went to Cincinatti instead, where the skyline and streetscapes are uncannily reminiscent of old New York. Scenes where Carol first meets Therese in a department store festooned in Christmas finery slyly tap into any number of much-loved Hollywood classics, and shots of period cars cruising the wintry streets feel as if they've been retrieved from a 60-year-old time capsule. What will never date is Haynes's portrayal of the euphoric-to-tragic mood plunges of a clandestine love affair, which is what gives Carol its pulsating narrative drive.