The Club
The Club
Chile's past accompanied by opaque religious elements perplexes, troubles
Darkness visible: secrets remain concealed in 'The Club'
The Chilean director Pablo Larrain completed his loose trilogy about his country confronting the legacy of its Pinochet years four years ago with No. Striking a distinctly upbeat note after the two films that had preceded it, Tony Romero and Post Mortem, its title came from the unexpected referendum result that deprived the dictator of an anticipated extension of his mandate, and was seen through the story of the advertising men behind that epoch-changing vote.
But new times do not bring new morals. His new film The Club (El Club), which took the Grand Jury Prize at last year's Berlinale, may not refer to that past context directly, but its story of attempts to escape the consequences of the past – and how influential power structures encourage such "forgetting" of history – chimes closely. The structure concerned here is the Catholic Church, and the secrets it has chosen to sweep under the carpet rather than confront are embodied in four priests sent to live out the rest of their days in a remote coastal town, their transgressions concealed from society beneath an apparently benign exterior which is almost that of rest home.
The atmosphere is as murky as the overcast weather that dominates
It's an illusion in which Larrain makes viewers initially complicit: we see the details of their everyday life, their timetable set by the attendant Sister Monica (Antonia Zegers) based around meals much more than worship. Any nominal direction of prayer and penitence hardly seems consistent with the real interest of this loose titular entity, which is the success of their racing greyhound. Because the priests' interactions with local people are restricted, they watch it race from a distance (pictured below), while the nun, who has left her own orders for equally unexplained reasons, represents them in the secular world, one in which they're accumulating a healthy pot of prize money; there's even talk of how to enter the dog for the national championships.
This routine is broken abruptly by the arrival of another, still dog-collared priest, his presence in this hideaway immediately discovered by an unkempt drifter who appears outside their house, shouting a graphically outlined litany of the sexual abuse perpetrated against him as a child by this new guest. Discovery, we realise, is something that the existing occupants, Fathers Vidal (Alfredo Castro), Silva (Jaime Vadell), Ortega (Alejandro Goic) and Ramirez (Alejandro Sieveking), have long anticipated: they've kept a gun hidden away for such an eventuality, and guilt claims its first casualty.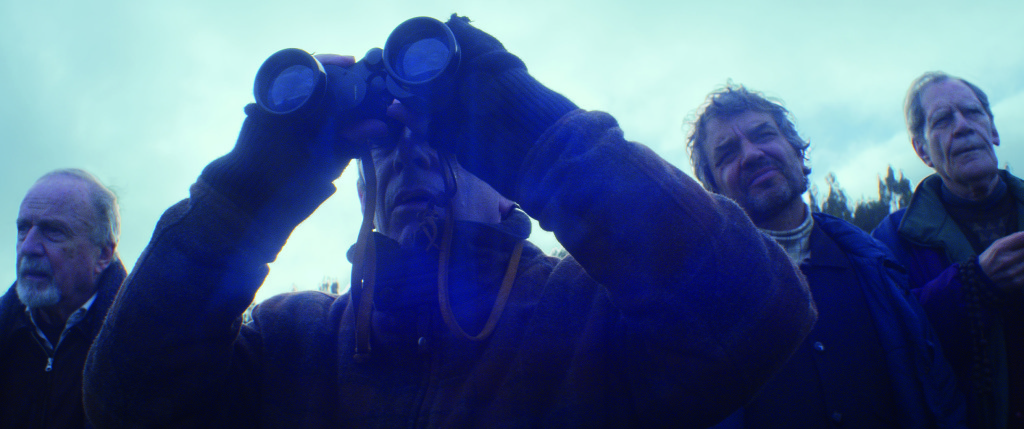 That act of violence precipitates the appearance of Father Garcia (Marcelo Alonso), a Jesuit with a brief to investigate what has happened, and very possibly close down this tainted dwelling. His attempts to discover the truth are met with determined concealment, as the original four stick to their own rehearsed version of events, abetted, even encouraged by Sister Monica, who's clearly as attached to maintaining the status quo as any of her nominal charges.
Paedophilia is the extreme of the crimes here, and in the case of the complicated Father Vidal, he's assembled over the years his own precarious web of quasi-justifications, but it's not the only transgression: The Club is far more than a reverse perspectve on Spotlight. Through his past as a military chaplain Silva has accumulated the confessional secrets of army high-ups including their complicity in mass murder, while Ortega would remove newborn babies from indigent mothers to reward well-to-do but childless parents; Ramirez's senility has masked whatever sent him there in the first place, his misdemeanours lost in a fog of memory.
However, The Club charts no simple attempt to separate light from darkness, referred to in the film's opening screen quotation from the Book of Genesis. Rather, it becomes entangled in a strange conflict-cum-discourse that develops, especially between the zealous Garcia and Vidal; the actor playing the latter, Alfredo Castro, is the director's closest past collaborator, one well accustomed to Larrain's landscapes of moral equivalence. That performance is powerfully matched by Antonia Zegers (Larrain's wife, another long term presence in his films, pictured above) in the most ambiguous role of all here, mustering her considerable powers to engineer a cunning attempt to get rid of the accuser, involving brutal violence that doesn't hesitate to destroy the thing which is dearest of all to this club.
The atmosphere is as murky as the overcast weather that dominates, its sense of claustrophobia belying the open seascapes which provide a backdrop (cinematographer Sergio Armstrong gives them a cold, almost reluctant widescreen beauty). Larrain provides no easy answers, not least because he accompanies all of this with a soundscape that hints somehow at a true spirituality that exists on a very different level from what takes place before us. It's assembled by composer Carlos Cabezas, and draws particularly strongly on string sounds: Bach and Britten are there early on, but the main musical presence – querulous, insistent, damagingly beautiful – is that of the great Estonian composer Arvo Pärt.
The Club is troubling on every level, the apparent reconciliation of its conclusion – rendered in, and reflected by, acts of religion that can't help articulating spiritual purpose even when the context in which they appear is corrupted – as much driven by compromise as by the resolving will of any higher power, either secular (in the sense of righting the world) or sacred (in forgiving it). No easy Easter film of new beginnings, this: the troubled past of Larrain's Chile looks set to endure a long time yet, the darkness as visible here as in any of the director's films to date.
The darkness is as visible here as in any of the director's films to date
rating
Explore topics
Share this article