The Man Who Knew Infinity |

reviews, news & interviews
The Man Who Knew Infinity
The Man Who Knew Infinity
Cambridge maths drama starring Dev Patel and Jeremy Irons settles for filmmaking by numbers
Infinite wisdom: Jeremy Irons and Dev Patel in `The Man Who Knew Infinity'
The extraordinary workings of an unusual mind are reduced to TV-movie proportions in The Man Who Knew Infinity, the latest and least re-telling of the too-short life of the self-taught Indian mathematician, Srinivasa Ramanujan, whose tale has previously been told in novel form (David Leavitt's The Indian Clerk) and as an Olivier Award-winning play (A Disappearing Number).
Now along comes American writer-director Matthew Brown with a tentative take on the intriguingly knotted story of the Madras-born Ramanujan (played this time out by Dev Patel) and the eventual acclaim and renown that he achieved against the odds under the tutelage of GH Hardy (Jeremy Irons) at Trinity College, Cambridge.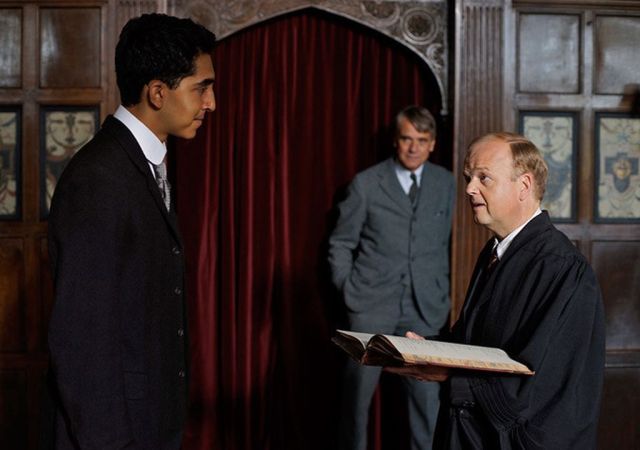 That Ramanujan died ridiculously young (in 1920 at age 32) only amplifies the inherent drama that sets the Indian prodigy's numerical skill against the awakening to emotional awareness of the – you guessed it – repressed Hardy, who as written here could as well be a stand-in for the CS Lewis presented on stage and screen in Shadowlands: another mighty British intellect who required an outsider (in that instance, his American wife Joy) to understand what Hardy is quick to describe as "matters of the heart".
Mental agility is in vogue these days following the success of films like The Theory of Everything, which is in itself no bad thing and makes one wish that Brown wasn't so dully explicit in laying out of the scenario alongside his chosen themes.
You can pretty well intuit that Ramanujan will leave behind an (arranged) Indian bride (Devika Bhise), trading in domesticity for the patronising climes he encounters at Cambridge. That cultural divide in turn allows for a veritable roll call of fine British thesps on hand to sneer on cue, Anthony Calf perhaps the most egregiously disdainful of them all, though Malcolm Sinclair has a snappish scene at the start.
Toby Jones (pictured above right with Patel and Irons) proffers kindness as well as a fellow brainiac with whom Hardy can collaborate on the the topic of twin primes, while a name-heavy supporting cast ropes in Stephen Fry, the late Richard Johnson in his last screen appearance, and the nowadays insufficiently seen Jeremy Northam, who on this evidence has apparently spent a lot of time of late growing a moustache.
His head faster than any abacus, Ramanujan grows in his colleagues' estimation even as he declines in health, his rapport with Hardy deepening all the while to the point that the two men are soon debating who owes more to whom. Irons (pictured above left), several decades too old for the part though he is, knows this sort of role well and brings familiar flashes of empathy to lessen the English chill, and Patel's innately open-faced charm helps deflect lines like "I was told you love numbers more than people", to quote a charge leveled in his direction by his bride-to-be. The two leads' easy and engaging rapport is the film's greatest strength.
Elsewhere, those wanting to match wits may feel shortchanged by a screenplay that barely nods in the direction of the Beautiful Mind territory of mathematical formulae onscreen, though I liked the comparison of maths to colours that you cannot see. In fact, a bit less overexplicitness might have amplified the fundamental mystery that underlies genius of any sort, not to mention the relationship between Hardy and a junior colleague who before long is displaying the sort of unsurpassable gifts that so literal-minded a venture barely begins to comprehend.
Overleaf: watch the trailer to The Man Who Knew Infinity
One wishes writer-director Matthew Brown weren't so dully explicit in laying out the scenario alongside his chosen themes
rating
Explore topics
Share this article