The Winter's Tale, Royal Ballet |

reviews, news & interviews
The Winter's Tale, Royal Ballet
The Winter's Tale, Royal Ballet
Full Shakespearean breadth, if not depth, in effective revival
Lauren Cuthbertson's Hermione in the court scene
It was twelfth night for Christopher Wheeldon's two-year-old, three-act Shakespearean ballet, and this newcomer had one nervous anticipatory question.
The verbal music is gone, only the plot remains, so could
A Winter's Tale
the play inspire Wheeldon to imaginative heights in the way that
Romeo and Juliet
brought out the best in MacMillan, via Prokofiev? Almost, which is quite a compliment: the same team that brought us
Alice's Adventures in Wonderland
have pulled off a neat show, and Wheeldon is again working with five of the top dancers he knows best.
Perhaps a play with less magical poetry, like the only-partly-by-Shakespeare Pericles, would have been more friendly to conventional choreography. But in fact this Winter's Tale has a strong balletic structure with its own special flavour: a dark, dramatic first act, the second with its pastoral rebirth coming closest to entertaining divertissement, the last offering the redemption of romance. Two relatively weak finales dominated by clever silk effects and video projections at least have the virtue of symmetry in ship journeys to and from Bohemia.
Act One belongs to Edward Watson's Leontes (pictured right), with terror in his splayed fingers launching an instant portrayal of mental illness expressed in stylised physicality: more than shades of Mayerling's Crown Prince Rudolf in a character who seems to be on the verge of a Kafka metamorphosis. I well remember Irek Mukhamedov only able to convey the jealousy of Kim Brandstrup's Othello in moments, suggesting that ballet is incapable of fluid psychological development. But the torment of Shakespeare's Leontes is more one-dimensional than that of his Othello, and Watson certainly sustains it.
The women also make their mark. Zenaida Yanowsky strikes the right note of authoritative sympathy as nurse Paulina; after the second interval, she dominates both Leontes and the Third Act with the most remarkable gestures of the evening. Lauren Cuthbertson's Hermione only has to mix regal dignity with anguish, but she does it beautifully, the trial scene almost touching depths not reached elsewhere. Sarah Lamb's Perdita in Act Two is her mother's daughter, almost too aristocratic to be taken for a shepherdess; the real fun comes from the Peter Pan of the ballet world Steven McRae as her Florizel, still able in his mid-thirties to project teen spirit. Their various Pas de deux have enough sweet originality to fire up, weaving in and out of ensemble dances (pictured below) which mirror the Balkan influences of the onstage band figuring in all three acts. All five musicians deserve a special credit, absent from the programme.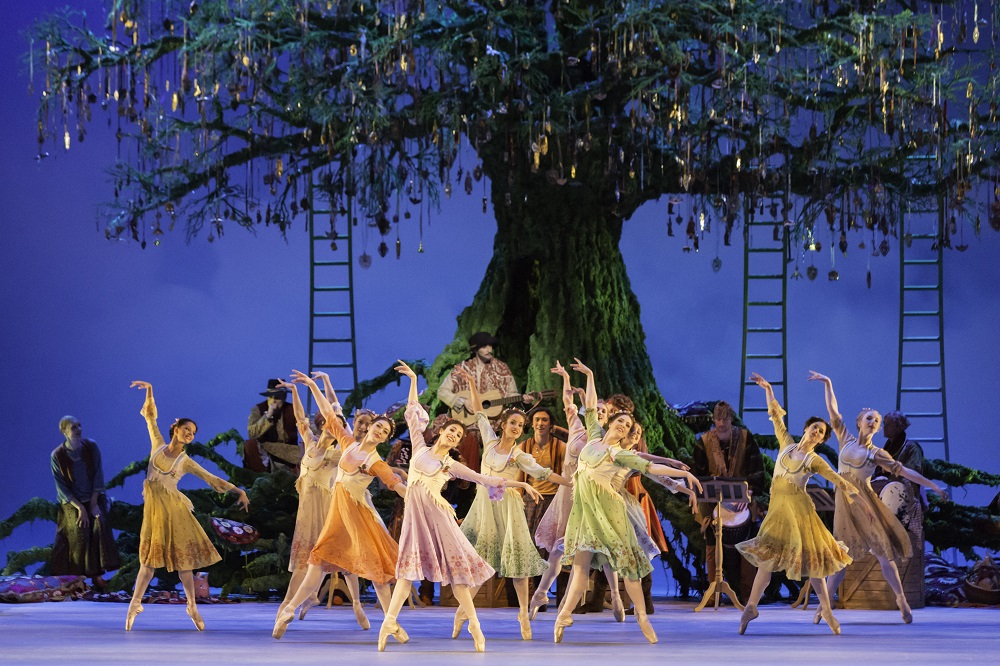 The sounds of accordion and cimbalom/santoor here are new to the soundworld of Joby Talbot. Otherwise it's familiar from his Alice music, with the same tick-tocking of passing time – or falling snowflakes, perhaps, in this instance – and the darker side of Wonderland kicking off Leontes' pathology. That develops its own identity in the lower brass, superbly counterpointing the women's music in Hermione's chamber, and four chords, half Holst's Uranus, half Messiaen Turangalila stone theme, serve as the only striking leitmotif.
Too often, though, the familiar percussion glitter and tintinnabulations aren't matched by thematic substance. Talbot stands in relation to Prokofiev as Glazunov does to Tchaikovsky, which still isn't bad. There are some bracing changes of metre in the Bohemian act, all of it effective music, but less would sometimes be more, especially so in the final family revelations. Bob Crowley's set, mostly well-lit by Natasha Katz – shame, though, that spotlights are still occasionally in use – is stripped of its columns and Casper David Friedrich canvases to a stark simplicity here which Wheeldon's choreography mirrors in its strangeness. So it's a pity that the score, all of it vividly played by the Royal Opera Orchestra under the admirable David Briskin, should head towards lush overkill. Still, given such high production values, I wouldn't mind seeing a full-length Wheeldon/Talbot Tempest some time in the future.
This 'Winter's Tale' has a strong balletic structure with its own special flavour
rating
Share this article