The Jungle Book |

reviews, news & interviews
The Jungle Book
The Jungle Book
Visually stunning remake of the Disney classic
Mowgli (Neel Sethi) with jungle hipster Baloo (voiced by Bill Murray)
It's a risky venture, remaking a much-loved Disney classic, but Jon Favreau has tackled The Jungle Book with considerable enthusiasm, creating a digital 3D spectacular complete with hundreds of computer-generated animals and one real boy (Neel Sethi). It's based on the original Rudyard Kipling stories featuring man-cub Mowgli lost in the jungle, raised by wolves and torn between staying or finding his way back to humanity.
But this time it's not all singing, all dancing – there's a notable shortage of the witty songs and soft-shoe shuffling which made the 1967 original so charming. Examining the stellar list of voice-over artists, hopes ran high that in casting Christopher Walken as King Louie, the simian swinger, we might be in for a shimmying orangutan. But instead when Louie's enormous, bald head looms out of the shadows of an abandoned palace, he's more reminiscent of Marlon Brando in Apocalypse Now.
In this version King Louie is not an orangutan but the extinct gigantopithecus, a great ape that could grow up to 12 feet tall. Certainly his enormous frame gives Favreau and his effects team something monumental to work with, but it means the hordes of smaller monkeys look too much like a video game afterthought (Mowgli with Bagheera the panther, pictured above).
Christopher Walken as King Louie is not the only disappointment; Bill Murray is the voice of Baloo, the hipster bear who shows Mowgli how to kick back and enjoy life. Murray's brand of deadpan absurdism should have been perfect, but he's given few memorable lines in Justin Marks's script. When Murray sings "The Bare Necessities", it lacks the verve of the original.
There's not nearly enough of the one genuinely scary character in the film, Kaa, the python intent on squeezing Mowgli into a tasty snack. The effects artists brilliantly conjure up a sinister night-time jungle where an innocent-seeming branch can turn into another coil of snake, and in doing so provide the one scene that might frighten a child. But it's too brief, and we have to wait until the beautifully animated end credits to hear Scarlett Johansson (the voice of Kaa) perform a rather wonderful rendition of "Trust in Me" (Mowgli and Kaa pictured below).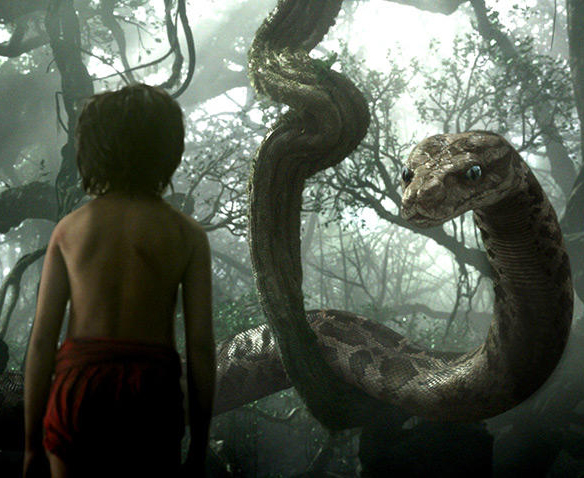 Idris Elba is uneven as the voice of the main villain, the vengeful man-hating tiger Shere Khan. Most of the time he sounds like John Luther having a bad day, though there was the odd moment when he seemed to be channelling Bob Hoskins. Shere Khan is set on killing Mowgli because his father brought fire to the jungle and left the tiger scarred and blind in one eye. Mowgli's flight from the jungle is inspired not by a desire to meet a human girl as it was back in 1967, but because the other animals fear for his life if Shere Khan finds him.
Technically this is a very impressive film.The CGI creatures are superbly rendered and have real weight to them. The jungle sound effects are immersive. It's a somewhat strange animal kingdom which has peacocks, armadillos, porcupines, rhinos, flying squirrels and elephants, but no giraffes or lions. But maybe they're waiting to be rolled out of Disney's ark for the sequel which is already on its way.