Grayson Perry: All Man, Channel 4 |

reviews, news & interviews
Grayson Perry: All Man, Channel 4
Grayson Perry: All Man, Channel 4
More whimper than bang as insightful series on modern masculinity ends in the City
All men? Grayson Perry with financier Tom (surname withheld)
You are a massive cock. A gigantic tool. You are a monumental prick. Grayson Perry did not mince his message as he concluded his portrait of modern maleness with a tour of the City of London. At the end of each programme he has presented the subjects of his study with an artistic response to their world.
The men working in so-called financial services inspired him to create a work called
Object in Foreground
(pictured below)
in the shape of a giant penis. Exhibited on an empty floor of the Shard (the most giant penis of them all), its contours mirrored the silhouette of the phalluses sprouting like muscled sunflowers through the window where these men do their work.
There was a change of scenery for the final programme in Grayson Perry: All Man. In the first two films the artist went north to document a crisis of masculinity caused by the decline of heavy industry. In County Durham he met cage fighters who managed to contain and channel their rage within a ritual context of mixed martial arts in a culture where the quiet enemy was suicidal depression. In a Lancashire housing estate he encountered teenage gangs being more or less frogmarched by the forces of history into a life of drug-related crime while pathetically aping the male instinct to defend territory, however small.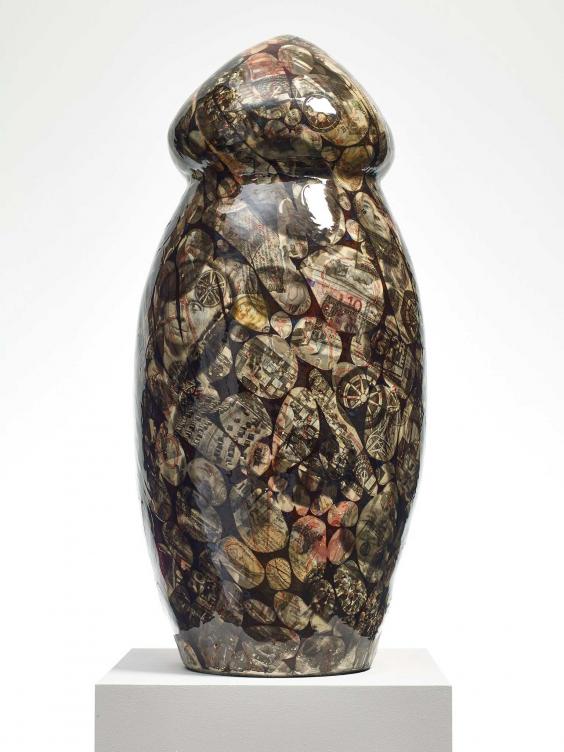 One film was uplifting, the other profoundly depressing. For his visit to the City Perry had the balls to concede that, being a leftie artist, he arrived with preconceptions. He departed with every single one of them entirely entrenched. Unsurprisingly not many men volunteered to take part in his portrait of their world. Those who did would often not give their surnames. We met Antoine, a French proprietory trader who calmly clicks his way to personal wealth while listening to affirming nostrums on his headphones that tell him how good he is at his job. Tom lives in Monaco and flies about in a chopper and wouldn't answer Perry's question about whether he had enough money.
Hugh Hendry, a suave hedge fund manager who eats a power breakfast of meat and greens, positioned himself as an outsider fuelled by the belief that hunger has been a recipe for success since the Stone Age. He got very excited during the Crash. So did Jonathan Ruffer, a pinstriped old-school panjandrum who runs a fund larger than the GDP of Iceland and thought the crash "was the most marvellous time". He then conceded this wasn't very attractive behaviour.
It has been a lively series lit up by Perry's fresh insights and responses, but this was the least satisfactory of All Man films. It's less that Perry failed to lay a glove on these well-rewarded men, more that there was no exchange of ideas, and no sense that any of them were prepared to answer his questions honestly. None would accept the idea that the City of London is a phallocracy that excludes or subtly (or unsubtly) denigrates and disempowers women. Instead they wore their plausible specs and went tieless and presented themselves as reasonable and ordinary members of society rather than insanely greedy people. They didn't like his Dürer-inspired print of a bear/bull hybrid dominating an arid landscape in the same way that Dorian Gray didn't like the revealing portrait that he hid in the attic. Jonathan Ruffer loved the big dick though.
None would accept the idea that the City of London is a phallocracy that excludes or subtly (or unsubtly) denigrates and disempowers women
rating
Explore topics
Share this article