The Invisible Hand, Tricycle Theatre |

reviews, news & interviews
The Invisible Hand, Tricycle Theatre
The Invisible Hand, Tricycle Theatre
New play that examines global economics and radical Islam is right on the money
Rough trade: Daniel Lapaine's Ivy League banker pleads for his freedom
In the long tradition of fictional characters who embody their monikers, the naming of Nick Bright hardly counts as the most colourful, but it has a sardonic edge. Clearly the young American banker at the centre of Ayad Akhtar's tight political thriller is too bright for his own good.
A commodities trader for Citibank currently working in Lahore, he has been mistaken for his big-shot boss and kidnapped by Islamic militants who are holding him hostage in rural Pakistan while they wait for his employer, or the US government, to cough up $10 million to set him free.
Fat chance, he reasons, and persuades his captors to allow him to raise his own ransom by doing what he knows best: playing the markets. Thus a desperate situation whose details are all too grimly familiar – heat, dirt and the torture of the daily possibility of violent death – takes a screeching handbrake turn into Gordon Gekko territory. Except that in place of a gleaming trading floor on Wall Street, this is an eight-by-ten breeze-block shed where the sole trader never gets to take a shower or change his clothes. Worse, he's forbidden to touch a computer.
Thus the playwright sets up not only a car crash of cultural opposites – First World vs Developing World, capitalism vs Islamic idealism – but also an intriguing relationship. This is the complicated co-dependence that develops between Princeton-educated Nick (Daniel Lapaine) and his hotheaded captor Bashir (Parth Thakerar, pictured with Lapaine above). The latter is a resentful native of Hounslow, innit, whose disgust at his own parents for choosing what he sees as the soft option of migrating to Britain comes a close second to his loathing for rich Americans.
Bashir has the laptop, Nick the know-how. And in the course of Nick's teaching the scratchy Bashir the principles of economics, he teaches the audience too. We learn about futures, short trading, and how money can be made from a falling currency. More sinisterly, we also learn the value of insider information and the depth of the moral quicksand that surrounds it. Nick makes several hundred thousand dollars by shorting the assets of a controversial Pakistani businessman hours before the man is assassinated by a suicide bomber.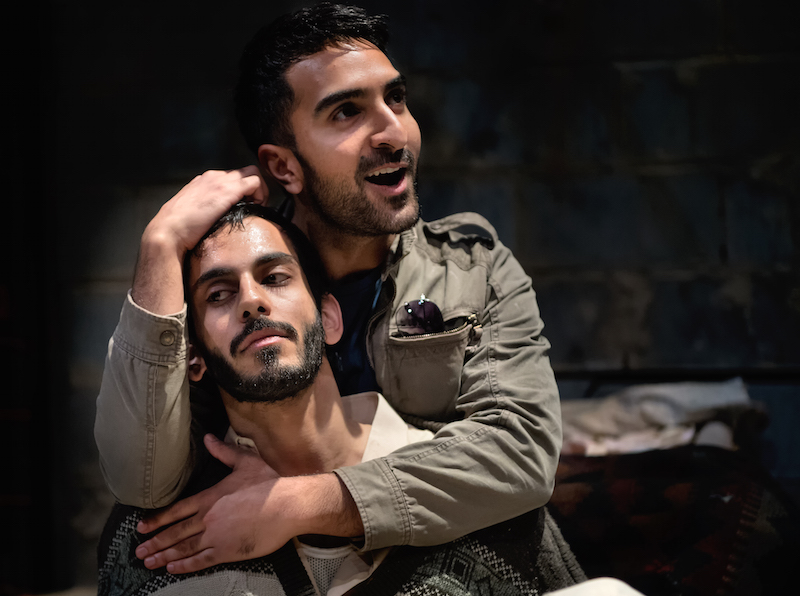 Soon enough, of course, the wannabe revolutionary Bashir is hooked on playing the markets, and the high-minded Imam (Tony Jayawardena), who claims that Nick and Bashir's trading profits are buying vaccines for local children, is taking a cut for himself. The play makes sharp observations on the way anti-American hostility has grown out of global inequality and envy, but also argues that opportunism and greed are universal. Self-interest, far from being a stabilising force – the "invisible hand" as envisioned by Adam Smith in 1759 – is shown to be an agent of chaos. Before long, Nick is finding ways to play his captors off against one another – even his sympathetic jailer Dar (Sid Sagar, pictured above with Parth Thakerar) – with unforeseeable and devastating results.
The acting is superb from all four players, and Indhu Rubasingham's direction keeps things breathlessly taut and unpredictable, the soundscape haunted throughout by a subtle crescendo of military drones, which starts as a barely perceptible buzz. A compact two hours including interval, there isn't a line of dialogue that doesn't work hard for its keep. In short, this is that rare commodity, a play that challenges and entertains and terrifies all at once. A comment overheard in the foyer on the way out seemed to say more than it meant to: "We should have seen it coming. But we didn't."