Going Going Gone, BBC Four |

reviews, news & interviews
Going Going Gone, BBC Four
Going Going Gone, BBC Four
Nick Broomfield in elegiac mode holds out for history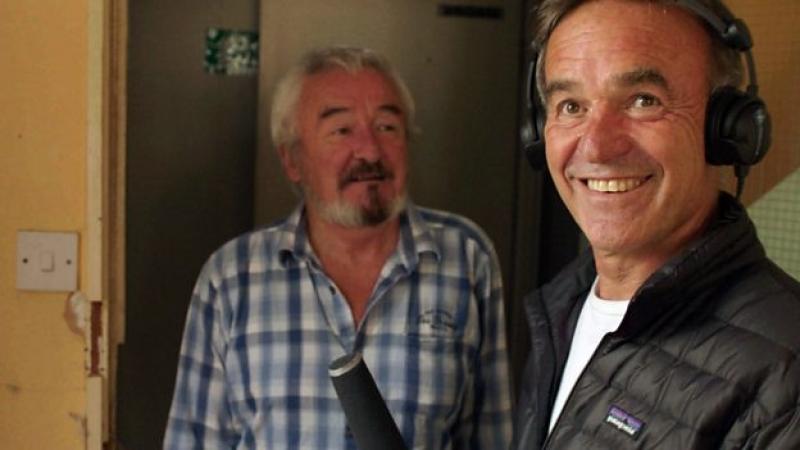 Access forbidden: Nick Broomfield wonders whether to force his way into Cardiff's Coal Exchange
In Going Going Gone Nick Broomfield was fighting to get access all over again – but it wasn't exactly the same kind of challenge he'd faced with Sarah Palin or some of his previous targets. Doors were closed, but the keepers of the keys here were anonymous local council functionaries, or the "media department" of Cardiff docks (who'd have known?).
Broomfield seemed bemused more than anything else when told he couldn't just turn up and film in the latter's public spaces; of course, he kept the camera rolling anyway.
Intimidating, it wasn't. Instead the prevailing feeling behind these two films – distinct half-hour pieces that, for all their similarities, Broomfield left, like postcards home, as separate entities – was sadness. Should it surprise us that the sometime tyro presenter-director's intonation here most closely recalled Philip Larkin's? He'd even taken his title from a Larkin poem, adding only that emphatic final "Gone" to complete the sense that we were all well on our way to hell already, chosen means of transport: handcart.
All we can do, Broomfield said, is pause, and listen for a minute But, as Larkin – or Betjeman, whose conservationist shadow surely loomed here, too – knew well, you can still have plenty of fun along the way on that particular route. Our journey through "Nick Broomfield's Disappearing Britain", as the film's subtitle had it, began at Liverpool's Wellington Rooms, a grand piece of 1815 Greek Classical revival that started its days as a meeting place for the city's super-rich, slave-traders included, before becoming in its final incarnation a social centre for the Irish community. For Broomfield it was a journey back in time in another way, too: he'd made his first film, "Who Cares", back in 1969 in the area, charting the process of urban renewal that saw its community moved from Georgian houses into suburban tower blocks.
Did anyone care now? The council was more concerned lest a slab of the elaborate Adam ceiling or the Wedgwood frieze tumble onto Broomfield's head if he was left in there on his own. Even his readiness to sign an indemnity form looked for a moment like it wouldn't swing things: they could still be liable for manslaughter in civil proceedings, apparently. Eventually that was fixed (as we knew it was going to be) and we got some unrestricted time there with some of the people who did care, those for whom the Wellington Rooms had been a part of the fabric of their lives. "I just had to see dancing and hear music again," Broomfield pronounced – a bit too commandingly, I thought – and he duly got a lovely closing scene as two old girls, lifelong best friends, twirled again together among the memories of their youth (pictured below).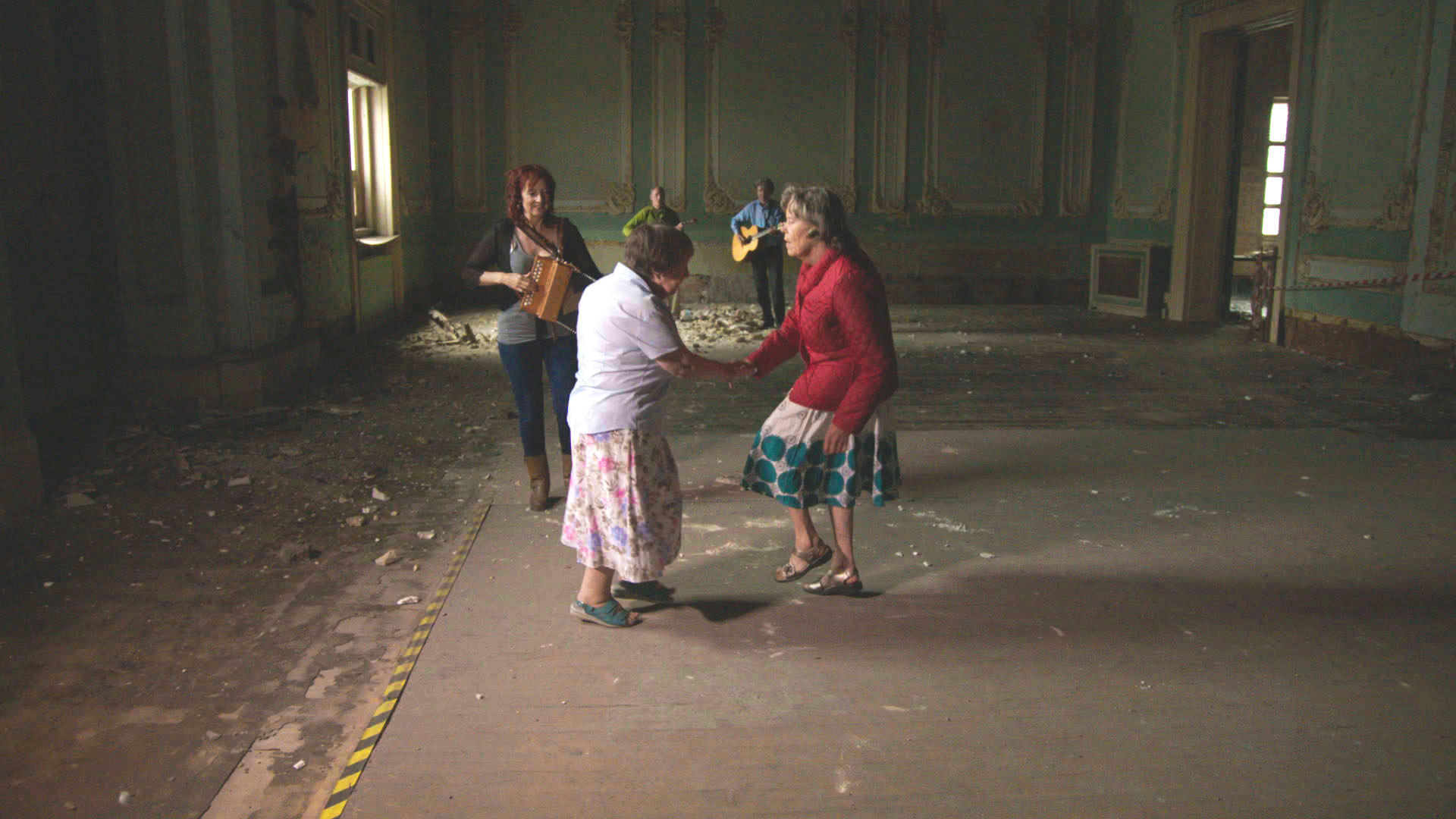 It all seemed depressingly familiar at our next stop, Cardiff's Coal Exchange, a grand piece of late Victoriana from 1883 that once set world prices with its trades. Again, Broomfield was coming home: he'd been a student in the city in the 1960s, and remembered neighbouring Butetown, the community around the docks where 50 nationalities once lived in complete racial harmony. Changed utterly. We got memories of better days, but here at least someone was sticking up for the old place, even if that someone was Ian (main picture, with Broomfield), who admitted it was all becoming a bit of an obsession.
Health and safety proved just as recalcitrant about access, making for a scene where Ian, who had the keys, had to block Broomfield's way. Should he force his way through, the director wondered, before he was threatened off by the prospect of a rugby tackle by the Coal Exchange's lone defender? As opponents went, it has to be said, Ian wasn't exactly in the same league as some of Broomfield's past sparring partners, the white supremacist Eugène Terre'Blanche and his guards among them (and Nick was firmly on Ian's side anyway). Finally Broomfield got in over a fence, a piece of trespass that was as unnecessary as it must have been irresistible. Talking of unauthorised access, Going Going Gone managed some nifty camera work that must have been filmed from a drone, catching unusual high angles and swooping perspectives.
Do these two relics of grander years stand a chance? The fact that both are Grade II-listed by English Heritage doesn't make anything easier: it only made the cost of any proposed improvements, someone at the Wellington Rooms remarked, go up. The cynical word on the ground was that when councils face such challenges – historic buildings prohibitively expensive to restore, which offer sites all too tempting for developers – they let them fall into dangerous neglect and then "pray for a high wind". Larkin got it just right: "Greeds/And garbage are too thick-strewn/To be swept up now." All we can do, said Broomfield, as he stood behind the grand old clock still ticking away in the Cardiff building, is pause, and listen for a minute. Going Going Gone did just that, rather nicely.
Finally Broomfield got in over a fence, a piece of trespass that was as unnecessary as it must have been irresistible
rating
Explore topics
Share this article