The Hogboon, LSO, Rattle, Barbican |

reviews, news & interviews
The Hogboon, LSO, Rattle, Barbican
The Hogboon, LSO, Rattle, Barbican
Riotous humanity in Maxwell Davies's farewell community opera
Simon Rattle conducting above the heads of junior choristers in 'The Hogboon'
The spirit of the late Peter Maxwell Davies blazed in the Barbican Hall last night. Dear God, we've never needed his humane, inclusive vision more than now. It's a measure of the man that his final work, The Hogboon, should fill a stage with hundreds of children, professional singers beside students and amateurs, a world-class orchestra – and Sir Simon Rattle; that it should be as rich and complex as it needed to be, with no concessions to its younger performers.
Max lived out his belief that his art was genuinely to be made for everyone, and that children "must get their hands dirty in the music".
In The Hogboon Max combined Norse and Orcadian myths into a tale of a community in thrall to a sea monster, the Nuckl'avee, who threatens to eat the Earl of Orkney's daughter for breakfast. Our hero is young Magnus (courageous Sebastian Exall, pictured below with Rattle), seventh son of a seventh son, who is teased by his six elder brothers (a strong Guildhall student team) but knows his call will come. When his mother (Katherine Broderick, sweet and strong) brings news of the monster, he summons his local mound-dwelling spirit, the Hogboon (Mark Stone on feisty form), and with the help of the good witch (creamy contralto Claudia Huckle) and her cat (Capucine Daumas, seductively feline) they quell its wrath.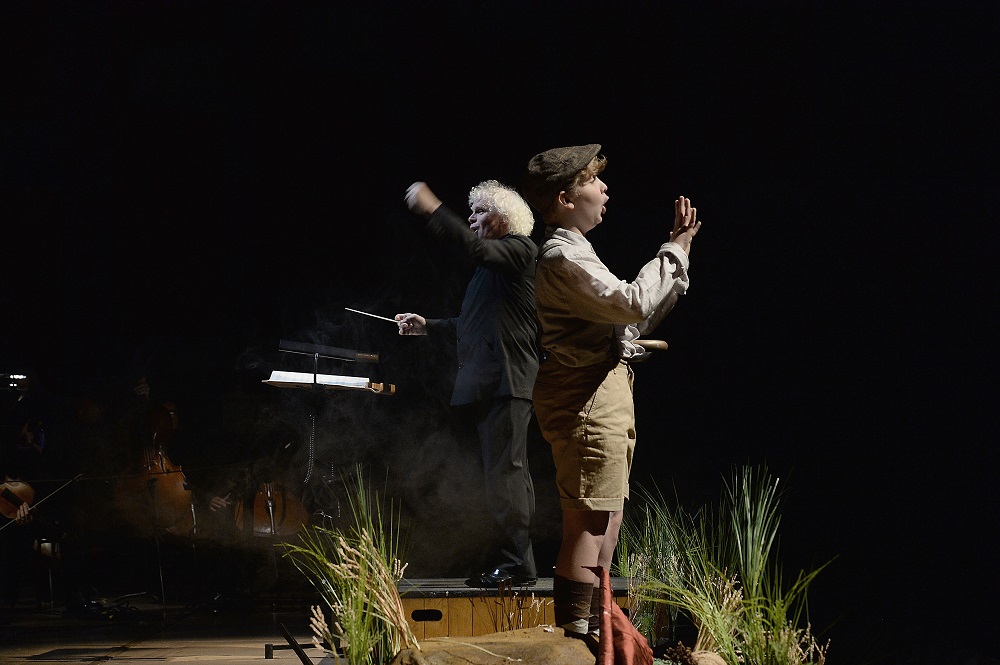 There are moments which speak to our times with such tragi-comic force it takes the breath away. When the Nuckl'avee finally arrives, it's none other than a bedraggled band of tiny children, trailing seaweed… those terrifying "others". They gnash their teeth and tell the villagers "Beware this biting monster/who is nasty as can be", in a song of such saucy oom-pah innocence, it's heartbreakingly funny. We learn the monster is angry at having been despised, "chafed by harpoons, and scraped by hulls" but will be chased away by charms, dancing, "clicking heels and the skirl of fiddles" and the mewling of cats. He agrees not to terrorise them and guide them through the waves, if they "protect me and all of Nature".
Max's messages are never given a sentimental underlining: his musical narrative is unpredictable, in this brooding, mobile tapestry of a work which seems to internalise the rhythms of a storm surge, swirling, thunderous and strange. We move from cataclysmic, antiphonal fanfares as the Hogboon emerges from his mound to the sweet tenderness of the monster's plea; Magnus's own part is testing and fiercely individual; his brothers attack him with stark directness while a luminous female chorus serenades him down to the shore "through rain and bird calls"; squalls of fiendish orchestral virtuosity blow up, and relax into intimate ceilidh music.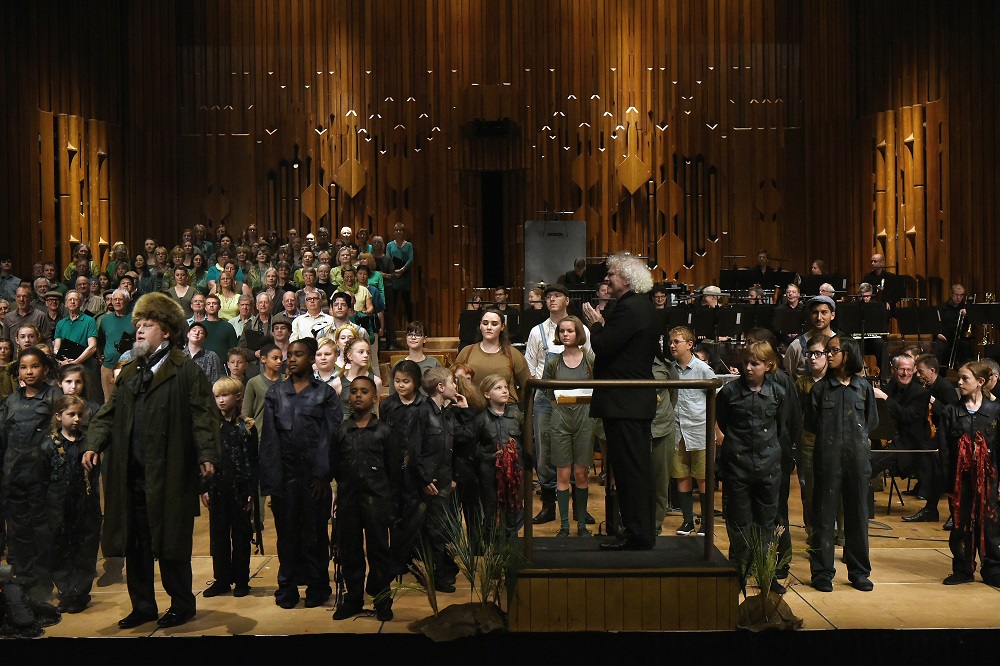 Max was a great idealist. The Hogboon won't be a work which many communities could take up: it's a dizzying challenge both musically and dramatically, but the LSO has made real that Utopian community Max imagined: Rattle grappled heroically with wave upon wave of young Discovery Choir singers, brilliantly prepared by Simon Halsey's team, and directed by Karen Gillingham down to each snarl and shivering knee.
This sharing of skills and inspiration made for a viscerally exciting Berlioz Symphonie fantastique in the second half, the LSO boosted by more than 30 Guildhall students. Having given a riveting masterclass in giant-scale chamber music, Rattle unleashed his forces in a Witches' Sabbath of roof-raising energy. For those children who stayed, an unforgettable night with the orchestra.
There are moments which speak to our times with such tragi-comic force it takes the breath away
rating
Explore topics
Share this article