LSO, Rattle, Barbican |

reviews, news & interviews
LSO, Rattle, Barbican
LSO, Rattle, Barbican
Symphonies by Mahler and Turnage explode in an ecstasy of grieving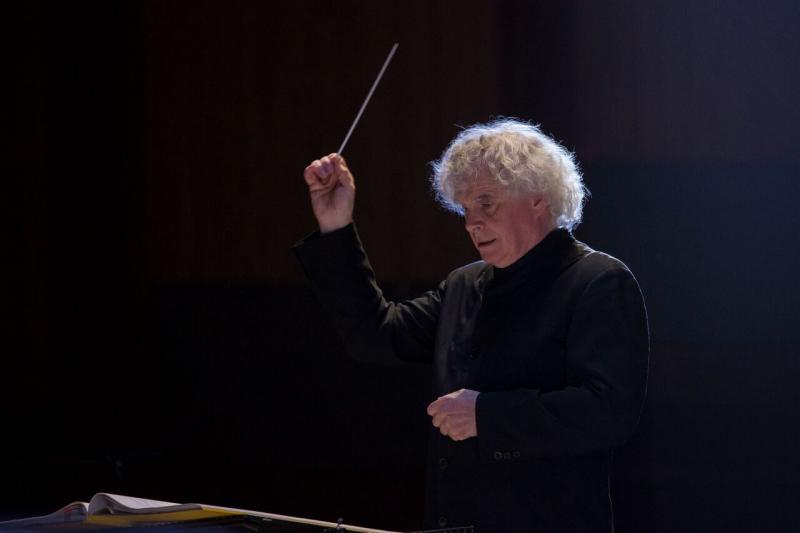 Sir Simon Rattle, rehearsing the London Symphony Orchestra this week as their Music Director designate
Symphony is a word carrying heavy historical baggage. It's understandable when composers dig for inspiration elsewhere. All the same, Mark-Anthony Turnage has grasped the symphonic nettle with Remembering – In memoriam Evan Scofield which received its first performance last night. Many more will follow, I'd venture.
The shock of recognition was not slow in arriving with the opening movement's construction, bright and angular as steel girders, finding the LSO at their most incisive. There followed an Allegretto-type elegy, then a twisted waltz with trio and repeat. Like Haydn, no less than Mahler or Tchaikovsky, Turnage has saved up his slow movement until last, in which the argument of remembering and letting go is developed by a solo viola then cello decorating a long, blue melody on oboe and muted trumpet. Other symphonic forebears came to mind but Remembering is large enough to be appreciated on its own terms.
So melodically profligate a work may reflect the character to whom it pays generous tribute, the son of his friend and sometime musical collaborator, the guitarist John Scofield. At the end of the half hour, we may not know Evan better, but we may be brought closer to the grief of those around him, and to a sense familiar from Mahler of how grief may lend energy to art in a seemingly inexhaustible supply.
Awe was often the only available response
Remembering is assimilated unto itself, and to a symphonic heritage which must include Mahler, who tattooed family and grief into every crotchet of the Sixth. During the 30 years since Sir Simon Rattle made his debut with the Berlin Philharmonic in this symphony, his approach to it has steadily deepened; like a familiar face or mountain, it has become more extreme over time. On this occasion, awe was often the only available response to the mastery of Mahler, the orchestra, Rattle and the fusion of all three.
The Barbican has strained at the seams to accommodate many fine LSO Sixths in recent years, led by Pappano, Jansons and Haitink, but for anything to rival the cogency and poleaxing impact of this one, I had to cast back further, to Pierre Boulez in 2000. At a press conference held earlier in the week to launch his first season as the LSO's music director, Rattle aimed a few more barbs at the hall's unloved acoustic. He's too hard on it, and on himself. However unscientific or counterintuitive it may seem, the great conductors create their own acoustic. Karajan and Abbado conjured a three-second echo from the Royal Festival Hall. Boulez, and Rattle last night, achieved miracles of clarity. Sitting, it so happened, not in the usual critics' seats but the second row, I anticipated a sonic assault. Instead, I heard everything.
Before now Rattle has made much of the Ninth as a string quartet of a symphony. The Sixth is more heavily scored, but time after time he gave the leading line to the second violins, split from the firsts across the platform. As in his recent performances of the Seventh, Rattle found and held firm to a Classically proportioned form – at least until the finale which, to borrow Adrian Leverkühn's determined formulation, first took back Beethoven's Ninth in its opening recitatives and finally took back Bruckner in the coda's disintegrating trombone chorale. The first hammer-blow carried a quite sickening force; paradoxically, the orchestra's total grip on the score revealed just how threadbare is the following string fugato. Most unusually, just when most Sixths and most listeners begin to flag, conductor and orchestra had kept a special reserve of vitality and eloquence for the last 10 minutes, when the second hammer-blow sends the piece into toxic shock followed by terminal arrest.
I anticipated a sonic assault. Instead, I heard everything
rating
Share this article