Harry Potter and the Cursed Child, Palace Theatre |

reviews, news & interviews
Harry Potter and the Cursed Child, Palace Theatre
Harry Potter and the Cursed Child, Palace Theatre
Does the continuing story of JK Rowling's witches and wizards work its magic onstage?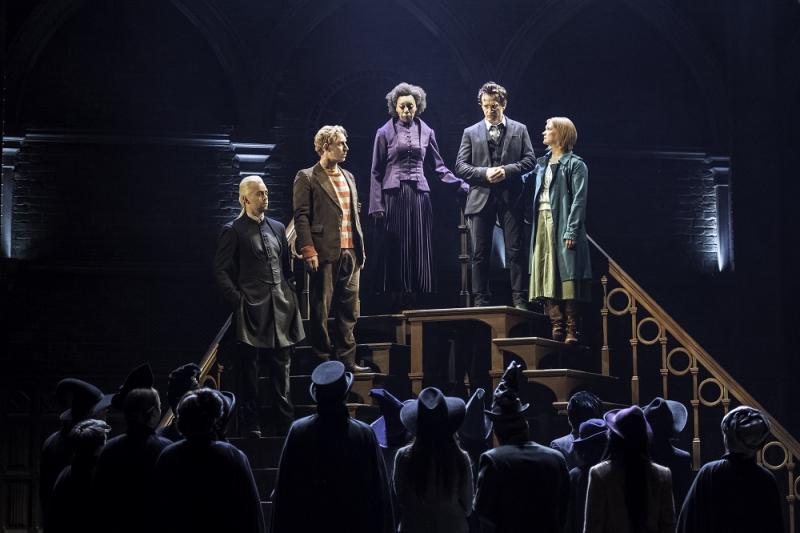 Off to see the wizards: Alex Price (Draco Malfoy), Paul Thornley (Ron Weasley), Noma Dumezweni (Hermione Granger), Jamie Parker (Harry Potter) and Poppy Miller (Ginny Potter)
Harry Potter lives to see another day. The Hogwarts wizard has made his stage debut in Harry Potter and the Cursed Child, a two-part play that pushes JK Rowling's world-beating franchise beyond the realm of fiction and film to embrace live action: the bespectacled boy has become an angsty grown-up, and London theatre is much the richer for it.
But are these characters really three-dimensional? The answer is a resounding yes, if a moist-eyed audience following Sunday's final curtain is any gauge. Indeed, the resounding irony across the marathon of more than five hours is that a production so abundant in trickery and stage magic should have such a human pulse.
Sure, there are moments where the storytelling is too compressed for comfort, and certain characters – the newly mature Hermione for one – seem unexpectedly short-changed. But playwright Jack Thorne, working from an original scenario by JK Rowling, himself and director John Tiffany, has crafted a wounding tale about parents and children – more specifically, fathers and sons – that embraces gee-whizz moments and elicits many a collective gasp (in part two, especially). And then reaches for the emotional jugular, as well.
A major achievement is Cursed Child's ability to cater to the Potter newbie alongside the obsessive. In-jokes coexist with clarifying statements: "The famous Harry Potter, the saviour of the wizarding world," we're usefully informed of the title character lest anyone think there was some imitation HP at play. And in one of many cunning masterstrokes, Tiffany's ceaselessly adroit production begins by giving centre-stage to a black actor, Chris Jarman (late of The Book of Mormon), as if to remind those who foolishly baulked at a black Hermione (Noma Dumezweni) that Rowling's imagination inhabits all spectrums of the rainbow.
From Jarman's appearance onward we're off on a time-travelling – time-turning, to co-opt the material's own language – race to prevent nothing less than extinction for many of the characters. The scenario makes friends out of enemies and enemies of friends in a world in which the worst thing that can happen is for a father to disown his son. Harry does precisely that early in part one to the significantly named Albus Severus Potter (Sam Clemmett), and you can sense the audience's shock richocheting around the house.
Where has Harry got to? As played by the protean Jamie Parker (pictured above), he's a stressed-out functionary with a messy desk who just happens to have the coolest-sounding job in town at the Ministry of Magic. An effects team embracing Jamie Harrison, Chris Fisher and Jeremy Chernick manage all manner of majestic visual coups, some of which will be familiar to those who have seen director Tiffany's Broadway work (the Edinburgh-bound Glass Menagerie in particular). None is as exciting as the ease with which Harry's disorderly pile of papers is put to rights in an instant: there's a trick I suspect many of us would love to try at home.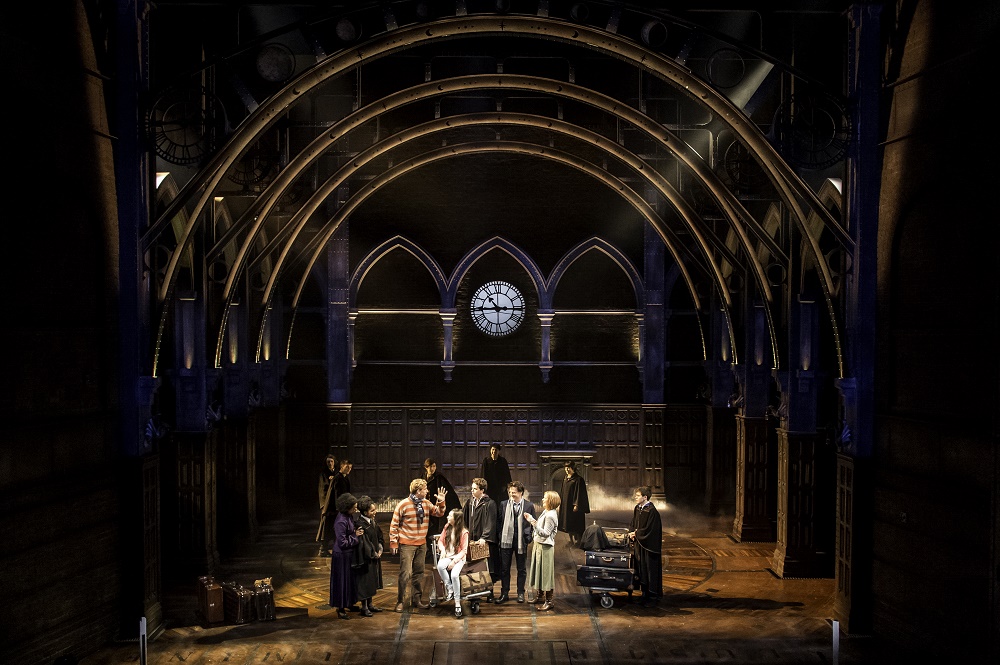 The plot itself should probably be approached with caution so as to avoid the spoilers the creators warn against via buttons passed out with brio at the ending of both parts. Suffice it to say that the orphaned Harry's own paternal attentions are focused not on James or Lily but on new Hogwart recruit Albus. The boy isn't altogether thrilled about having a dad whose legendary schooldays only double his own troubles. (On this front, Thorne could show rather than tell: Albus's academic self-exile has to be taken more or less entirely on faith.)
At which point, enter Scorpius Malfoy (Anthony Boyle), the platinum-haired son of, yes, Draco Malfoy (Alex Price) and a classmate of Albus who is determined to restore a rapport between the two teenagers that never existed for their fathers. What follows is a sort of Boy's Own wet dream in which the duo disappear from parental view only to wreak havoc all the way to the mind-bending finale. That ending, interestingly, sacrifices the grand theatrical gesture in favour of the simplest acknowledgment of what it means to be human. In a play in which people often mutate into other realities, there's nothing in The Cursed Child quite like discovering yourself. (Pictured below: Anthony Boyle and Sam Clemmett)
The play wouldn't justify an audience's time and money without delivering a sense of spectacle, and Tiffany and his team have great fun with sudden appearances and startling transformations. There's a breathless trip atop the Hogwarts Express, while a vaporous flotilla of Dementors ramp up expectation over which beloved characters of old will reappear before us, and when. (Partisans of this or that character are all likely to be satisfied.)
As a collective endeavour stretching across multiple disciplines and specialities, the production couples the intimate and the epic. Christine Jones's set defines a largely bare space with the graceful movement of several staircases. Finn Ross's projections transmit Hogwarts out into the audience. Neil Austin's lighting casts a sometimes beatific glow.
If anything, the double bill feels as if it could even have been better were it longer. That would allow room for Paul Thornley's Ron to be more than just a continual cut-up and the gifted Dumezweni to move beyond the rigidly conceived confines of a tartly spoken, no-nonsense Hermione: the part seems to be missing a scene that may have been truncated along the way.
Parker, too, may dismay those who hadn't expected quite so introverted, tremulous a Harry. He exists throughout a mere step away from tears, with Poppy Miller's Ginny on hand to lend sympathy or tell him to buck up. The payoff comes when Harry must do battle less with the legacy of Voldemort and more with a struggle to do right by a son to whom he can't express his love and who may in any case be all but lost.
And inhabiting that next generation, Clemmett and the colourful, audience-pleasing Boyle fashion a bromance that gives the lie to the play's title and suggests further stories still to tell. The narrative may nod toward terrorism and failed coups here (Rowling et al are nothing if not topical) and visual derring-do and trompe l'oeil there, but perhaps its most resonant image is that most familiar and, in these dark days, necessary of gestures: a hug that catches not just the characters but the audiences in its capacious embrace.
Production photographs by Manuel Harlan. Click on the thumbnails to enlarge