Last Night of the Proms, BBCSO, Oramo |

reviews, news & interviews
Last Night of the Proms, BBCSO, Oramo
Last Night of the Proms, BBCSO, Oramo
Prommers delighted by a typically silly and overblown end to the season
Sunday, 11 September 2016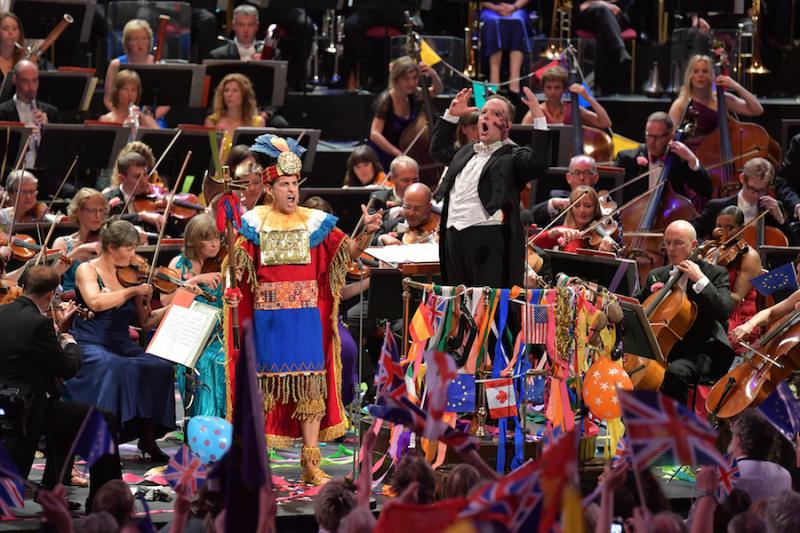 Peruvian tenor Juan Diego Flórez sings "Rule, Britannia" in full Inca costume
I had never been to the Last Night of the Proms until last night, nor really paid much attention to it in recent years. To the extent I did, I have been resentful of the fact that to many people it represents the Proms as a whole, with its flag waving and fancy dress, although in fact it is utterly atypical. But I went in the spirit of trying anything once and I'm glad I did, although once is probably enough.
In a way, critiquing the Last Night of the Proms makes as much sense as critiquing a children's birthday party, and is as likely to end in tears. The Last Night does not function like a normal concert; the usual boundaries of concert etiquette and behaviour are determinedly trampled all over. Raucous audience participation is encouraged, extraneous noises abound and balloons bounce around the arena. People dress in a way they would normally be embarrassed to, in union jack hats, scarves and waistcoats, and in general hair is well and truly let down. It is a Feast of Fools for modern Britain.
But from what I could tell people were having a really good time, and that can only be a good thing. The accusation of overblown nationalism was less obvious in the room than it can seem on television. In the flesh, the atmosphere was more silly than jingoistic. There was one lurching change of tone, though: the choruses of "Rule, Britannia" were bellowed with a slightly alarming ferocity that raised the spectre of a country defiantly confused about its own identity post-Brexit.
And Europe was present, as had been reported beforehand, in the many EU flags handed out outside and widely in evidence in the hall, amid the union jacks and flags of many nations. There was an international flavour to the performers – Finnish conductor Sakari Oramo, Peruvian tenor Juan Diego Flórez – as well as the repertoire, with Russian, Italian and Latin American pieces alongside plenty of British fare.
Tom Harrold's Raze was five minutes of bristling energy
If the Last Night is not typical of 74 concerts that come before, as a thoughtful programme note points out, it is quite typical of early Proms concerts as a whole. They were usually longer than modern-day programmes, a pot pourri of shorter, lighter pieces often based around a solo singer. I can only feel things have moved on from those early days, but for this occasion the procession of shorter pieces (nothing was longer than 15 minutes) was quite appropriate, and no one's concentration was overtaxed.
A welcome innovation was in the opening piece, which as in recent years was a commissioned curtain-raiser by a British composer, played this time though not by the BBC Symphony Orchestra but by the young instrumentalists of the BBC Proms Youth Ensemble. Tom Harrold's Raze was five minutes of bristling energy and youthful brashness, which was brilliantly handled by the players. The brass stabs were searing, the woodwind writing muscular and hectic, and the strings soared above it all.
Oramo led, as he did throughout, with exuberance but the clear beat necessary with so many performers filling the stage. He navigated the many changes of style and tone throughout the evening, and gave a thoughtful speech about the power of music to unify people and bring nations together.
The rest of the programme was a mixed bag, bringing together themes from the season. Rossini, two of whose operas have been heard complete, was represented by an aria from La Cenerentola and Britten's lightweight arrangements Matinées Musicale.
Shakespeare's anniversary was marked with Jonathan Dove's Our revels now are ended, whose best moments were massive rising choral textures into which the BBC Singers and BBC Symphony Chorus threw themselves. In the second half Vaughan Williams's Serenade to Music provided the unique sound of 16 solo singers – as distinct from a 16-part choir – of whom Lauren Fagan (pictured above) stood out in a high quality crowd.
The hero of the evening – certainly in the eyes of the promenaders, for whom he could do no wrong – was tenor Juan Diego Flórez. He delivered three bel canto arias in the first half and one in the second (Donizetti's ridiculous parade of high Cs "Ah! mes amis" from La fille du régiment). He took up a microphone to deliver a medley of Latin American popular songs, in total control of the room, before finally returning in full Inca costume for "Rule, Britannia".
As for the final sequence of traditional favourites, Henry Wood's Fantasia on British Sea-Songs is something I would happily never sit through ever again. The humming and whistling and stamping and bobbing that accompanied were thoroughly tiresome, and for much of it the orchestra was inaudible and could have been playing anything. But Elgar's Pomp and Circumstance March No.1 is an extraordinary piece in any context, and Britten's 1961 arrangement of God Save the Queen is freshly imagined and revelatory. Both fully deserve their place in the audience's hearts.
But for an event which can be in danger of seeming more about the audience than the musicians, I will give my final word to clarinetist Richard Hosford and oboist Adrian Wilson, whose playing was the highlight of my evening.
Critiquing the Last Night of the Proms makes as much sense as critiquing a children's birthday party
rating
Explore topics
Share this article