Brexit: A Very British Coup?, BBC Two
Brexit: A Very British Coup?, BBC Two
A look back at recent events helps to get clarity, but not closure
Friday, 23 September 2016
"Yeah, it's shit since Clarkson and that left…"
This look back at the events earlier this year when the country elected to buy a car, sight unseen – and from proven liars – to drive us into an imagined and politically unstable future, was a little confusing to me at first. Now, I do remember a fat, milky manchild holding a pasty aloft like some kind of magic totem – that definitely happened.
I remember Toad of Toad Hall standing in front of a deeply racist poster hoping to elicit passion from patriots on the very same day that a Labour politician was brutally murdered by an angry racist. I also remember a man with the complexion of vacuum-packed fat regretting something more than putting his junk in a dead pig's mouth. But at no point – AT NO POINT – do I remember Alan Duncan being cast as the hero in all this.
In fairness, when you're dealing with a bunch of human beings who make Ralph Steadman caricatures look like the work of Chuck Close, you might end up grasping on to any shred of humanity. But when the voice of reason is presented as a man with Duncan's voting record, we really are clutching at straw men. I'm guessing his lion's share of camera time was because he (pictured below), along with Nicholas Soames, called events and motivations early and with alarming accuracy. That's not surprising, those closer to the centre of the storm would have been able to process events with a degree of clarity that wasn't afforded to most. What the documentary managed to highlight very well is that certain things were screaming to be heard, but were ultimately lost in the thundering chatter of arseholes.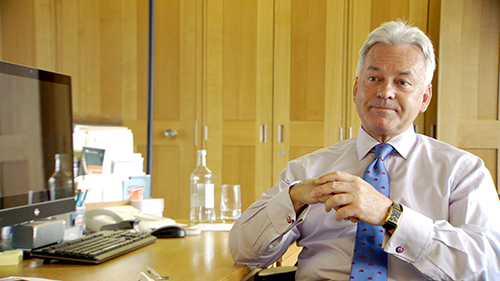 After the event, conventional wisdom has decided that the vote wasn't about taking Britain back to big passports and white picket fences for white picket people, but rather it was about people sticking it to the man. Ordinary people saying to Westminster, "Screw you!" and making a stand for the man in the street. If you needed convincing that this was errant nonsense, then all you need do is to stare at the face of chief Leave financier Crispin Odey. Two things immediately become clear – the first is what you had for lunch; the second is that, by sticking it to Westminster, working people handed victory to a corpulent, jelly-fleshed greedbag of a man, who made a fortune betting against the banks after the 2008 crash and made hundreds of millions doing the same as the markets cut the bungee rope on the pound following the Leave victory. Bravo.
It was, for anyone who wanted to retain the benefits of EU membership, profoundly depressing viewingSimilarly, after the vote, there was a clear shift – a demand almost – that those in the Remain camp should not see Leavers as racist. "It's not racist to want to control immigration," Farage said, while pointing at the points system developed in a far-off former colony, whose history of quiet acceptance, subtle integration and progressive attitudes has looked an awful lot like a legacy of murder, theft and institutionalised racism up until now. Watching events again, through this microscoped frame, it was clear to all that – as Paddy Ashdown claimed, while not all Leave voters were racist, the campaign was presented in a way that cynically ensured every racist would vote to leave.
It was, for anyone who wanted to retain the benefits of EU membership, profoundly depressing viewing, but interesting all the same and with much to commend it. The insights into the behind-the-scenes machinations, creeping sense of dread on both sides and cold, calculated shifts at a time of mass-mourning weren't perhaps revelatory to everyone, but it's good to be given an occasional reminder of – for example – what a disgraceful, inhuman tossbox Liam Fox really is.
As we arrived at the Tory leadership campaign, however, and saw the ruthless efficiency of party machine at a time of crisis, it became apparent that there was one thing missing from this documentary – the leader of the opposition. While accusations of media bias abound, I'm not entirely sure that the programme makers can be held responsible for that one.