Brexit: The Uncivil War, Channel 4 review - Benedict Cumberbatch gets the best tunes |

reviews, news & interviews
Brexit: The Uncivil War, Channel 4 review - Benedict Cumberbatch gets the best tunes
Brexit: The Uncivil War, Channel 4 review - Benedict Cumberbatch gets the best tunes
James Graham's bullish Brexit fantasia is more gripped by Leave than Remain
'I don't seek the limelight': Benedict Cumberbatch as Dominic Cummings in 'Brexit: The Uncivil War'
One day this all will be over. Give it half a century. In 50 years' time, there will be documentaries in which today's young, by then old, will explain to generations yet unborn exactly how and why Britain went round the twist in 2016.
Much as we now watch re-runs of
Cathy Come Home
, there will also be screenings of
Brexit: The Uncivil War
(
Channel 4
) and Sir James Graham, probably still looking like a freshly scrubbed teenager, will give interviews about how he finessed into 90 minutes the story of Britain's decision to leave the European Union.
But that is to come. Here we are now, freshly digesting a drama that cleaves to the "great men" theory of history. The great man in question happens to be someone hardly anyone has ever heard of. "Oh, I don't seek the limelight," muttered Dominic Cummings near the start of the story. But the limelight has sought him, with the help of a blazing turn from Benedict Cumberbatch in a receding wig and a flat Durham accent.
Who was, and indeed is Cummings? A nihilistic hooligan expelled from Number 10? An evangelical and exceptionally well-read visionary with some shady chums in tech? Human antimatter? In this telling, Cummings was an Exocet launched upon the 34 percent of voters who, in the referendum, didn't know which way they would swing. Even Lucy Thomas on the Britain Stronger in Europe team here described his guerrilla insurgency tactics as "kind of genius".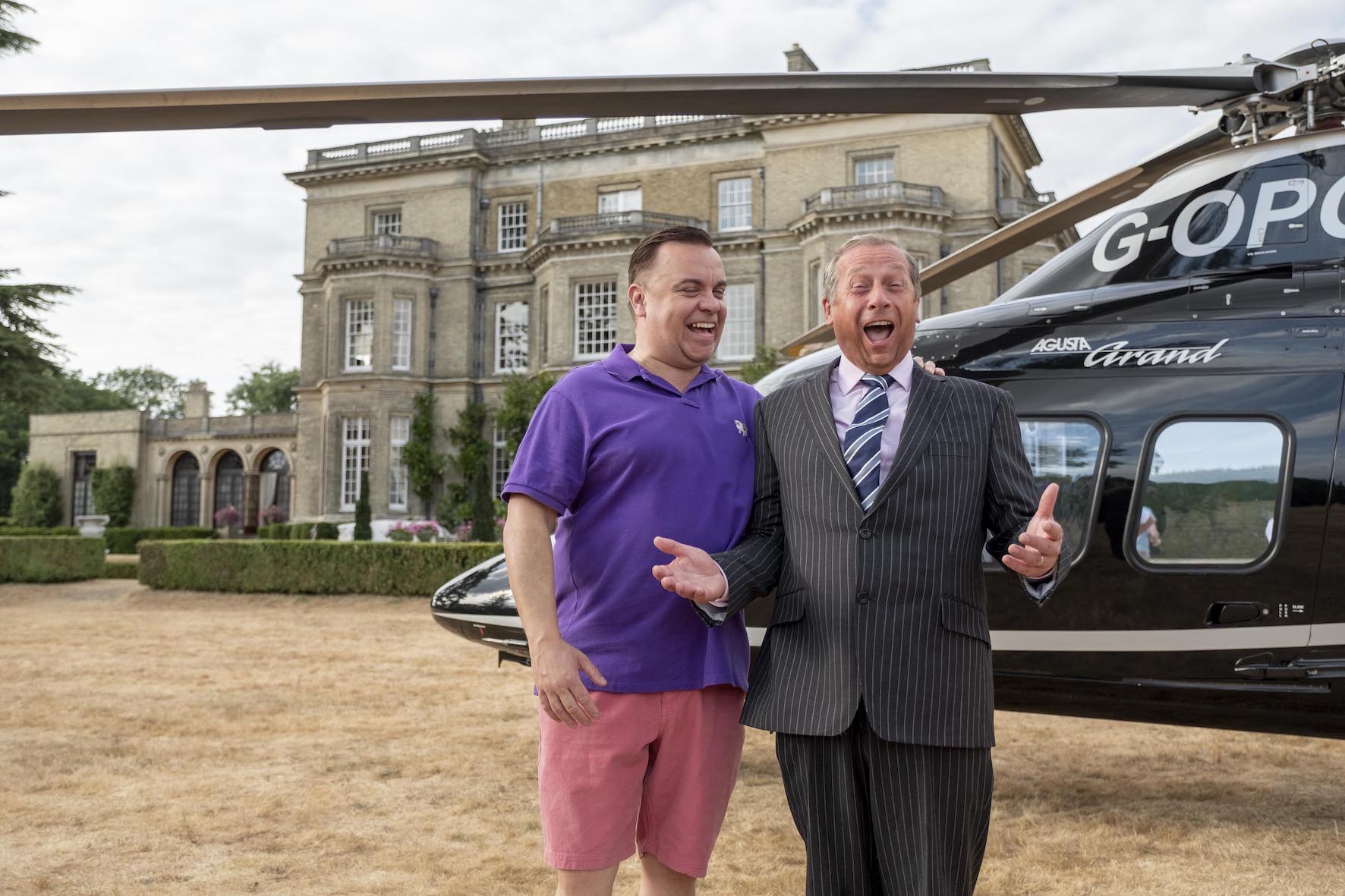 And so it destabilisingly proved in James Graham's script. The devil having all the best tunes, and Leave's narrative being positioned as a remake of David vs Goliath, purely as a dramatic character you found yourself rooting for him in his gilet jaune. On the short-termist principle that the enemy of Nigel Farage is your friend, there was much to enjoy in his poised dismissal of Ukip's pathetic pleas to be included in the official Leave campaign. (Pictured above: Paul Ryan as Farage, with Lee Boardman as Aaron Banks.) It was a chilling performance pitched mainly on one note. Cumberbatch raised his voice in anger only once, to take on the scoffing pinstripes and belching nincompoops on the board of the Leave campaign, and laughed on just the one occasion, when his red bus roared onto the screen with its flagrant offer to flog snakeoil to a gullible electorate.
Of course this was history compressed into a sardine tin. Britain's postwar relationship with Europe was related at a sprint to the tune of Ode to Joy. There was much namedropping to get through, and plenty of quasi-sciencey prattle (Kyle Soller in casuals and sneakers was the ice-cool face of depth-charged nerdery).
At times it felt as if the truth was being dragged this way and that by a playground bully. Cummings's lightbulb moment, in which he perfected the slogan "Take Back Control" while reading a parental self-help book, felt too glib to be credible. Craig Oliver (Rory Kinnear, pictured below) probably didn't find time to lose control of his kids in the heat of the campaign. Graham's boldest fancy was to give Cummings and Oliver a pub reckoning, a sort of what-have-we-learned outro (answer: to hate). And by way of a false climax, the script suggested that the result was unknown until it was announced by the Electoral Commission, rather than hours earlier by David Dimbleby.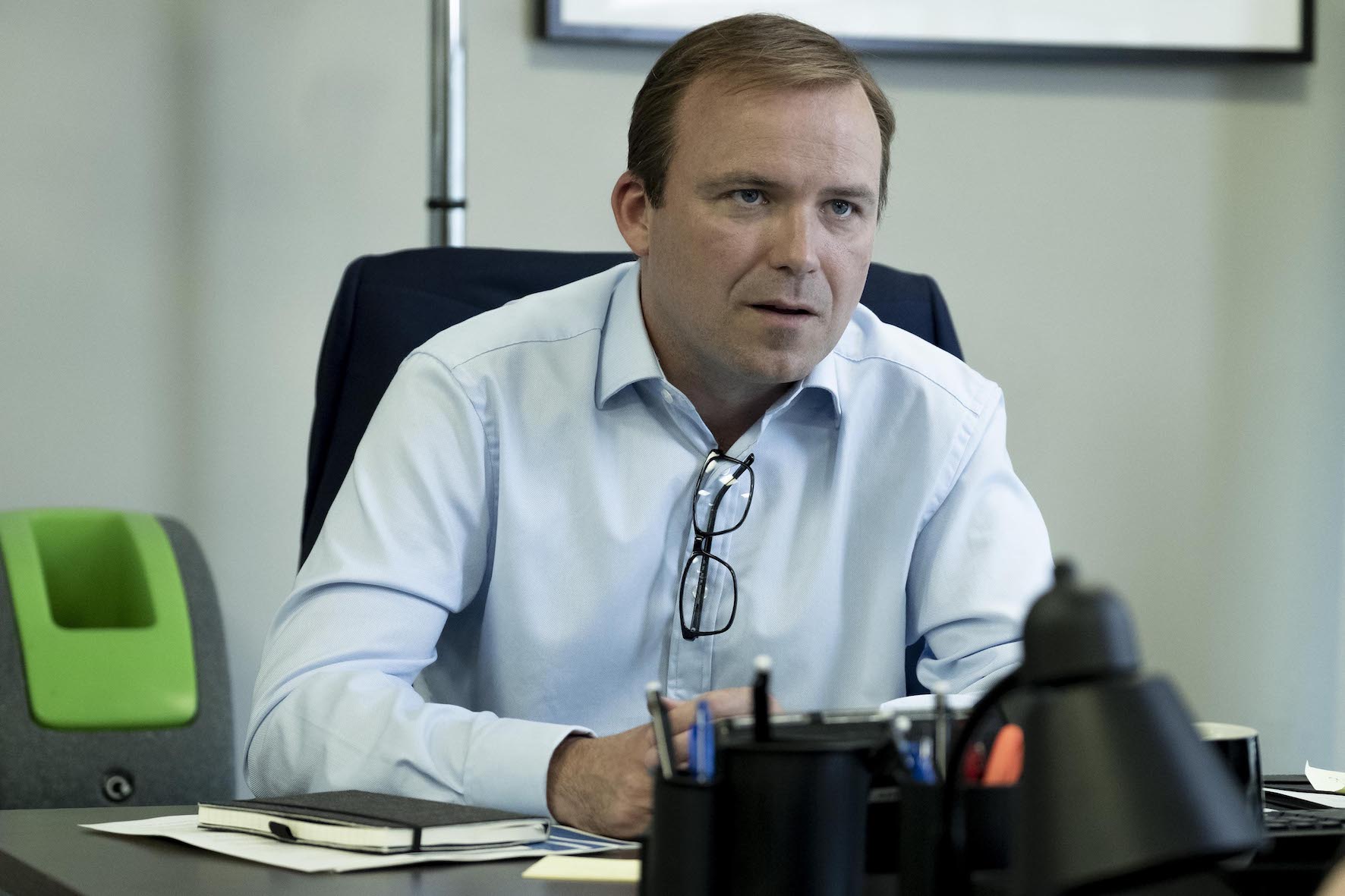 On the undercard Richard Goulding broke off from being Prince Harry to slay the peroxide soufflé Boris Johnson with a blunt-edged sword. As Michael Gove, Oliver Maltman got the burbles and pouts just right, though vocally he was less precise. Rightly or wrongly, both were portrayed as Cummings's twirling marionettes. On the Remain side Cameron and Mandelson were heard but not seen.
Now and then the slick mickey-taking and the notes of dystopian farce were suspended and things got briefly, horribly real. In a focus group scene a Leave voter convulsed with sobs that as a white working-class woman she felt drummed into silence. As for the assassination of Jo Cox, how did it really impact on Cummings? The script gave him a moment of seething moralistic fury after Farage boasted of a revolution succeeding "without one bullet being fired": "One bullet was fired, you moronic little cunt." A fiver says this line was cooked up to keep Cumberbatch sweet.
If the drama had a weakness, it was that it had only peripheral interest in the travails of the Remain campaign or the criminal activities of the Leave campaign. Slapped wrists for the overspend and the skulduggery were held back till the mute postscript. In the end, the Leave story is just better drama. Its fictions trumped the facts. Sound familiar?
Graham's boldest fancy was to give Cummings and Oliver a pub reckoning, a sort of what-have-we-learned outro (answer: to hate)
rating
Share this article