Cold Feet, Series Finale, ITV |

reviews, news & interviews
Cold Feet, Series Finale, ITV
Cold Feet, Series Finale, ITV
Midlife crisis comedy drama is moreish to the end
Man up: John Thomson and James Nesbitt are held up in 'Cold Feet'
In the end, what makes a good drama series? It's probably that you want more of it. This is the end of Cold Feet until a next time which has already been promised, and more is certainly what's wanted. No one was quite sure if a reincarnation of Cold Feet was a good idea eight episodes ago. Back when the characters were in their 30s the show slowly turned into a bit of a weight round its own neck. Fay Ripley opted out of one season.
Helen Baxendale was written out of another. The show began looking under rocks for characters to replace the ones who weren't there. Eventually it ran out of steam.
That could have carried on being an issue when Cold Feet resumed 13 years on. Show runner Mike Bullen – with episode writers Loren Mclaughlan, Amy Roberts and John Forte - had to find a way of applying an electric shock to the characters now marooned in middle age. He did this with quite ruthless expediency. Guest characters were wheeled on and/or jetted in to do a job.
Thus David (Robert Bathurst) was given a ferociously, indeed implausibly unpleasant wife from whom he could have an ugly separation. Adam was brought back from the Far East (and James Nesbitt back from the snazziest post-Cold Feet career) with a beautiful young bride Angela (Karen David) who was essentially fucked and chucked by the plot. Her super-rich father Eddie (Art Malik) proved more serviceable as the squeeze of Karen (Hermione Norris, pictured above with Fay Ripley). Robert Webb had an amusing cameo as an arsehole in recovery for addiction. The most perfunctory cameo was reserved for Tina's boyfriend Jamie. Alastair Mackenzie, having been an unpopular partner for Birgitte Nyborg in the final series of Borgen, seems destined to play the love interest for whom audience feel no love. Amusingly he even stamped on his own serenading guitar.
The identity crisis of Adam's son Matt (Ceallach Spellman) was sketched in pencil. The strongest story for the younger cast was kept till the last episode when Josh (Callum Woodhouse) found the courage to come out to his mother. Karen, who has always been Cold Feet's only adult, knew "since you were about six".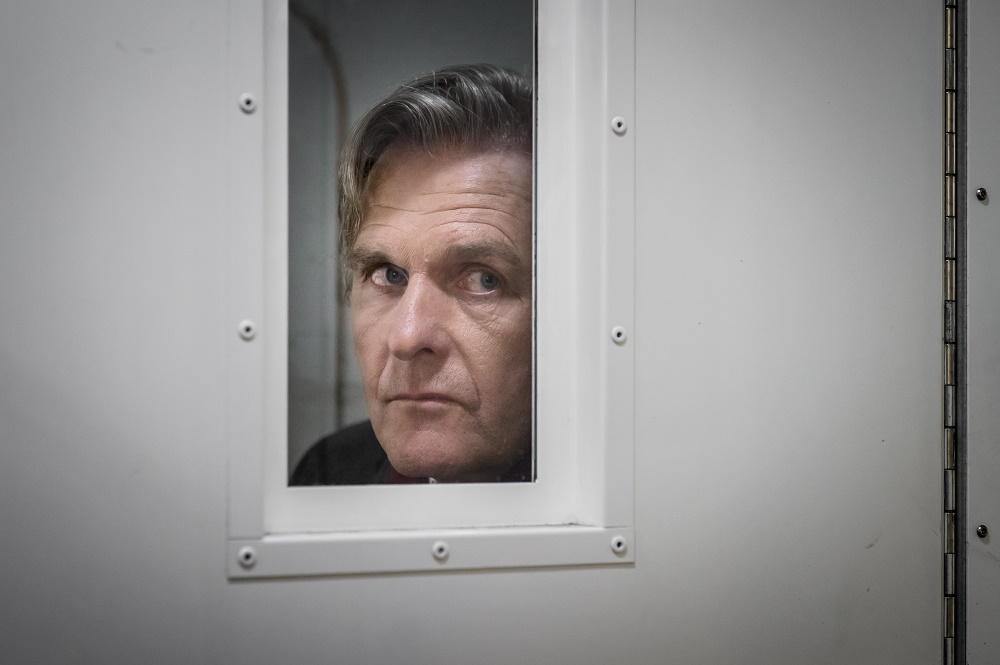 Everywhere plots came and went and you cheerfully allowed yourself to be manipulated just because the characters are so beautifully played and deeply known that they could be teleported to Pluto and you'd still want to hear them joshing and wheedling. But in and among the pinball plots, Bullen managed to wipe the smile off the show's face and confront some actual issues: the problem of an ageing parent (Jenn), being elbowed out of work as a middle-aged woman (Karen), the step-parent issue (Adam), above all depression (Pete).
John Thomson anchored the series with a performance that found exactly the right path between comedy and pathos. If only mental (and priapic) health could be always be treated by an unexpected inheritance and a really good session on the drums. The only plot which really threatened to jump the shark found David spending time behind bars, but Bathurst (pictured above) is such a lovely actor that he found a way to shepherd the story home.
Anyone watching from the start will have known that Adam would be ending up with his landlady. As Tina, Leanne Best (pictured above) was the only cast member whom the script invited to breathe the same air as the regulars, and she grabbed it. The scene in which she smiled through tears and told Adam about her husband's death was so good it belonged in something far deeper and richer.
The final episode was a celebration with a detour via a comedy hold-up. Adam's 50th birthday, even though he was only 49, neatly assembled the entire extended family and even exhumed the Spanish au pair Ramona (Jacey Sallés) for a straight-talking cameo. All most life-affirming. It's not so much the next series that is a mouth-watering prospect, nor the others beyond that before they all decide to throw in the towel again. No, how about another hiatus, and then we all reconvene in 15 years when all the originals are entering old age?