Dead Funny, Vaudeville Theatre |

reviews, news & interviews
Dead Funny, Vaudeville Theatre
Dead Funny, Vaudeville Theatre
Terrific revival of Terry Johnson's modern classic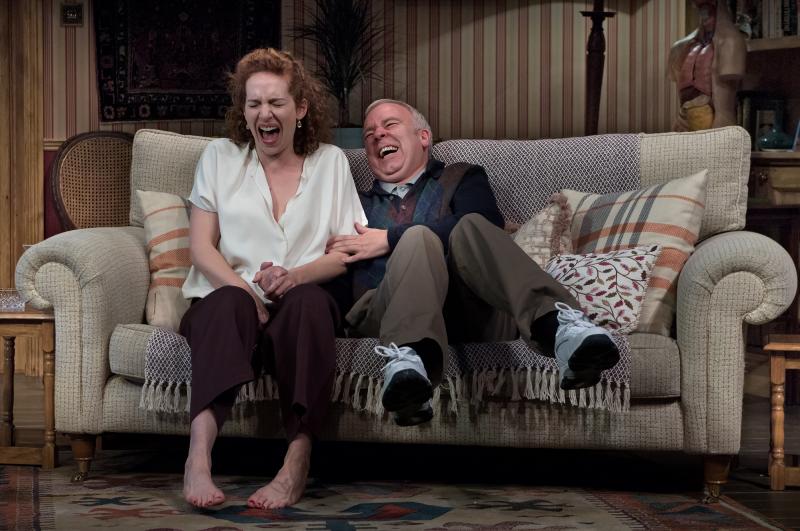 Katherine Parkinson and Steve Pemberton mine their characters for their full comic potential
Terry Johnson's Dead Funny debuted at the same theatre in the West End in 1994 (after opening at Hampstead), and its starting point is the real events of April 1992 when two funnymen, Frankie Howerd and Benny Hill, died in the same week. It was a bizarre coincidence from which he fashioned a very funny play – which he now expertly directs in this welcome revival – about the Dead Funny Society, a collection of suburban oddballs who meet to celebrate their comedy heroes.
But underneath the laughter there is pain. Eleanor (Katherine Parkinson) yearns to be a mother, but husband Richard (Rufus Jones) is far too busy running the society, and their 10-year marriage has suffered. It's not as if Richard doesn't know his way around female anatomy - he's a consultant obstetrician - but while he cannot bear to touch his wife he does, however, have eyes for Lisa (Emily Berrington), the only female member of the society, who is married to Richard's old friend Nick (Ralf Little). They are joined by camp neighbour Brian (Steve Pemberton), deeply closeted only to himself.
The friends meet at Eleanor and Richard's house to celebrate the career of Benny Hill, who has just died. They dress as characters from his television show and, like countless comedy anoraks before and after them, speak in silly voices, tell the same jokes over and over, and re-enact their favourite comedians' most famous sketches. The impressions the actors do, by the way, are terrific – Tommy Cooper, Frankie Howerd, Benny Hill, Tony Hancock, among several – and it was a particular pleasure that my favourite joke, attributed to Max Miller ("I didn't know whether to toss myself off or block her passage") was executed with such aplomb by Little (far right in picture below).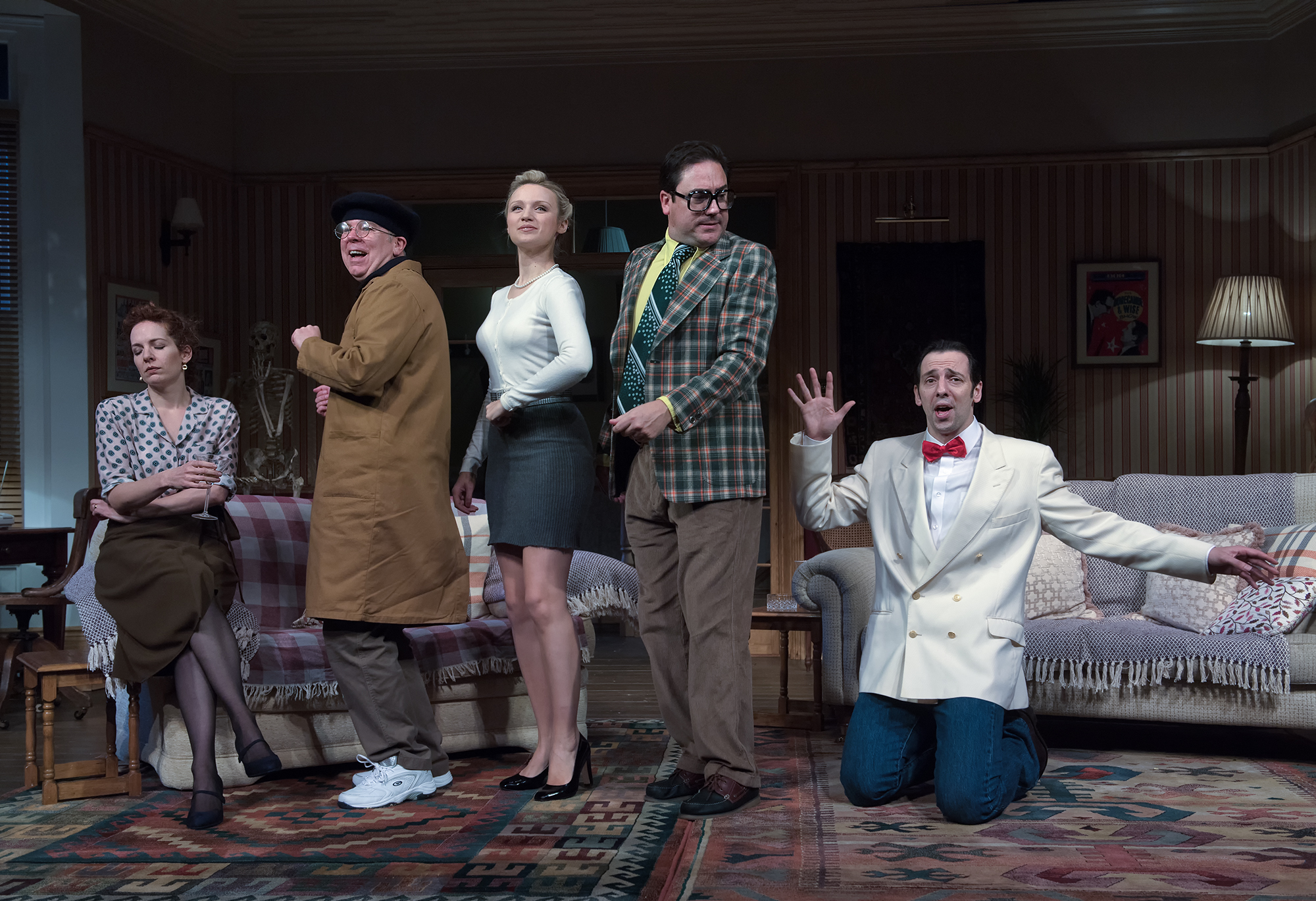 There are moments of pure farce – Brian catches Richard and Lisa in flagrante, and the custard pies he brings for a joke, like a gun mentioned at the beginning of a Russian tragedy, must of course be employed for full dramatic effect later in the play – but it's more Alan Ayckbourn than Ray Cooney. For Johnson, like Ayckbourn, makes us laugh and cry in the same sentence, as this social gathering goes rapidly downhill as drink is taken and home truths – about desire, marriage, infidelity, sexuality and parenthood – are spat out.
Johnson is particularly good at showing how we – the British – use humour to deflect emotion or to avoid any meaningful interaction with others. So Eleanor – actually the only true wit of this group – is considered a humourless shrew, while the men, supposedly old friends, don't actually share anything with each other, rather assume these comic personae to engage at the most superficial level. Shared humour allows them to remain the smutty-minded schoolboys they are at heart, while not confronting the differing problems they each have with sex and intimacy.
The performances are all tip-top and the actors mine their characters' full comic potential while giving them real light and shade, but Parkinson is simply magnificent as a woman driven to the edge by wanting a child and being married to a man whose bonhomie hides an underlying cruelty. In truth, she has the best lines, but her face conveys a huge range of emotion that needs no words. Like the play, her performance is both hilariously funny and deeply poignant.
Dead Funny is at Vaudeville Theatre, London WC2 until 4 February 2017
Johnson makes us laugh and cry in the same sentence
rating
Share this article