Conceal/Reveal, Russell Maliphant Company, Messums Barn |

reviews, news & interviews
Conceal/Reveal, Russell Maliphant Company, Messums Barn
Conceal/Reveal, Russell Maliphant Company, Messums Barn
Modern dance finds a serene new home in a 13th-century tithe barn
Ancient and modern: Maliphant's 'Piece #43' at the 700-year-old tithe barn
An inviting gap in the market, a dark, mysterious place, was left beckoning when the dance theatres of Britain cashed in on expensive refurbs in the name of public accessibility. Putting an end to mystique, they homed in on IKEA style, all glass, pale wood and airport foyer briskness. The theatre as a continuum with our office space, blank, unprejudicing, unintoxicating, all about efficiency and the bottom line.
When I was an usherette at Covent Garden, huddled cloakrooms and elvish bars could be found around every corner, each a tiny fierce kingdom ruled by an outsize ego – Irish Paddy in one bar, Irish Pat in another, and certain staff who could do six drinks or coats orders at a time. The lush carpets were fertilised with fag ash and dropped ice cream. Walls were hung with mysterious faces and obscure career posters. Every part of a theatre's front-of-house gave you a part of the location's story as you travelled to your seat, so that you were primed to start wondering and imagining stories from well before curtain-up. Somewhere inside all these smart, see-through, no-nonsense dance theatres are locked cupboards holding back centuries of ghosts.
Maliphant's serene creations lit with the chiaroscuro genius of Michael Hulls make a hallowed match of place and art
So hooray for airfields, barns, art galleries, conference centres, and other peculiar places to trek to to see dance unexpectedly. A particular hooray for Messums Wiltshire, a new space for dance both spectacular and exquisite inside an enormous 700-year-old thatched tithe barn in Tisbury, Wiltshire, which has an inner roof that a forest of oaks seeded soon after the birth of Christ must have been felled to build in the 1300s. Just opened as an arts centre, it launched its bid to attract dance into its array of attractions last week with Russell Maliphant's cool, Vorsprung durch Technik moving sculpture, his Conceal/Reveal programme retooled. Though I imagine the solid floor limits options in dance, Maliphant's serene and inward creations lit with the chiaroscuro genius of Michael Hulls in the cathedral emptiness of Messums make for a hallowed match of art and place.
The spectator's view from their seat is not broad and shallow, as in a theatre, but long and deep down the barn, back into history, or forward into the unknown. The large, simple building drapes its own personality around everything; the pale stone walls, the great, cobwebby roof, the lack of perfect theatre blackness. The very dynamic exercise given to the eye is countered by the surround-sound of the music, which no longer emanates from in front of you, as in the theatre, but settles on your ears from overhead. Your emotions are pre-programmed by the pastoral landscape through which you arrived, the imposing directness of the barn's exterior, the astonishingly lucid, serene interior, and its very present sense of human history (Messums Barn pictured below).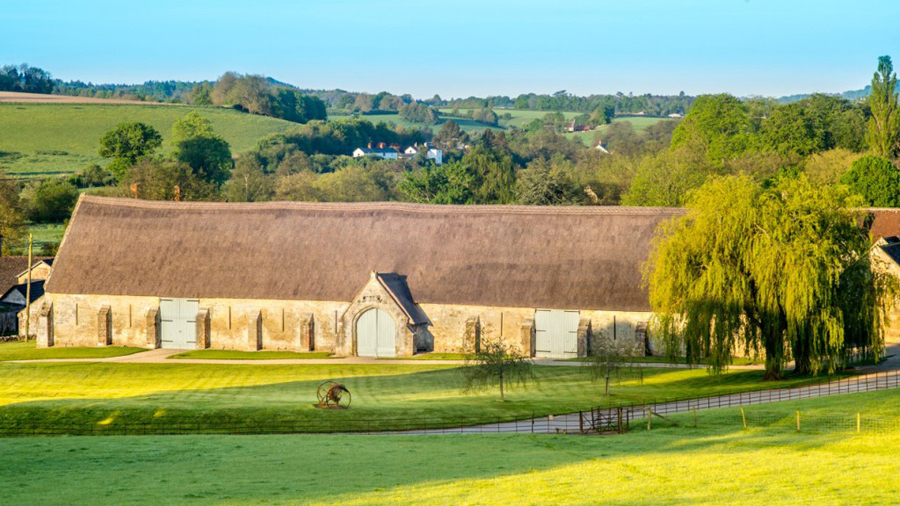 It really is a different experience from a theatre, and Maliphant and Hulls have been inspired to reconfigure their Piece #43 into a much more interesting visual art experience than in its first outing a year ago on the Sadler's Wells stage. The two-men-against-three-women of the construction acquires more profundity when the eye is made to refocus on their different scaling, from near front to deep back, isolated in light squares like statues or groupings coming alive on pedestals. I still flinch at the corny irruption of Beethoven's Moonlight piano sonata amidst Mukul Patel's plinkings, but in this forgiving historic space it isn't quite as jarring as it seemed at Sadler's Wells. A different problem is the blurriness of some of the dancing; cutting-edge precision is demanded to deliver Maliphant's slow, writhing sculpture in its Hellenistic, timeless form.
The solo Two was first created 17 years again, and has been frequently remodelled for various dancers, including (spectacularly) Sylvie Guillem. Not even Guillem could efface the fiery original memories of Maliphant's wife Dana Fouras, with her rich, volcanic arms flashing out of the dark like flames. Here she is once again, an older body taking back her solo, now giving the repetitive scooping arms in the context of the great barn and Andy Cowton's rhythmic, loom-like music a medieval working heft and community effort, echoed by two other women as her backing group. Messums lends its own personality to this new metaphor for the piece's choreography; an eternity of duty and ageing joints in human work, as well as the flashes of expertise and lighting phenomena. Fouras remains an eloquent artist, though there is a loss as well as a gain from the setting – the lack of black-out affects the trompe-l'oeil needed for her hands and feet to carry out the final eye tricks as they slash through Hulls's skeins of light.
Odd venues like these are not places for transferable dance, the type that can be dropped into any theatre. This is a gallery for art-dance, where the creators are ready to respond to the genius loci, space-sensitive eyes such as the late Rosemary Butcher, Siobhan Davies, Michael Clark as well as Maliphant. Let's hope there are more of them coming along ready to be thrilled by a space like this, to add new ghosts. And for audiences this is not a routine, ordinary trip to a routine, ordinary theatre. This becomes a destination event.
For audiences this is not a routine, ordinary trip to a routine, ordinary theatre. This becomes a destination event
rating
Explore topics
Share this article