Rillington Place, BBC One |

reviews, news & interviews
Rillington Place, BBC One
Rillington Place, BBC One
Reginald Christie's Notting Hill murders revisited with horror and black humour
Wednesday, 30 November 2016
Guignol most Grand: Tim Roth and Samantha Morton as Reg and Ethel Christie
Howard Brenton (Christie in Love) and Ruth Rendell (Thirteen Steps Down) are just two of the many writers inspired by the sordid goings-on in 1940s Notting Hill. John Reginald Christie was a postman, a policeman and a psychopath who, as a back-street abortionist, enjoyed killing for company. A fantasist with an iron grip, he ensured that his lodger, Tim Evans, was the first to be hanged for his crimes.
Ludovic Kennedy's 10 Rillington Place, which highlighted the miscarriage of justice, ensured that Christie's necrophiliac corpse would never rest in peace. It took 10 years for Kennedy's book – adapted by Clive Exton, who would go on to write for Poirot and Jeeves and Wooster – to reach the silver screen in 1971. Directed by Richard Fleischer, the dazzling sunshine of 10 Rillington Place, a dusty dead-end in west London, threw the dark deeds of Dickie Attenborough into even greater relief. Once seen, never forgotten (pictured below, Nico Mirallegro as Tim Evans).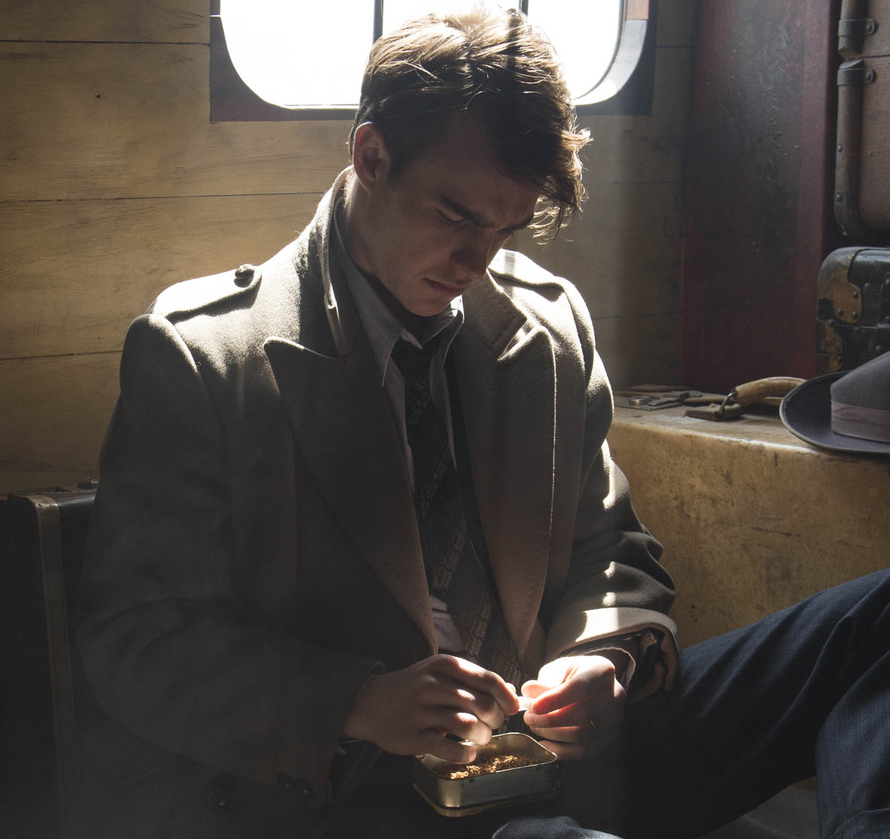 As if to eclipse all thoughts of Fleischer's starkly beautiful film, Rillington Place – apart from a moment when the whole screen flashes blood-red in the first minute – is shot in 50 shades of grey and brown. The designers have had a field day creating a palette of dinge deluxe. The odd couple who inhabit it are dullards, too: repressed, costive, laconic. Newly reunited after a long separation – "nine years without a word," sighs Samantha Morton's Mrs Christie – they don't even sit on the sofa together.
This first part of three views the action from the viewpoint of Ethel who, for some strange reason, is devoted to the loathsome little man she has married. Tim Roth plays Christie as a buttoned-up buffoon, his face flickering with hidden urges – to lash out and, at times, to laugh. He tells his wife Ethel, with breathless irony, "You'd be better off without me."
Writers Tracey Malone and Ed Whitmore are serving up a triple-decker slice of Grand Guignol. The facts of the case are so well known that the only way to treat them is with disbelief. How could Ethel be so stupid? She knows her husband consorts with prostitutes, knows he is bribing her with black-market chocolates and his victims' jewellery, yet – even when he almost strangles her – she returns to the house of death "to make it right." She believes Christie needs her, but it's the other way round: without him, she is nothing. Can she really believe the long-ago death of their baby explains her husband's peculiarities? Thanks to Morton's brilliant performance, the moment when Ethel stops being a bystander and starts being an accomplice is exquisitely horrifying.
Some lines – full of knowing irony – are laugh-out-loud funny. As Reg leads Ethel into the grimy dump that will be their W11 home he declares, "It's a very sought-after area." Ethel, playing the proud hostess, tells a future victim, "My Reg can turn his hand to anything."
The horrid laughter deepens the creepiness. Craig Viveiros, who also directed Roth in The Liability, is clearly a fan of David Lynch. Number 10 is full of strange noises, the walls shake and things go bump in the night. Next week the nightmare will be relived from the viewpoint of toothsome Tim. Slumming doesn't get classier than this.