Interview: Claire Foy, Netflix queen |

reviews, news & interviews
Interview: Claire Foy, Netflix queen
Interview: Claire Foy, Netflix queen
Celebrating the great British actress who rules the waves (and the Golden Globes)
If the cap fits... Claire Foy tries on the titular headgear in the Netflix series 'The Crown'
It was a good night for British thespians at the 2016 Golden Globes. The stars of The Night Manager – Tom Hiddleston, Hugh Laurie and Olivia Colman – all visited the podium to collect awards.
But of the most deserving winner of all was
Claire Foy
, whose performance in
The Crown
on
Netflix
continues a tradition started by Helen Mirren on film and onstage: portrayals of
Queen Elizabeth II
bring home the statuary. As she collected her Golden Globe, Foy thanked Her Majesty and suggested that the world could do with a few more women in charge.
When I first interviewed the rising actress four years ago, two things were striking about her. One, that she is incredibly funny, which you wouldn't necessarily know from her CV (see below). Two, that she is commendably forthright about what it is to be a young actress in an industry known for vampirically devouring youth and beauty. Foy was brought face to face with the way the industry at its most nakedly commercial sees young women when she first auditioned for a film in Los Angeles.
"The character was supposed to be 'the most beautiful girl that Johnny Depp has ever seen'," she told me. "And as I wouldn't be the most beautiful girl that Johnny Depp has ever seen I was like, 'I don't really know what to do because I'm obviously not right for this part.' But you go up for it anyway and you don't get it. I think I'm more suited to playing someone with a chip on their shoulder, probably about not being the most beautiful girl in the world."
Foy's compelling features are just unclassical enough to have found her convincing as a series of forthright and even stroppy young misses. She was a forthright heroine in Peter Kosminsky's The Promise, a spoilt Fascist sympathiser in Upstairs Downstairs, and an assertive proto-feminist in White Heat (pictured above). When the casting director of Paula Milne's drama was looking for an older version of her they alighted on Juliet Stevenson.
Her ability to play with agelessness – to portray both naivety and wisdom - was explored in Mike Bartlett's Love, Love, Love at the Royal Court. Foy played the daughter of two hippies who first appeared as a 16-year-old in school uniform and later as an embittered single woman aged 37.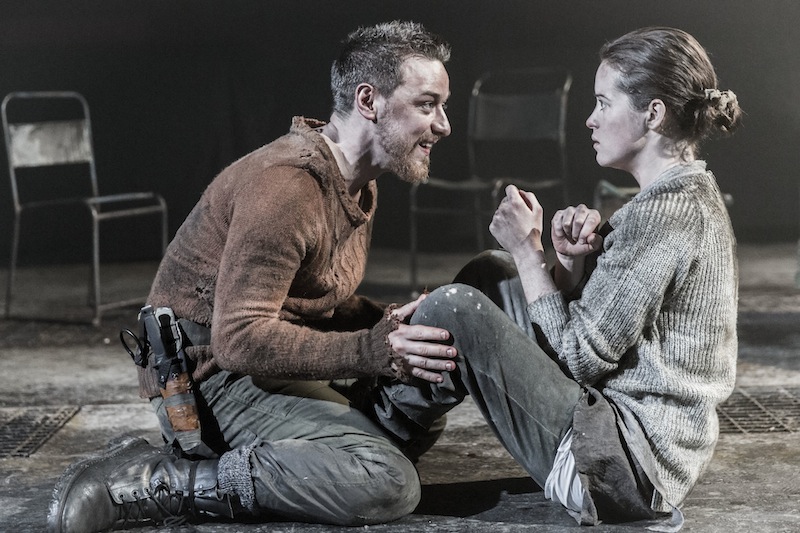 But her three biggest roles have been as three very different queens, one Scottish, two English, each embodying her stated claim that "You've got to keep challenging yourself, and I feel bad if I feel like I'm ever doing something that's sort of similar." Her Lady Macbeth opposite James McAvoy (pictured above by Johan Persson) at the Trafalgar Studios took her by surprise. Her only previous pre-20th-century role was the title role in the BBC's Little Dorrit. She had never done Shakespeare. "I just thought I will never be able to play any of those parts." Fearing it was a cliché, she has always avoided "Out, damned spot" as an audition piece. "But I hadn't really worked for a quite a while and I was getting a bit bored and so I thought I'd prepare a part. 'Maybe I'll just prepare Lady Macbeth.' And then I got a call from my agent, who said, 'You're going to run a mile. It's Macbeth.'"
Then came Anne Boleyn in Wolf Hall (pictured below). She captured in sharp detail an over-promoted young woman's complex mesh of vulnerability and haughtiness. Her alabaster face and pale accusing eyes as she went to her execution are embedded in the memory. Those eyes were at the very heart of her QEII, frightened, steely, compassionate, thoughtful and, yes, witty.
Born in 1984, Foy spent her early childhood in Lancashire, but the family moved south to Buckinghamshire when she was seven. "I did have an accent and when I went to university I knew I wanted to go to the north." Her film studies course in Liverpool turned her towards acting. After another year at drama college in Oxford she was soon equipped with an agent and landed a part in the BBC drama Doctors and then went on to appear in two of a trilogy of plays for young actors at the National Theatre. "We were all really young and going 'Help!' to each other, 'we don't know what to do.'"
She does now.

CLAIRE FOY'S CV
Little Dorrit (2008). "Dickens did just see her as homely, angelic and giving. I looked on her as a sort of a carer whose parent or child is ill. That made her believable in my head."
Upstairs Downstairs (2010-12). Lady Persephone, posh little brown shirt based on the Hitler-obsessed Unity Mitford, tops herself in a dramatic exit from the second series.
The Night Watch (2011). Foy plays a troubled lesbian toy girl in an adaptation of Sarah Waters' novel about heartache in the Blitz (pictured below with Anna Maxwell Martin).
Wreckers (2011). Foy is wife to Benedict Cumberbatch in fraught low-budget Fenland drama.
The Promise (2011). In Peter Kosminsky's epic historical drama, Foy plays Erin Matthews, an 18-year-old obsessed with investigating the story of the British soldiers serving in Palestine in the years before our ignominious exit. "I just recognised quite a lot of things about me when I was her age."
White Heat (2012). Foy is a feminist child of the Sixties who grows up to become Juliet Stevenson.
Hacks (2012). Guy Jenkin comedy inspired by the hacking scandal, in which Foy's feral tabloid editor Kate Loy is not remotely based on to Rebekah Brooks. A rare comic outing for an actress with natural funny bones.
Love, Love, Love (2012). In Mike Barlett's play Foy played a child of a hippie baby boomer. "It's the Philip Larkin thing: she really does believe her parents did fuck her up. I hope I'm not like she is when she's 37." (Pictured, Foy with Victoria Hamilton).
Macbeth (2013). "Why does everyone think she's so evil? My approach to every character is you essentially want to understand. They always have something they are fighting against. They have lost a baby and that's the catalyst for everything."
Wolf Hall (2015). Foy's Anne Boleyn goes toe to toe with Mark Rylance and Damian Lewis.
The Crown (2016). Queen of all she surveys. Bring on series two.
You've got to keep challenging yourself, and I feel bad if I feel like I'm ever doing something that's sort of similar
Explore topics
Share this article