Hospital, BBC Two |

reviews, news & interviews
Hospital, BBC Two
Hospital, BBC Two
Unmissable insight into the inner workings of the biggest, sickest patient of them all
Thursday, 12 January 2017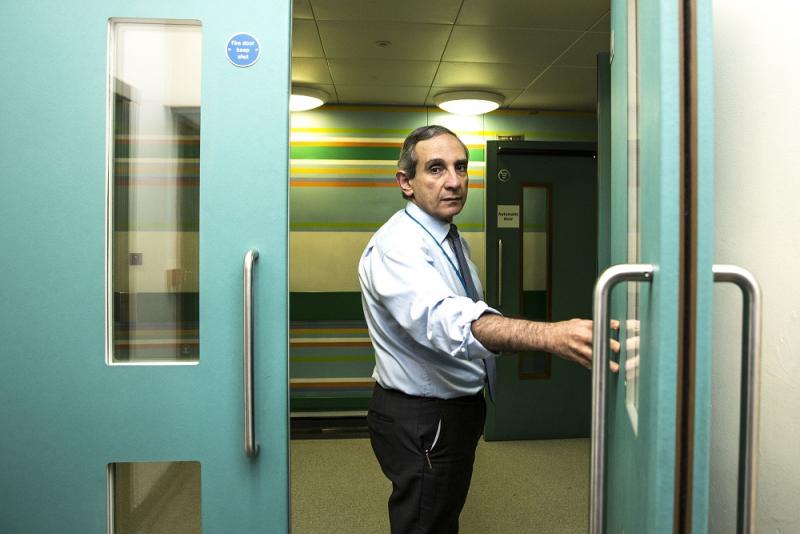 Time on his hands: Professor George Hanna, surgeon at the Imperial College Healthcare NHS Trust
It's the ghastly scenario of a grim morality play. A man called Simon comes into hospital for the removal of a tumour in his oesophagus and the construction of a new food pipe. But there are not enough berths in the intensive therapy unit to ensure he can have post-operative care. Why? Because elsewhere in the country Janice has ruptured her aorta in a car accident.
She is on her way to the London hospital which specialises in such cases. If she dies in the ambulance on the way, Simon can have his op. If not, he has to go home (for the second time). How does that make Simon feel? "Guilty, actually."
Running the surgical timetable of a large London hospital looks like the worst game in the world, combining elements of Jenga, Racing Demon, Russian Roulette and, most of all, Patience. This first episode of Hospital, a six-part documentary portrait of the Imperial College Healthcare NHS Trust in central and west London, was partly about watching highly paid surgeons, and the vast and capable teams who work with them in theatre, not being able to do their job. Instead half their hours are spent negotiating clearance for take-off. "Right, let's go and postpone things," said head anaesthetist Dr Shelley Ward on Monday morning in St Mary's Hospital.
The lionisation of the National Health Service was trumpeted to the world in Danny Boyle's opening ceremony at the Olympic Games. Hundreds of beds dangled over the stadium full of young patients inspired by the legacy of JM Barrie and Peter Pan. So much for the love. An alternative reality is suggested by this painfully gripping new series: that our hospitals are full to bursting, and that the grim calculus of whether patients like Simon can be operated on is iterated often and everywhere. In the Imperial Trust they have an official name for a bad day of zero spare capacity: Code Red.
It doesn't seem to be the job of Hospital to explain how this has happened. Anyone watching this and pointing a finger at immigration was given precious little evidence that beds are being blocked by Romanians and South Sudanese. One Filipino was successfully operated on, but Janice (who arrived from Norfolk alive and ready to have her life saved) and Simon were both white Anglo-Saxons. Instead it was just a case of watching a hospital try and get through a caseload on a manic Monday.
The series opened with Lesley Powls, St Mary's site director AKA head bed-juggler (pictured above), asking the camera crew to move to the side as a patient was coming through. What's remarkable about Hospital is that the cameras have been allowed to move to the very centre, attending clinical and strategic meetings, interviewing everyone from surgeons to anxious relatives awaiting news of life or death, and most of all poking about inside the bodies of patients. Janice's entire trunk was opened up and displayed on national television. "Don't touch the haematoma whatever you do," said her surgeon Richard Gibbs. And there it was, in a pink pile of slobbery organs. The same went for Simon's neck when he had his op the next day, while his blighted oesophagus was extracted and sent off to be picked over for signs of cancer.
Half the programme was devoted to a single day, before the rest of the week spooled out with slightly less involvement of Messrs Kick, Bollock and Scramble. A brief visit to a predictably overwhelmed A&E felt like the most overt bit of necessary propagandising. For the rest of the time, this was a well-crafted piece of advertorial hymning all who sail in the great listing ship. If you're ever under the knife, the evidence is that you're safe with a surgeon called George. Surgeons like the immensely calm Prof. George Hanna (main image) and the mordantly ironic Mr George Reese came across as the ideal types to bat and bat for your life.
Right-wing commentators will probably assault Hospital as the product of pinko conspiracy at the BBC; government lickspittles will bluster about partiality and misrepresentation. And then they'll need an operation, and will find themselves fervently hoping that the ghastly kicker in this episode's closing caption doesn't apply to them. For everyone from the Prime Minister and the Secretary of State for Health down, Hospital is unmissable.