Brighton Festival 2017 launches with Guest Director Kate Tempest |

reviews, news & interviews
Brighton Festival 2017 launches with Guest Director Kate Tempest
Brighton Festival 2017 launches with Guest Director Kate Tempest
The south coast's May arts extravaganza reveals its line-up
Wednesday, 15 February 2017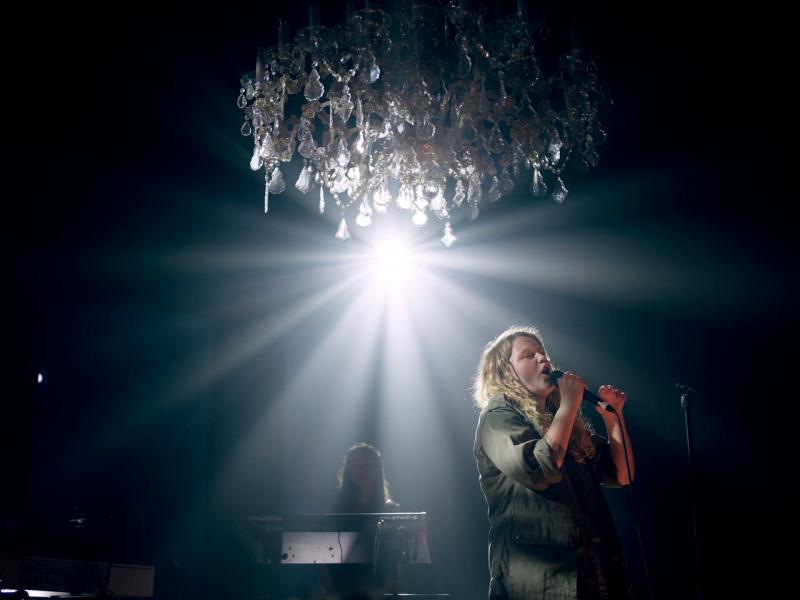 The Guest Director in full flow
This morning the Brighton Festival 2017 announced its much-anticipated programme, with guest director Kate Tempest enthusiastically leading from the front. The poet-playwright-novelist has put together a programme that responds to the strange, dangerous times we live in, but which also offers up a plethora of lively entertainment.
The theme she's given the Festival is "Everyday Epic", adding that, "Singing, playing, dancing, moving, painting life and communicating about that in public spaces requires no qualifications, no training to enjoy. It's truthful communication between humans about humanity, and in these times it feels more important than ever to try and understand what that humanity is and what it could be. Approach the Festival like an epic. Like you are a pilgrim on a quest and something may well happen in the theatre, the pub, the community centre, the concert hall, that will smash you back to feeling and land you in your skin again."
Tempest's passion for poetry will be to the fore as she hosts and performs at a series of events, including an appearance beside fellow Picador poets Holly McNish and Glyn Maxwell, and a live orchestration of her album Let Them Eat Chaos. Meanwhile the city's internationally successful hip hop label, High Focus, presents a line-up that includes Ocean Wisdom, Jim Baxter and The Four Owls, and poetry slam champion Tommy Sissons appears beside spoken word virtuosos Dizraeli and Patience Agbabi. Wildly colourful US hip hop maverick Mykki Blanco will be performing a rare UK concert, Bang Said The Gun, a poetry night for people who don't like poetry, voted the best in the UK by The Times newspaper, hits Brighton, and the world premiere of No Dogs No Indians by poet/playwright Siddartha Bose marks the 70th anniversary of Indian independence.
Of course, there's plenty else going on. The Festival boasts a feast of art, film, music, literature, circus and much more. Folk legend Shirley Collins will be returning to the stage with her acclaimed Lodestar album; a celebration of Monteverdi on the 450th anniversary of his birth; Richard Nelson follows up to his much-loved Apple Family Plays, The Gabriel Family: Election Year in the Life of One Family; cabaret artiste extraordinaire Meow Meow performs with Orchester der Kleinen Regiment; Mica Levi, Oscar-nominated composer for Under The Skin and Jackie will be performing her soundtrack to the former, an extraordinary Scarlett Johansson sci-fi film; then there's Turkish artist Ipek Duben's video installation They/Onlar; Summit, a new theatrical work by Andy Smith & Fuel; Irish dance doyens Teac Damsa's take on the ballet Swan Lake; sculptor Cathie Pilkington's new pieces The Life Rooms and Doll For Petra; Australian circus sensation Casus' new show Driftwood, and appearances by novelists Ali Smith and Hanif Kureshi, singer-activist Billy Bragg, and many more.
The festival also continues its tradition of groundbreaking outdoor events with artist John Easterby's ornithologically-themed sound and light experience For The Birds, the quite literally seafaring Five Short Blasts, Walter & Zoniel's audience-inclusive pebble-throwing installation Spectra: Cast, and Circa: Depart represents the myth of Orpheus in the Underworld transferred to Woodvale Cemetary. And there's a Smörgåsbord of free events entitled Weekend Without Walls, taking place in multiple locations. And there's the usual wide array of child-friendly and family events.
Andrew Comben, Chief Executive of Brighton Dome & Brighton Festival explained that, Kate Tempest "is passionate about the power of the arts to bring communities together – vital now more than ever." He added, "We are thrilled to be presenting more work across the city than ever before - much of it outdoors in a celebration of everything this city has to offer – the everyday and the epic. "
In other words, Brighton Festival 2017 looks to be a year to remember.
Find out more about Brighton Festival 2017
Watch Kate Tempest on Brighton Festival 2017's theme, "Everyday Epic"
The festival also continues its tradition of groundbreaking outdoor events
Explore topics
Share this article