Kate Tempest, George the Poet, Brighton Corn Exchange |

reviews, news & interviews
Kate Tempest, George the Poet, Brighton Corn Exchange
Kate Tempest, George the Poet, Brighton Corn Exchange
An evening of spoken word with music undermined by dodgy sonic clarity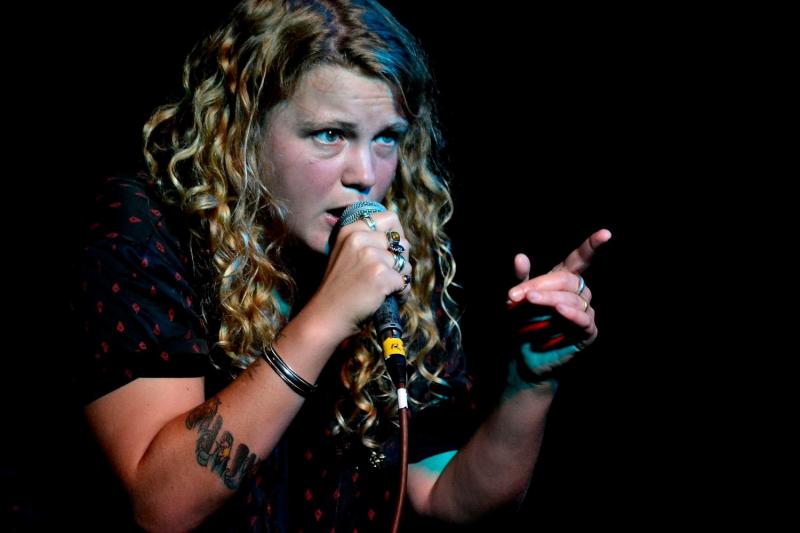 Kate Tempest laying down hard home truths
Kate Tempest's long blonde-brown hair flailed as she prowled the stage, red-faced from exertion, adhering not a jot to the media's tick-boxes for femininity. She is smaller, by far, than her backing band, dressed down in baggy sweatshirt and jeans.
Unlikely star material yet she exuded such energized passion and righteous charisma that, by the end, as she encored with a poem that, like so many tonight, seemed to allude to the troubling political developments of last week, she had the audience rapt, completely engaged. "We never saw it coming," she announced towards the close, "like all the best tricks." She is not only a poet, she's a powerful orator. There must have been many present who wished any one of our politicians could muster this much fire and straight-speaking.
Tempest's gig was part of the Brighton Festival but also, controversially, a feature of another event, The Great Escape, a multi-venue showcase wherein the global music industry descends on Brighton en masse. Her support acts were slam poetry champion Hollie McNish, her own spoken word set, and George the Poet (AKA George Mpanga).
She seemed in a turmoil of sorts, clearly wanting to offer positivity in the face of the disastrous General Election
The latter's releases have been intriguing, especially "The Chicken & The Egg EP", a bleak clear-eyed dissection of broken relationships and unwanted pregnancy. His set started well. Mpanga, backed by a heavily bearded outfit who looked like ageing LA funk-metallers, entertainingly dissected how his teachers had tried to put him off applying for Oxford or Cambridge. However, as the set went on Mpanga's words were lost in a muddy sludge of music, an unlovable concoction that was part virtuoso progressive jazz-metal, part UK garage pop, and all sonic stodge. Things were not helped by the whole ensemble giving off a weird evangelical smugness as the 24-year-old repeatedly offered himself a messianic teacher role in leading us out of trouble. Things reached a nadir with the arrival of singer Tom Prior who, under the impression Sam Smith is a good musical role model, warbled things into a turgid R&B mess.
Mpanga's talent – which is clearly extensive – was lost amid his show. Kate Tempest's words were also often indiscernible, drowned out by drums and electronics. But, happily, despite an unfortunate muddy sound, the music was propulsive dubby techno that worked in its own right. She played a multitude of tracks from her album Everybody Down, driving song-poems such "Lonely Daze", "Marshall Law" and the dark tale of a drug-dealing double-cross, "The Heist". She stopped the band every now and then to tell the crowd how moved she was and how we're all in it together, but she seemed in a turmoil of sorts, clearly wanting to offer positivity and optimism in the face of the disastrous General Election result, and partly because the artifice of the concert experience seemed to niggle her.
But by the time she reached her best-known number, "Circles", she roused the crowd with a manic display of speed-rapping, resulting in much whooping. What really struck home from the night, though, were more desperate lines such as "We're kissing the coshes that cripple us" from "The Beigeness". These were the ones that summed up where Tempest's heart currently resides and I left the venue raging at what Britain has sentenced itself to, so she clearly did her job well.
Overleaf: Watch the video for "The Beigeness" by Kate Tempest