The Wild Party, The Other Palace |

reviews, news & interviews
The Wild Party, The Other Palace
The Wild Party, The Other Palace
Gin, skin and sin in a scorching production of a slight musical
Tuesday, 21 February 2017
Jazz hot: the cast of 'The Wild Party'
The Other Palace's housewarming party certainly lives up to its billing as a wild one – wet and wild, in fact, as the first three rows are sporadically doused with bathtub gin.
The theatre formerly known as St James, revamped by purchaser
Andrew Lloyd Webber
as a breeding ground for
musicals
, opens with the UK premiere of an established show: Michael John LaChiusa and George C. Wolfe's 2000 version of Joseph Moncure March's initially banned narrative poem about the excesses of the vaudevillian Roaring
Twenties
.
Curiously, Andrew Lippa provided a competing musical take on March's tale in the same Broadway season, with a deliberately anachronistic rocky score. LaChiusa's, in contrast, is smoky jazz opera, each number bleeding into the next. It slips down like smooth liquor, but leaves no aftertaste – amiable pastiche of more profound and more indelible shows.
The plot is similarly insubstantial. This New York Prohibition-era party is wildly overpopulated, with 15 characters – or rather stock types – given little time to develop. Essentially operating as cabaret, with the party-goers taking it in turns to step into the spotlight, it dwells endlessly in languorous set-up. The drama, or more accurately melodrama, arrives breathlessly in the last 10 minutes with scant foundation.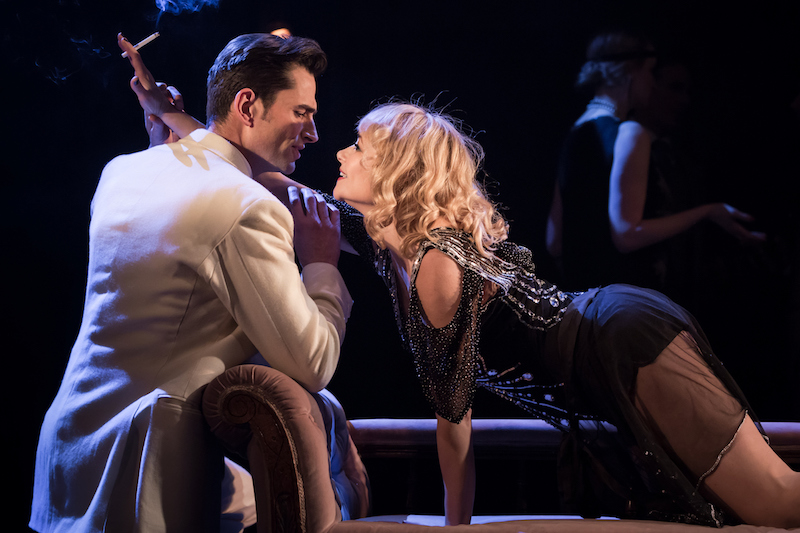 Thank heavens, then, for director/choreographer Drew McOnie and his equally virtuosic company, whose unflagging energy and supreme ability to paper over the cracks turn a slight, meandering show into a sizzling spectacle. The plot may grind to a halt, but McOnie's production dances on, electrifying hedonism tinged with necessary hysteria. The vaudeville-steeped setting also makes a virtue of a piece that – despite its booze, coke, striptease and loud proclamations of scandal – is more performative than truly shocking.
Frances Ruffelle, best known as the original Eponine in Les Mis, offers a masterclass in how to put over a number as good-time showgirl Queenie, the "sexually ambitious", kittenish blonde fatally attracted (cliché alert) to dangerous men. Though handed tired ideas like the performer's insatiable lust for the spotlight, longing to belong and reliance on a glamorous mask to hide the damage, she finds mesmeric power in Queenie's gradual emotional exposure – the real woman emerging, unsteadily, from her provocative persona. (Pictured above, Frances Ruffelle with Simon Thomas)
As (another cliché alert) sad clown Burrs, whose smothering affection for Queenie only fuels her infidelity, John Owen-Jones (pictured below) roars pain through the greasepaint in spine-tingling fashion. Their toxic relationship is over-familiar and abruptly sketched, but Owen-Jones brings real heft and vocal fireworks to Burrs's predicament.
The legendary Donna McKechnie has a ball with faded star Dolores – and there's musical geeky joy to be had in seeing this Chorus Line original cast member once again battling for a theatrical break. Victoria Hamilton-Barritt, sadly underused, is delicious fun as Queenie's sultry frenemy, a sharp-tongued sharp mover. There's great support from Tiffany Graves as "almost famous" stripper Madelaine, lusting after elusive post-modernist Sally; Sebastien Torkia and Steven Serlin as a pair of impresarios casting off their Jewish identity during the move to Broadway; and Dex Lee's "ambisextrous" Jackie, whose antics take a dark turn.
But the real show-stealers are Gloria Obianyo and Genesis Lynea as the possibly incestuous D'Armano brothers – the gender cross-casting of this double act adding fascinating layers to the work's exploration of social taboo-breaking and fluid or invented identity. The pair are loose-limbed, slick and sinuous, punctuating the action with their superb synchronicity; when that's challenged by an interloper, the bodily expression of their rift is striking.
Unsurprisingly, this is a thrillingly physical production – performers dive onto chaise longues and under beds, or burst into high-kicking Charleston tinged with desperation to impress an imaginary audience. McOnie works wonders with this small playing space, judiciously using a fire escape staircase and upper level housing the band to provide constant entertainment for the wandering eye.
There is a tendency towards the literal – playing with fire or blinded by the bright lights of showbiz – but Richard Howell's vivid lighting is nevertheless effective, and Soutra Gilmour provides wonderfully slinky period costuming. Theo Jamieson's jazz-hot band is superb, though sometimes drowns out the lyrics. It's symptomatic of an evening rich in atmosphere, but hazy on specifics.
The plot may grind to a halt, but McOnie's production dances on
rating
Share this article