CD: Sleaford Mods - English Tapas |

reviews, news & interviews
CD: Sleaford Mods - English Tapas
CD: Sleaford Mods - English Tapas
Can the slam-poet electro-punk duo continue their unlikely success story?
Saturday, 25 February 2017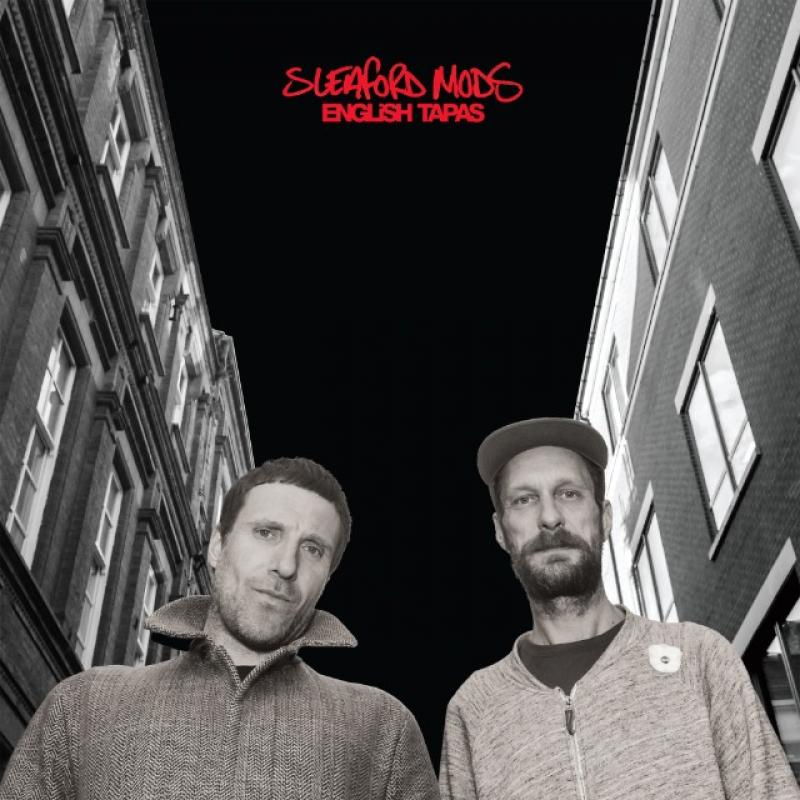 Jason Williamson and Andrew Fearn, possibly on Beasley Street
Sleaford Mods have had an amazing run. The duo are prized by their fans for their ultra-basic set-up – a guy with a can of lager standing by a laptop, and a guy ranting – but few would have imagined them almost making the Top 10. Yet that's exactly what last year's Key Markets album did. However, the backlash has started, with dispiriting talk of a one-trick pony having run its course.
Jason Williamson and Andrew Fearn have previously done four albums together (Sleaford Mods also existed before that), catering to a punk-spirited fan base who relish the ethos of a socially conscious outfit midway between John Cooper Clarke, The Fall and the roughest fringes of grime. With English Tapas the main change is that the backing tracks are less caustic, there's more space. This is a mixed blessing.
On the down side, there's nothing here with the visceral attack of the band's best-loved cuts (eg, "Jobseeker" or "Tweet Tweet Tweet"). Songs such as "Army Nights", with its Stranglers-like bassline, and the shouty "Moptop" seem almost like Sleaford Mods caricatures. It's as if they've done this already and there's nowhere to go. However, Williamson's lyrical twists and turns are often as sharp as ever. This time he's concerned not only with the state of the nation but with his new life as an unlikely alternative pop personality.
"Given half a chance you'd walk around like a twat like we do," he sneers at the drunken, washed-up rock star subject of "Just Like We Do", while the bleepy "Drayton Manored" contains snappy lines on the subject of dissolution ("Head like an A-level leaving party"). His acerbic social commentary is on point on the bitter, funny "B.H.S." ("We're going down like B.H.S."), a sharp piece whose stark electronic instrumentation works well, as do similarly less-is-more numbers "Messy Anywhere" and "Time Sands".
English Tapas doesn't have the bite of its immediate predecessors, and maybe it's time for a musical rethink, but any report of the duo's demise is a wild exaggeration. There's poetic vitriol here worth cherry-picking.
Watch the video for "B.H.S."
Maybe it's time for a musical rethink, but any report of the duo's demise is a wild exaggeration
rating
Share this article