Die Meistersinger von Nürnberg, Royal Opera |

reviews, news & interviews
Die Meistersinger von Nürnberg, Royal Opera
Die Meistersinger von Nürnberg, Royal Opera
No joy or lightness in Kasper Holten's messy Wagner, despite high musical values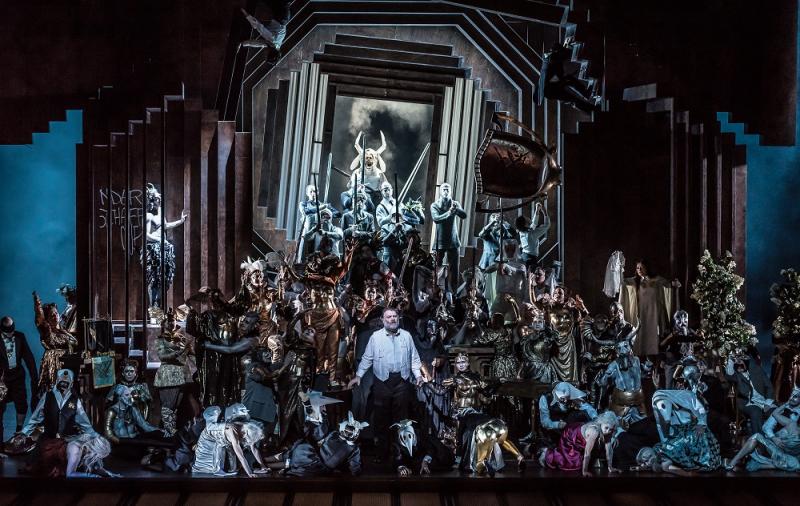 Hans Sachs's nightmare - and ours: Bryn Terfel in the Act 2 finale
Recent British-based productions have taken Wagner's paean to creativity, the reconciliation of tradition and the individual talent, at face value.
Graham Vick's long-serving Covent Garden colourfest, with its brilliant staging of the night brawl; David McVicar's sunny Biedermeier celebration at Glyndebourne; best of all, Richard Jones, making Wagner's immaculate all-about-art proposals crystal clear first for Welsh and then for English National Operas: all three have had their share of joy and lightness. Not so Kasper Holten's semi-mess of a show, which is nothing to laugh about at any point.
The darker than usual ending isn't the problem. Harder to take are the vagueness with which the crucial human relationships are sketched and the botched topography of a second act which is the clumsiest realisation of anything I've seen on an operatic stage since Katharina Thoma's Royal Opera Un ballo in maschera. So much the worse given a cast which, on paper at least, looked close to perfect - three of the principals, the great Bryn Terfel included, have passed their tests with flying colours in previous productions infinitely better than this one - and conducting by Antonio Pappano which, if it sometimes lacks a certain amplitude, certainly has plenty of the grace, drive and suppleness Holten's leaden-footed vision so catastrophically lacks.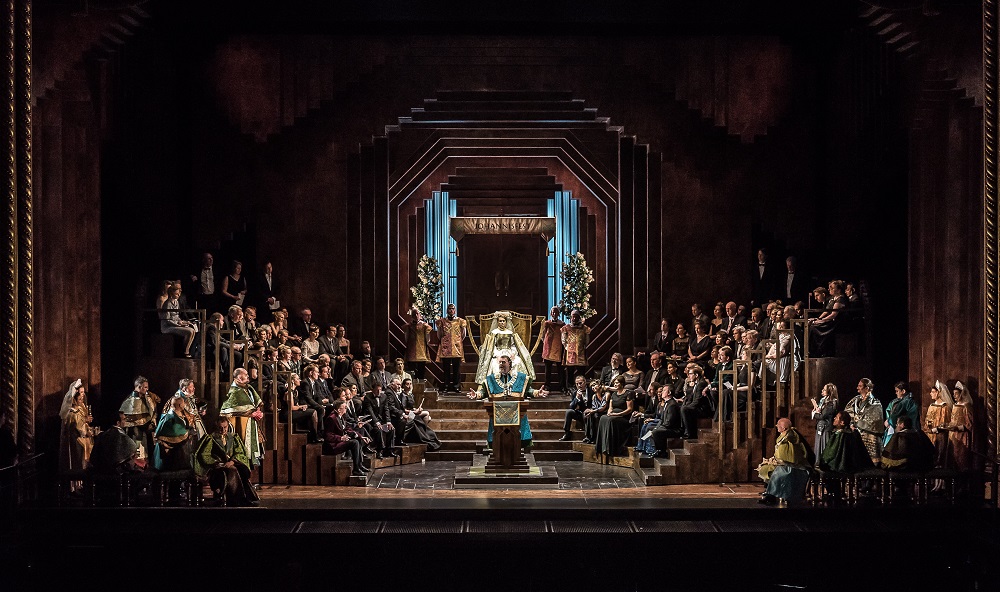 If you're going to throw out the four settings Wagner envisaged - a church doubling as a morning meeting-place for artistic guildsmen, a balmy midsummer evening in a city square, a cobbler's humble abode and festive water-meadows in bright sunlight (the alternative pictured above) - you'd better find something convincing with which to replace them. It's not immediately clear that Holten has failed in the task: within Mia Stensgaard's theatre or civic building, richly wooded but in ungainly 1970s style design, a choral group are rehearsing under the watchful eye of Mastersinger Hans Sachs. It could be communist Eastern Europe until outsider Walther appears in grubby contemporary get-up.
"Apprentice" David's explanation of the song-rules to this contender for the hand of the goldsmith's daughter – though excellently delivered in high musical style by Allan Clayton, surely a Walther in the making with a timbre not dissimilar to the present, vocally tireless incumbent, Gwyn Hughes Jones – takes place to waiters and waitresses mugging horribly as they set up tables for the "club members". Where Jones illustrated the song-types entertainingly, Holten clearly doesn't trust this sequence and it's back to otiose exposition as usual. The Mastersingers appear in Masonic aprons, complete with (ungreeted) trophy wives. To judge from this, and the photos of civic UK ceremonies in the programme's centrefold obviously advised by Holten, a central point is missed: that for all their innate conservatism, the practitioners are working men who really care about the meaning of art, not just about hollow ceremonials. Artistic, all the same, are the considered Pogner of Stephen Milling and Sebastian Holeck's clarion Kothner.
You have a queasy feeling that Act 2 isn't going to deliver on the perfumed summer night airs and blossom-scent rife in Wagner's score. Sure enough, we're stuck in the theatre, with a bit of ominous dry ice and two lilac "trees" in pots having to make do as the context for Sachs's great monologue. It's soulfully sung, as at Welsh National Opera, by Terfel, albeit in generally more declamatory mode but with real artistry aided by Pappano in the throbbing-horn coda. Yet the stage picture needs to be in complicity with Sachs. It isn't. There are no cobbler's or goldsmith's houses either side of the stage, of course, no balcony from which maid Magdalene (Hanna Hipp, excellent) can impersonate her mistress, and Sachs happens to have brought his work with him.
Johannes Martin Kränzle (pictured above with Terfel), so funny as malicious pedant and rival suitor Beckmesser for McVicar at Glyndebourne, does his shtick at a harpsichord, not with a lute, getting only a few titters, though later he manages pathos well; Hughes Jones, stuck up the steps and out of sight for many people in the audience with his Eva for much of the act, resorts to an angry rasping which makes him more a third Nibelung brother for Mime and Alberich rather than an impetuous young man. The tenor overacts, while Terfel keeps movement to a minimum; his Sachs can never have less than star quality, but how much more of a real person he was at WNO. The brawl is an unspeakable mess: a seething costume pageant, not a fight, giving Sachs nothing to react to over human folly in the Third Act other than a quick flick of newspaper.
Act 3 Scene 1, set backstage on a slow revolve, allows more focus on relationships, but the love-triangle between Sachs, Eva and Walther is botched, not least when she kisses first the older and then the younger man on the lips. Rachel Willis-Sørensen (pictured below with Terfel), a golden-toned Marschallin in the second Royal Opera Rosenkavalier cast, isn't the light lyric soprano required for Eva in the first two acts, but she comes into her own for the rhapsodic salute to Sachs – the point where all previous Evas I've seen have been suddenly overtaxed – and leads the best, because stillest, moment in the evening, a golden Quintet.
The song festival isn't much fun from the start; the guild parades and the dance sequences are cramped and undeserving of the ecstatic applause of the onstage crowd in evening dress. Kränzle's Beckmesser botches well, Hughes Jones soars to win the prize, but when Terfel's Sachs tells him to accept it, integrate with tradition and respect "Holy German Art", someone isn't happy. It would actually be a spoiler to reveal all, since to my surprise Holten's alternative take on the nationalism which Wagner belatedly – and, in most people's eyes, mistakenly – injected into his warm romantic comedy really does work on its own terms, even if it's a bit of a volte face for this Sachs. Pappano compels the orchestra and chorus to reflect it too, turning genial ritual brutal at the last minute (you can do the same to Beethoven's Ninth).
Ultimately, then, I'm glad that critical duty alone prevented me from bolting like said character, and much earlier, after the direst part of an often enervating evening. Funny how a good production and high musical values can save an uninspiring score (Ryan Wigglesworth's The Winter's Tale at ENO); while bad direction can almost sink a musically superlative performance. It's a sad end to Holten's regime as Director of Opera, which began well with Eugene Onegin, faltered on the side of his own stagings but achieved good things on many other fronts. Advice: catch this Meistersinger on the radio, though you'll have wait until June.
Pappano's conducting has plenty of the grace, drive and suppleness Holten's leaden-footed vision so catastrophically lacks
rating
Explore topics
Share this article