The Winter's Tale, Barbican review - Cheek by Jowl's latest wavers in tone |

reviews, news & interviews
The Winter's Tale, Barbican review - Cheek by Jowl's latest wavers in tone
The Winter's Tale, Barbican review - Cheek by Jowl's latest wavers in tone
A clear, considered production, but the updated comedy's uncertain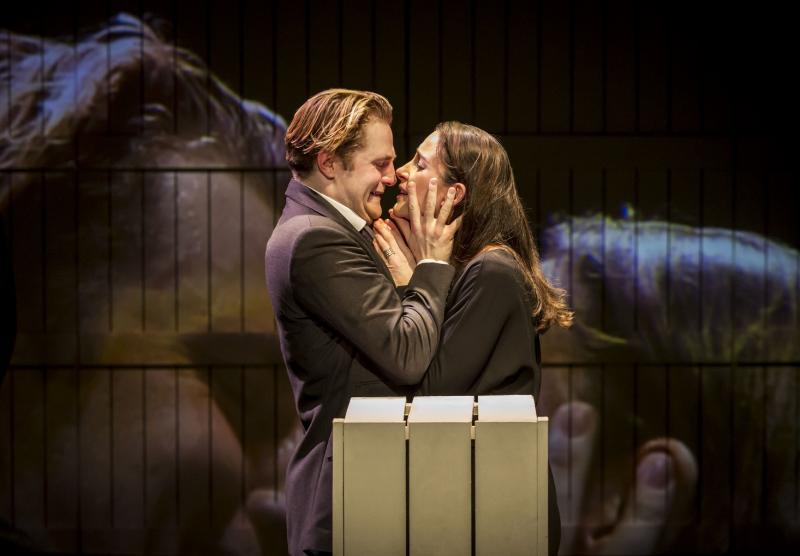 Court confrontation: Leontes (Orlando James) faces off against Hermione (Natalie Radmall-Quirke)
This is a well-travelled Winter's Tale. Declan Donnellan has long been a director who's as much at home abroad as he is in the UK, and with co-production support here coming pronouncedly from Europe (there's American backing, too), Cheek by Jowl have made it abundantly clear where they stand on the issue of the day.
Their version of
Shakespeare
's greatest romance reaches the
Barbican
's Silk Street Theatre after a frenetic touring schedule that began in Paris more than a year ago, with further voyages beckoning. When it comes to travelling light, Nick Ormerod's
spare design
must have been of considerable assistance, but it achieves such brilliant concision – so much more than just "needs must" – that it somehow defines a show that's lean in every sense.
How much can you make of what's essentially a wooden shack and a few benches? In Ormerod's hands, the answer is a stunning variety of stage images. A bare wall, benches to the front, defines the opening action at the court of Sicilia; the proceedings of the judgement scene there are enlarged as back projections that give us the full, frightening lividness of Leontes' face, and heighten the paranoid atmosphere. Moving to Bohemia, there are similar video images for the storm, then a recollection of Hermione (and the bear, of course). In the second half it flexes further, walls collapsing and realigned in all directions. It seems effortlessly easy (I'm sure it's not), and completely natural. There's a moment in Bohemia when the guests congregate for the country festivities that has them entering from the back of the stage, where a fine rain falls against rear lighting. It can't last more than a minute – a detail that didn't need to be there at all – and it's exquisite.
Then Donnellan suddenly throws in something absolutely dire
Judith Greenwood's lighting deserves special mention, too. She surely adds touches of green to the opening scene, which comes after Donnellan has given us a silent prologue, two figures in a dance – whether of conflict or closeness, we're left to decide for ourselves. It has an easy-going, almost outdoor atmosphere, and what a young court this is: Leontes (Orlando James) is dressed down in jeans and an open shirt (the studied informality of new-style monarchy), while the stately beauty of Hermione (Natalie Radmall-Quirke) seems slowed, restrained by the obvious heaviness of her pregnancy.
Donnellan goes beyond the text to convince us of Leontes' abrupt jealousy: as he soliloquises, the king circles Hermione and Polixenes (Edward Sayer), statically frozen on a bench, adjusting their poses. He literally images his imagined fears – a turn of the head here, a greater intimacy there – to bring his worst imagination to reality. It's an inspired touch, as is the whopper of a tantrum thrown by Mamilius: his rage goes on and on, far beyond anything that might have prompted it, a child perhaps on the edge of the spectrum. But other thoughts come, too. Does Mamilius sense something of the awful disruption about to sunder all bonds of family and friendship? Or is he so much his father's son that he's accustomed to throwing his weight around, and getting away with it? Leontes' extreme grief after the oracle's revelation is similarly protracted.
From this uneasy world, with its scuttling courtiers tail-coated like a posse of undertakers, the relief of Bohemia is palpable: this is life lived by the rhythms of eternity. The figure of Time that ushers us into the second half is a wild-child girl, Sixties King's Road-style (Marianne Faithfull, anyone?). The simplicity of the shepherds is affectionate: we laugh with, rather than at them, even when the younger one has had to dictate his holiday shopping list on to his Walkman. He's easy picking for Autolycus (Ryan Donaldson, pictured above, foreground), a figure who belongs here as much for his accomplishment as folk musician as for his trickery. The sense of assembling for the feast, and the naturalness of Eleanor McLoughlin's flower ritual as Perdita (pictured below), is lovely. The social implications of the intrusion of Polixenes and Camillo are nicely caught by garbing them in parkas and dark glasses.
Then Donnellan suddenly throws in something absolutely dire: he gives Autolycus a TV show act – shades of Jeremy Kyle or Jerry Springer – complete with guying the front row, impotency jokes, and "let's hear it from the rest of the family". It feels like mining the very cheapest vein of comedy, and just out of place after the sheer clarity, textual and visual alike, of what has come before (and will come later). Donnellan follows it by transforming the shepherds' departure for Sicilia into a nightmare airport inspection of luggage and documents – think, Easy Jet hitting immigration somewhere in Eastern Europe on a very bad day. It's a raucous interlude, with a very cruel undertone too, which colours the mood. In short, a directorial intervention that works, in a way that the antics of Autolycus just don't.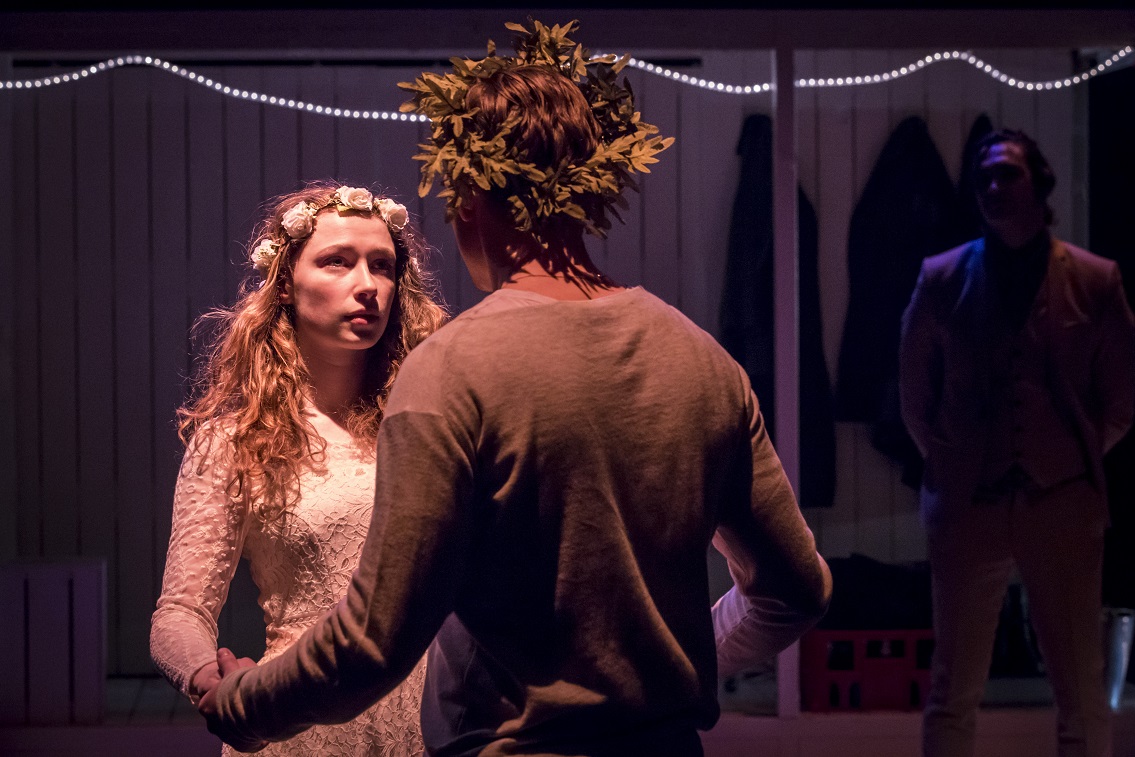 From then on it feels like a sprint to the finish line (at a little over two and half hours, this is a Tale briskly told). Shakespeare's telescoping of the reunion scene between the two erstwhile royal friends is reported like television correspondents doing their stand-ups back to the newsroom: that works, too. Finally, the resolution, radiant in its carefully posed stillness, which somehow never fails to move.
And yet… Donnellan and Ormerod gave us their first Winter's Tale 20 years ago, a Russian-language production for St Petersburg's Maly Drama Theatre (Cheek by Jowl has since gone on to create some truly outstanding work with its Russian company). Its supreme insights took that one to places that this new version simply doesn't reach. An impossible act to follow, perhaps, even though the ensemble playing here is of real quality, and there's much to like in the show. The interpolation from Autolycus really does jar, though, and there's no getting around that.
How much can you make of what's essentially a wooden shack and a few benches? In Ormerod's hands, the answer is a stunning variety of stage images
rating
Share this article