10 Questions for Photographer Eddie Otchere |

reviews, news & interviews
10 Questions for Photographer Eddie Otchere
10 Questions for Photographer Eddie Otchere
A master at capturing rap's giants on camera talks grime, digitisation and his herbal remedy for hip hop time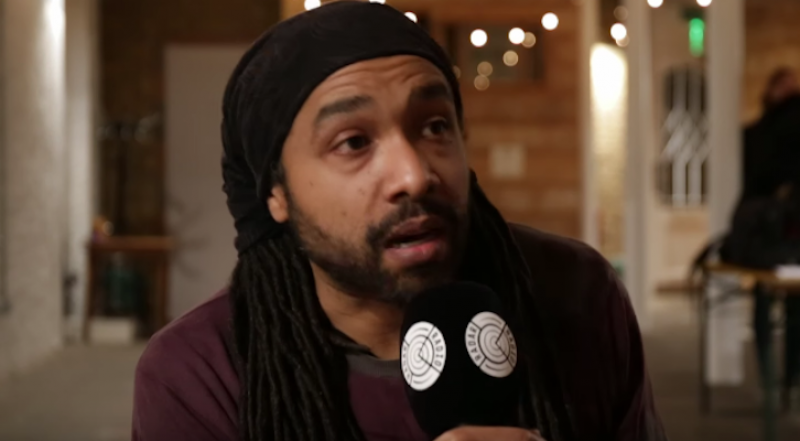 Artist, curator, DJ and educator Eddie Otchere
Eddie Otchere is best known for the plethora of photographs he's taken of artists from hip hop's golden age, circa the late-Eighties/early-Nineties. He's shot everyone from icons such as Jay-Z and Biggie Smalls, to the late Aaliyah to a startling series of images of Wu Tang Clan. Born and raised in London, he was also very much involved in documenting the birth of British bass culture on the drum & bass scene, most especially the seminal Metalheadz night at the Blue Note.
Eddie Otchere is best known for the plethora of photographs he's taken of artists from hip hop's golden age, circa the late-Eighties/early-Nineties. He's shot everyone from icons such as Jay-Z and Biggie Smalls, to the late Aaliyah to a startling series of images of Wu Tang Clan. Born and raised in London, he was also very much involved in documenting the birth of British bass culture on the drum & bass scene, most especially the seminal Metalheadz night at the Blue Note. More recently, Otchere spent time as an Assistant Curator at the National Portrait Gallery and in 2007 was partly responsible for the acclaimed exhibition, Devotional, featuring British black female singers. He is also behind the Brixton Graffic Show, an organisation devoted to urban arts in London and internationally. We spoke to him as prepares for his role at the Brighton Festival in May.
THOMAS H GREEN: Are there any icons of hip hop you would like to photograph or wish you had photographed?
EDDIE OTCHERE: First one on the list is Rakim. When I think about lyrical genius I always think about Rakim. I've yet to photograph him and he's the missing piece in my ultimate chest of heads from the golden age of hip hop from '88 to '94. Rakim is a sore point for me, that I never captured him. That said, some rappers age really badly but Rakim is aging really well, so…
What are you doing at the Brighton Festival?
We are creating an event called the Bright Room which is essentially a dark room and gallery for the community of Brighton. We give everyone a free roll of film, a free camera, then they will go about for an hour, shooting their environs, come back, develop their film, make their first contact sheet, then make their first print and stick it up on the gallery wall. They'll go full circle between shooting, developing, processing, printing and gallery.
What are you doing more generally?
Photography, teaching, DJing. I'm spinning records at the National Portrait Gallery; teaching students of illustration and digital media for the University of the Arts; photography-wise, I did a shoot recently with Nigeria's biggest artist Yemi Alade. These kings keep you busy, keep you excited.
As a journalist, I've come across "hip hop time", the temporal zone in which rap artists live, where people may be kept waiting and waiting. I've known interviews postponed for days, their writers stranded in hotels somewhere in the States. Have you had any experiences of hip hop time?
Rappers and time-keeping is a really odd one. The key to hip hop time, in terms of killing hip hop time, or sorting hip hop time, is the strength and potency of your ganja. I can't put it any other way. If you skin up the biggest spliff ever and it's under the nose of whoever's sniffing around [from the hip hop artist's camp], it's "So what's going on, son? You know what time it is." The Wu Tang, they're the gods of hip hop time. Even with Nas where at first he was really cagey, not in a great place, then he notices you've got a bag of weed on you, it's like, "You know what, son, let's just smoke this and chill out and everything will be nice again."
I haven't suffered badly from it because if I'm photographing rappers I always have a bag with me, the sickest sour diesel going, just to make sure that if they need any kind of incentivisation, I'm their guy. Everything will be alright. Literally, if I'm sitting in a hotel waiting, light one up, everything changes, their management look at you differently. That always seems to be the icebreaker for me. Ganja. A lot of the new generation guys don't smoke but for the old school, it was the one thing: make sure you have a blunt, make sure you have a good kush, make sure whatever you're smoking can be smelt. Then things start moving in the right direction. I want to capture them at ease, I don't want them wound up, I want them chillin' at the back of the car park where everyone's having a smoke, then I've got them. If you're sitting there with a PR person calling them every five minutes to find out where they are, believe me, it's not going to happen.
How are you finding the current grime renaissance?
Really enjoying it. During the first wave of grime I was capturing a few of the artists I believed in like Bruza and Lethal B, MCs from my part of the world, but none of them made that comeback, unfortunately. The guys that did, the Skeptas and everyone else, good for them, they're more mature, they've had record deals, they've failed before, now they're stronger, wiser, independent, they don't listen to just anyone. However, for me it leads to a darker thing, that US hip hop has dropped to such a standard that UK hip hop is as good. US lyricism has gone out of the window. The fact you can listen to an MC rhyming the same word over and over again isn't lyricism, it's just a stylistic whatever. Trap rappers aren't really rapping, just mumbling. From what I remember, the best aspects of grime happened in bedrooms, radio stations, off the radar. You had to be there. Look at videos like the Lord of the Mics DVDs from the first wave; some of the energy from those kids is insane. It all happened in the moment, they weren't records, weren't releases, weren't downloads, weren't on Twitter, things just happened, the DJ plays a beat, MCs spitting relentlessly and exchanging ideas as they go by.
Given your involvement with drum & bass's beginnings, do you think the 1990s was a special time?
It's a funny one. It has become a special time for two reasons. It was special because it was the end of the century, also special because we were converting from an analogue world to a digital world. What's interesting about the Nineties is they didn't end, they went on. The Noughties and the Nineties were almost one decade. Only after 2010 you felt things were changing, moving on. It was a very long decade, 20 years long.
How did the change from film to digital affect you?
The positive thing was I moved from being a photographer to being a curator because I could print bigger, so when I did my first show in 1999 I could scale up and produced work very cheap. It made it affordable and accessible. When I bought my first digital camera in 2002 it soon dawned on me how bad digital technology was. It's not photography. You get a digital camera for £1,500, take a couple of snaps on it, publish it in whatever newspaper, store the images on a hard drive and tell yourself it's photography. You're just kidding yourself. That's not photography, it's just a digital file. If that hard drive disappears, your quote-unquote photography disappears with it. If it was photography it couldn't disappear. You'd have a negative, you'd have a print, all of which are indelible. I soon realised that and I abandoned digital photography by 2005.
Do the maths. Say you buy a top Seventies analogue camera, say an Olympus OM10 or OM1 which costs between £55 and £80, then buy 100 rolls of film at £5 each, then put aside developing costs of maybe another £500. That will cover you for a few years, whereas that digital camera won't even last you two years. Basically you're paying for the development of the technology. It's like if you bought the first generation iPhone, you were essentially the developer. Whatever you learn, you teach them, and they're going to run with it. The App Store on the Mac, for instance, they didn't invent that, it was people hacking the phone and inventing apps to make the phone more usable that invented the App Store. Basically the digital lot are suckering everybody. In the same way, we're all unpaid workers for Facebook. In photography terms, digital just sucks your energy and gives you nothing back except the facsimile of an image which isn't really real. I hate digital photography. Don't waste your life with digital cameras. It you're going to do so, make videos on it because otherwise what's the point. If you're going to do still photography, shoot on film.
What was the last album you listened to end-to-end?
To this day I've never downloaded a song. I still buy and listen to albums. It was James Blake's The Colour in Anything, the one with the Quentin Blake watercolour artwork. Most albums come as doubles these days. Put one on each of two turntables, then go back and forwards between them, flipping over, back to back. That album is solid, one track after another that's solid.
What's the best live show you've seen?
Damian Marley. I tell you why. It was a great show, back to front, the consciousness, the spirit, then he segues into his dad's music, does it in a way that's easy and short. I swear to God it was like listening to Bob Marley. It was like Bob Marley was alive. You're watching this guy, he's not Bob, but he looks like Bob, he sounds like Bob, he dances like Bob and – damn it – it's Bob! If Prince or Michael Jackson had trained their kids, like Femi Kuti does his dad's stuff, what an absolute bonus that'd be.
Kate Tempest particularly wanted you for the Brighton Festival and you have spoken in the past of her as a "Joan of Arc" figure? Is she someone who shares very similar values with you?
Well, yeah, I share her values in terms of her spirit, the idea that we can make positive changes through our actions and our art. She's been an inspiration since the first time I heard her recite that poem "The Gods Are In the Betting Shops" which she performed at Battersea Arts Centre which was down the road from where I lived at the time. That spirit, that lyricism inspired me. She seemed like the last of all people who'd be a powerhouse of energy but she is, lifting our consciousness as a group so we can be better people, so we can talk to one and other as a society.
Eddie Otchere talks to The Vinyl Factory about his times photographing Wu Tang Clan
Don't waste your life with digital cameras
Explore topics
Share this article