Our Ladies of Perpetual Succour review - West End transfer hits all the right notes |

reviews, news & interviews
Our Ladies of Perpetual Succour review - West End transfer hits all the right notes
Our Ladies of Perpetual Succour review - West End transfer hits all the right notes
Lee Hall's sublimely foul-mouthed choristers storm the Duke of York's Theatre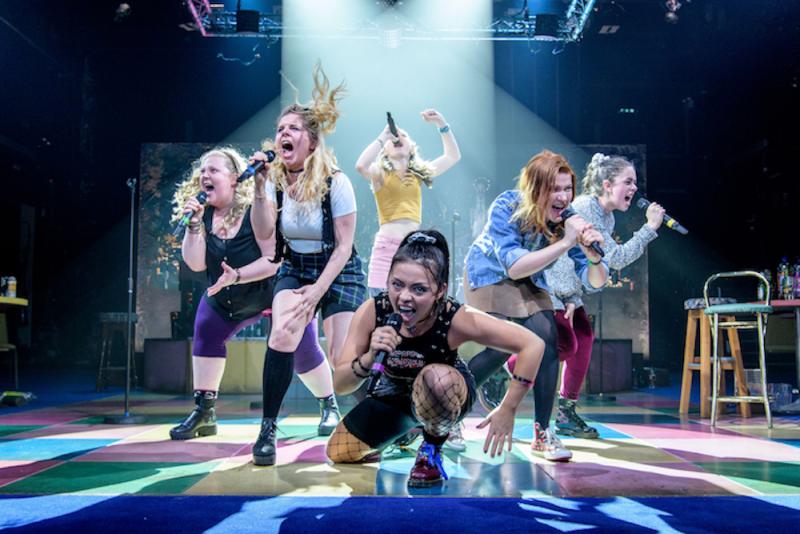 No angels: The raucous 'Our Ladies' gang lets loose
Sacred and profane, trivial and profound blissfully combine in this irresistible, Olivier Award-winning tale of choirgirls gone wild. Lee Hall, of Billy Elliot fame, adapts Alan Warner's 1998 novel with a similarly shrewd grasp of youthful hope amidst challenging circumstances, and with the arts once again proving a vital escape – albeit, in this case, temporarily.
In a whirlwind 24 hours, a group of 17-year-olds travels from Oban to Edinburgh for a choral competition. Angelically voiced they may be, but they're also here to "go mental": cue the flaming sambuca, sexual experimentation, unholy combination of magic mushroom lager and fireworks, and tearful confessions (you can take the girl out of convent school…). Hall's dialogue is earthy, evocative and at times eye-watering – sperm is memorably described as "like snot, but warmer".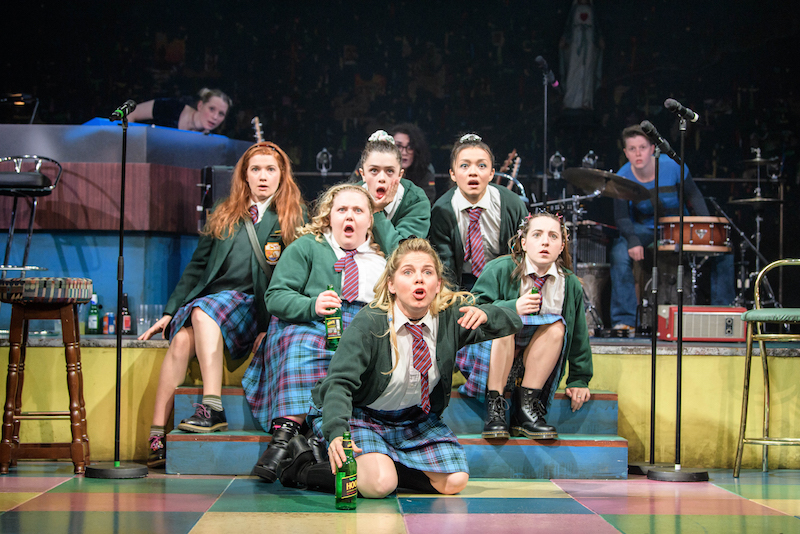 A wonderfully chameleonic all-female ensemble (pictured above) plays the six choristers and everyone else they encounter, from the fearsome nun who informs them they're representing no less an entity than God himself, to men of varying degrees of lechery and weirdness. Music is the backbone of the piece, a blessed union of classical and ELO's Jeff Lynne superbly arranged by Martin Lowe, and, in Vicky Featherstone's turbo-charged production (which comes to the West End via Edinburgh and the National), props are minimal: this is a story told and a world conjured by a talented gang you'll soon long to join.
The picaresque tale does meander over the straight-through 100 minutes, and it's period (CDs, Doc Martens and landlines) but hazily so; though social media would blight the impulsive transience of this hedonistic trawl, it could otherwise be set anytime. But plotting is firmly secondary here to the sheer strength of feeling. It's bursting with the intensity of adolescence – from the laughable to the exquisitely poignant.
Each girl represents, and nicely subverts, a recognisable type. Dawn Sievewright (pictured below right) is superb as the seemingly invincible Fionnula, who reveals a deep-rooted insecurity; cast newcomer Isis Hainsworth is adorably childlike as cancer survivor Orla, speaking in a matter-of-fact rush as she makes up for lost time; the travails of Kylah and her band are amusingly conveyed by the commanding Frances Mayli McCann; Caroline Deyga nails Chell's non sequiturs ("My uncle used to fill pillows with his own hair") and underlying grief; Kirsty Maclaren gives insight into apparently chipper Manda, who takes "Cleopatra baths" with powdered milk to cure depression; and Karen Fishwick hilariously and movingly unravels comparatively posh, goody-two-shoes Kay.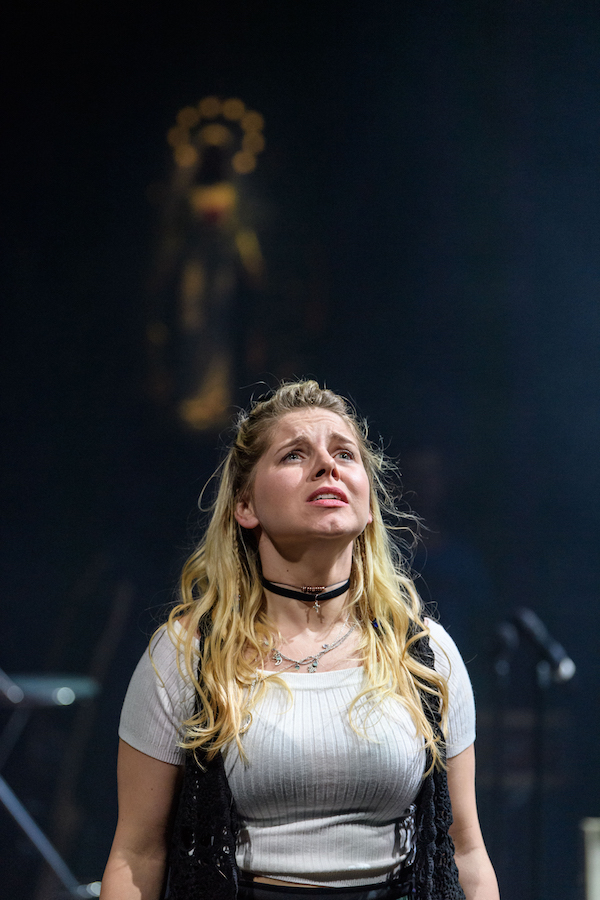 The myriad issues addressed makes it a tad Very Special Episode – teen pregnancy, terminal illness, parental loss, sexual awakening – and there's a rosiness that undercuts the various conflicts and threats. But that's in keeping with a piece which thrusts us into the girls' experience: a fearlessness born of naiveté, and a battle cry for liberated young women who, instead of trying to please, perfect and not take up space, are unapologetically loud, messy, confrontational and risk-taking.
Featherstone and choreographer Imogen Knight wring cracking comedy out of the juxtaposition between the demure classical pieces and the slouching, swearing, at one point gleefully stripping singers, while the pop numbers, also brilliantly performed and backed by a rocking female band, become anthemic statements – and are just plain joyful. But within the inventive and uproarious staging, there's also space for quieter moments, including a sad reflection on these lives, unfairly limited, almost over before they've begun, and a moment of divine revelation.
Chloe Lamford's set has a censorious Virgin Mary peering down at the sticky floors of local club the Mantrap – and places several audience members on stage amidst its debris. Dynamic lighting (Lizzie Powell) and sound (Mike Walker) help whisk us to numerous locations, a clever reflection of the way the group's world expands and contracts. A rare and cherishable portrait of female friendship as equally mighty and abrasive, but never cute, and of teenage girls in all their contradictions: fierce, filthy, riotous, and shatteringly vulnerable.
The pop numbers become anthemic statements – and are just plain joyful
rating
Share this article