10 Questions for film director Roger Donaldson – 'motor racing in the 1960s was incredibly dangerous' |

reviews, news & interviews
10 Questions for film director Roger Donaldson – 'motor racing in the 1960s was incredibly dangerous'
10 Questions for film director Roger Donaldson – 'motor racing in the 1960s was incredibly dangerous'
The story of his new documentary about racing driver Bruce McLaren, who was killed 47 years ago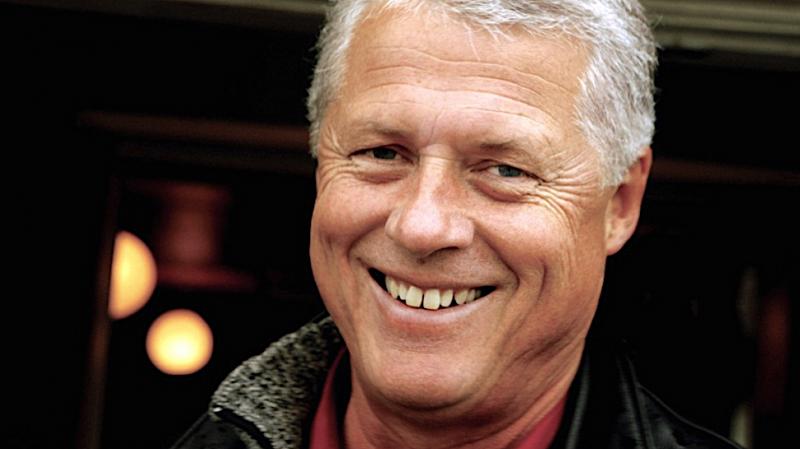 Roger Donaldson: 'Relationships are what interest me ultimately'
An Australian who emigrated to New Zealand in 1965, Roger Donaldson cut his teeth in documentaries and TV before launching into a career in feature films. His first feature, Sleeping Dogs (1976), on the unlikely theme of a New Zealand plunged into totalitarianism, immediately attracted attention, and after he made Smash Palace (1982) Hollywood came calling.
Donaldson embarked on a string of high-profile projects which included
The Bounty
(with Mel Gibson and Anthony Hopkins),
No Way Out
(an espionage drama starring Kevin Costner),
The Getaway
(with Alec Baldwin and Kim Basinger), the sci-fi horror
Species,
the Cuban missile crisis drama
Thirteen Days,
and the Al Pacino/Colin Farrell thriller
The Recruit.
You might not have figured him for the guy to make motor-racing documentaries, except that Smash Palace did feature a racing driver on the skids, while in The World's Fastest Indian (2005) Donaldson directed Anthony Hopkins as record-breaking motorcyclist Burt Munro. Munro was also a New Zealander, as was the protagonist of Donaldson's new documentary, racing driver and car-builder Bruce McLaren (at the wheel, pictured below). It's difficult to imagine he'll be away from Hollywood for too long, but he admits it was great to have "a work reason" to come back to New Zealand, a country where he has not only family, but also his own vineyard.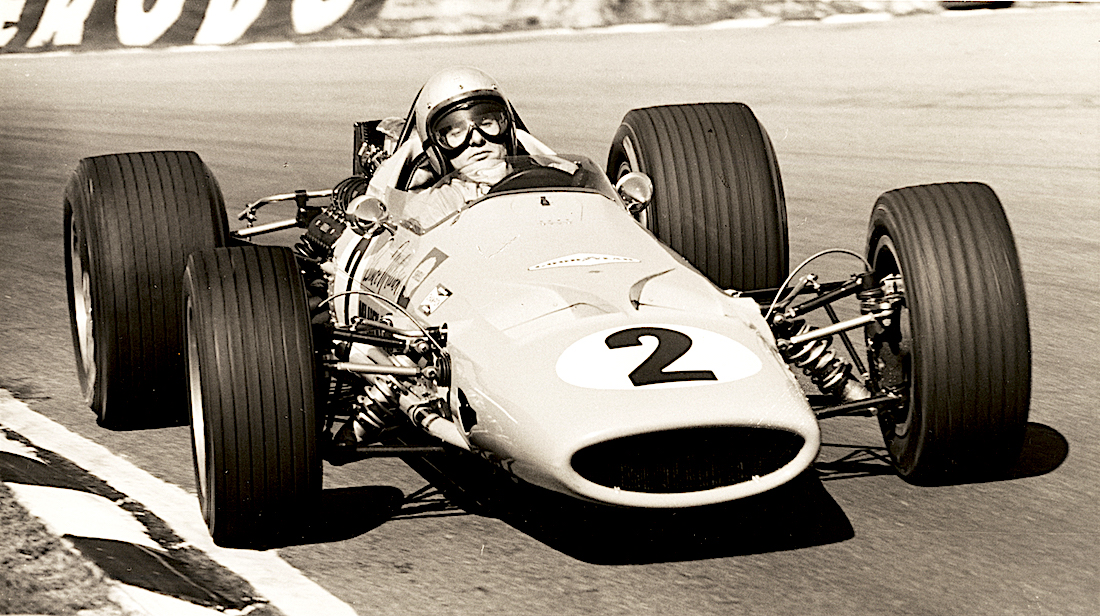 ADAM SWEETING: Judging by the film, you knew the McLaren family well?

ROGER DONALDSON: It would be an exaggeration to say I knew them very well, but as a boy I did see Bruce race in Australia and New Zealand. Also when I was making one of my first feature films, Smash Palace, Bruce's father Les lent me the prototype of Bruce's road car. It's in the film, there's a still photograph of it. I think Bruce was completely led and inspired by his dad. Les had an enormous impact on him, he loved racing and building cars and he had a garage, and Bruce grew up in that environment. I think that's what kicked off his love for cars.
He and Jack Brabham and Dan Gurney all had this amazing self-motivating ability, to take machinery to bits and build their own cars and go out and do it. It seems incredible now.
One of the things about New Zealand back in the time when Bruce was starting out was that it was a very isolated and quite a poor country and didn't have access to new cars. You couldn't just take your car to the garage and get it fixed; if it broke you had to rebuild it from the ground up. So they did develop this skill to really do anything mechanically, because if you didn't you didn't get going again. The same with Australia too, with Jack Brabham and a lot of other lesser-known race car drivers. Of course Bruce and Jack teamed up and did a lot together. Dan Gurney, who's in the film and is an amazing character himself, a lovely guy, I know he's involved in Elon Musk's SpaceX programme. He still keeps himself very busy (Donaldson working with Al Pacino on The Recruit, below).
Do you feel Bruce McLaren has been neglected in motor racing history, compared to names like Jim Clark or Graham Hill?
Well, it takes somebody to focus on their lives to bring them forward. It's a long time ago that Bruce McLaren was running around and building his racing cars. I just think the McLaren name lives on and it's still a real force to be reckoned with in motor racing, and yet people don't really know why the team is called McLaren, and why the little logo on the side of it is a kiwi. I think that's nine-tenths of the reason why I made this film. It fills in the gap in people's knowledge. The team were helpful but the film wasn't made under the auspices of the McLaren car company. It was made by these film producers in New Zealand. One of the backers of the film owns the McLaren dealership in New Zealand and loved the story of Bruce and felt that Bruce hadn't been exposed to the world and the world didn't really know who Bruce McLaren was, and that's the reason tell the story.
What would you say were Bruce's chief characteristics as a person?
I think he was obviously an incredibly driven, motivated character. He had an amazing leadership quality about him so people really did get in behind him and follow him. He was obviously quite an extraordinary engineer, a very talented driver, a good businessman and people liked him, so you put all those things together and I think that's why he was a success. Like characters like James Dean and Buddy Holly he was cut down in the prime of his life, and that in itself leaves a character whose life was unfulfilled.
You quote his eulogy for Timmy Mayer, one of his drivers who was killed, which is very eloquent about quality of life and how it should be lived?
Yes. I think he did live his life like that. And of course motor racing in the Sixties was incredibly dangerous. I interviewed Jackie Stewart at his house and through his gardens of his estate he has all of these seats engraved with the names of racing drivers that he raced against and who were killed, and there are like 56 of them or something.
They must have had a different mindset from the guys today, who know they'll probably survive.
Yes, it wasn't long after the Second World War too, and I suspect the sort of fatalism of that period of time carried over, and that was just the risk. If you wanted to be a racing car driver that was the risk involved. They didn't find it difficult to get fighter pilots either, you know?
Do you think younger audiences today will find this an inspiring story?
I was fascinated by his life enough to want to make this movie. It seemed to me that there was enough going for him, the facts behind how he got going to me seemed to translate to a young audience today – what it takes to make everything happen, and the dedication and commitment required. I think his story is quite inspirational.
In the film Bruce talks about not wanting his team to grow too big and unwieldy. If he saw the huge size of teams today he'd probably be tearing his hair out.
Yeah, the whole world is different now. There was a simplicity back in those days where you could fix it yourself. Now computers do everything – well, not everything, because they're still driven by human beings, but the complexity of life these days is so much more intense than it was back then. The simplicity of life then allowed one to be more of a jack of all trades and you could do all sorts of things, whereas today there's specialisation that really is quite precise and very varied. Now there are people who train and train and train just to get the tyres on and off quickly, and that was never part of car racing back in the Sixties. Now we see the technology is as much a star of the success of a racing team as the drivers. Back in those days I really think the drivers could hop into any make of car and if they were really good they could make it go fast, and that was part of people like Jack Brabham. I remember seeing them drive and just their skill as drivers, whatever they were driving, was pretty evident (Donaldson working on McLaren, below).
Bruce had quite a talented crew around him, didn't he, not least with the other New Zealanders Denny Hulme and Chris Amon?
Those guys were really all best friends. They hung out together, they lived together, they worked together, and that's really not how it is today. Now the drivers fly in and out in helicopters and wouldn't have much to do with the mechanics at all. But with these guys there was a sort of travelling circus, they'd drive from track to track through Europe, they'd go in convoy, hang out, their wives and girlfriends would be friends and they supported each other. It was a lifestyle that probably was very different to what it is today.
Have you watched the other motor racing movies, Grand Prix, Rush, Senna?
I have seen all those films, yeah. I enjoyed them all actually. They're all very different too. Of course, Bruce is in Grand Prix. There's one scene where he says a few lines. But in my films, I think relationships really are what interest me ultimately. Whether it's relationships with pieces of machinery or family or friends, or what people do with their lives, I guess. I'm always fascinated by those sorts of stories.
McLaren is in cinemas on 25 May and available on Blu-ray, DVD and download on 29 May
He had an amazing leadership quality about him, so people really got behind him and followed him
Explore topics
Share this article