Rush |

reviews, news & interviews
Rush
Rush
Ron Howard's Formula One fable comfortably passes the credibility test
Monday, 09 September 2013
Chris Hemsworth as James Hunt, getting his priorities right in his duel with Niki Lauda (Daniel Brühl)
In the remarkably meagre annals of Formula One movies, there are only two scores to beat, to wit: John Frankenheimer's Grand Prix (from 1966), a fictional story which used oodles of real racing footage, and Asif Kapadia's spellbinding documentary Senna (2010). Ron Howard's Rush slots in somewhere between them, being derived from the true-life Seventies rivalry of Niki Lauda and James Hunt but consciously shot and written like a drama.
Hunt v Lauda is one of motorsport's great fables, and many fans felt a queasy premonition of disaster on hearing about Howard's project, but it's pleasing to report that Rush works remarkably well. Its Seventies setting is now distant enough to make a retelling feasible, while Howard's two leads, Chris Hemsworth and Daniel Brühl, are remarkably convincing as Hunt and Lauda respectively. Before long, you find yourself believing that chunks of the story must really have unfolded like this.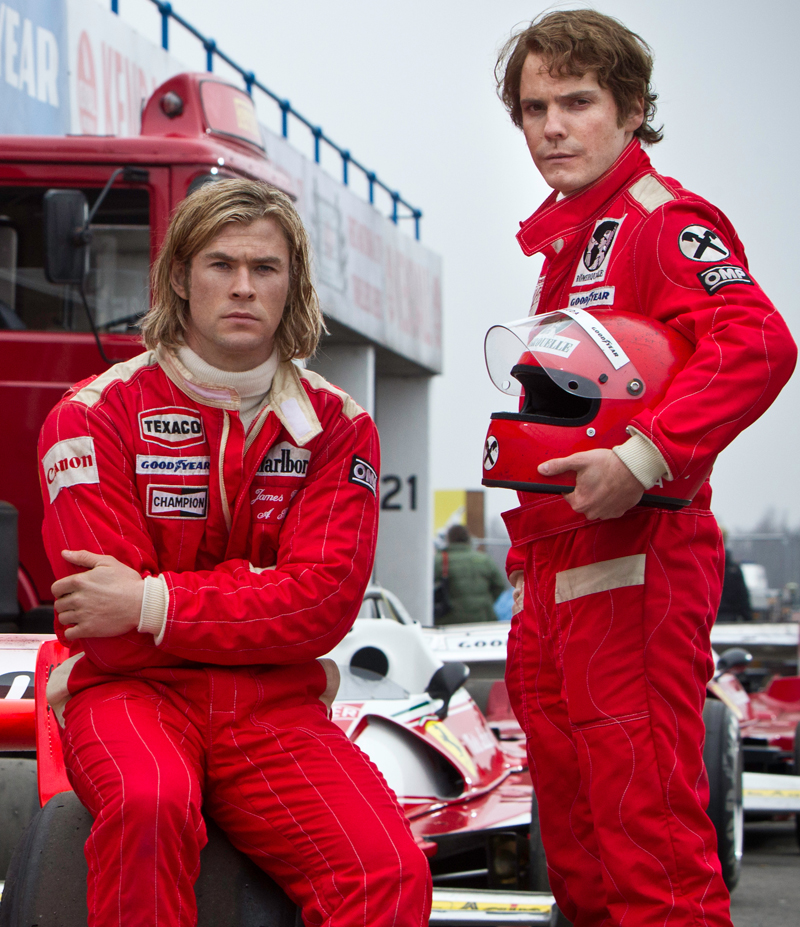 In addition, crass Hollywoodism (we think here of Sly Stallone in Driven) has been kept at bay by an intelligent, entertaining screenplay from Peter Morgan (whose Austrian wife is a good friend of Lauda), and also by the fact that Rush was mostly filmed in Britain with British actors and plenty of input from various local motorsport companies. As its co-producer Andrew Eaton put it: "This is a British independent movie made by the best talent we have. The only Americans on the film were Ron Howard and Todd Hallowell, his second-unit director."
The racers' famous duel comes to the boil during the ferociously intense 1976 season, ultimately won by Hunt by a single point after Lauda had battled back from his fiery near-death experience at the Nürburgring, but the background to the story is carefully prepared. We see the arrogant, thrill-seeking, madly photogenic Hunt, his plummy public school accent nicely caught by the Australian Hemsworth, advancing brusquely through the lower formulas of motorsport, bedding any attractive female within reach (Natalie Dormer, playing a nurse who tends to his race injuries, is first in line).
Lauda, meanwhile, is his polar opposite. Infinitely shrewd and calculating, uncomprehending of the wild playboy urges which were so much a part of Hunt's persona, Lauda plots his career strategy like a chess grandmaster. He will take extreme risks only for well-researched reasons, and ensures that he knows the mechanical workings of his cars inside out, as he precociously displays during an early stint with the BRM team.
The scene where medics pump out Lauda's fire-scorched lungs is not for the squeamish
He also has a business acumen entirely alien to the shambolic Hunt, inherited from his wealthy family of Viennese industrialists, and Lauda's ambitions are only whetted further when the family refuses to fund his racing. Brühl's sharp, pointy features not only help him to look uncannily like Lauda, but he's captured his clipped, no-bullshit way of speaking too (the real Hunt and Lauda, pictured below).
The racing sequences were recreated at several British racetracks with the aid of 20-odd genuine F1 cars of the era (not least the celebrated six-wheeled Tyrrells), with some Formula Two vehicles smuggled in for additional shots, while CGI has been used not only to replicate various circuits but also to pump up the atmospherics. Lauda's hideous and crunchingly physical Nürburgring crash takes place under lowering Wagnerian skies, while the rain-lashed championship decider at Fuji in Japan looks like the setting for an apocalyptic monster movie. Howard hasn't stinted on the details of Lauda's agonising injuries, and a scene where medics are trying to pump out his fire-scorched lungs is not for the squeamish.
Aficionados will enjoy the depictions of Hunt's days with the raffish, champagne-quaffing Hesketh team (with Christian McKay as Lord Hesketh and Julian Rhind-Tutt as team manager "Bubbles" Horsley), while Olivia Wilde is rather ravishing as Hunt's wife Suzy. She subsequently left Hunt and married Richard Burton, though sadly a plan to cast Russell Crowe in a walk-on as Burton didn't pan out. Perhaps above all, Rush succeeds in conveying the mutual respect and deep affection that grew up between this wildly contrasting sporting couple, in an era when motor racing was self-evidently a matter of life and death.