Gurrelieder, Hallé, BBCPO, Elder, Bridgewater Hall, Manchester |

reviews, news & interviews
Gurrelieder, Hallé, BBCPO, Elder, Bridgewater Hall, Manchester
Gurrelieder, Hallé, BBCPO, Elder, Bridgewater Hall, Manchester
Super-orchestra and choirs deliver Schoenberg's affirmation of the victory of love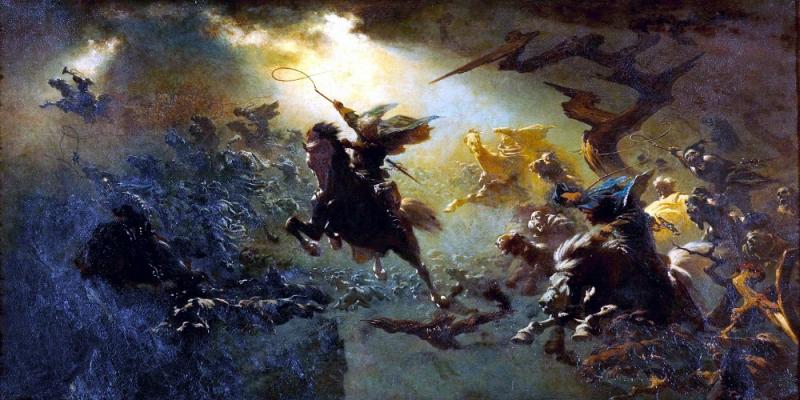 Johann Wilhelm Cordes' The Wild Hunt
It may not have had the symbolism of the Ariana Grande concert just down the road, but in its own way the joint Hallé/BBC Philharmonic performance of Schoenberg's Gurrelieder said as much about Manchester as the rock jamboree did.
It was originally meant to be a birthday party for Sir Mark Elder, 70 just two days before, and there was something of a celebration still, though with bag searches on the way into the Bridgewater Hall
(pictured below)
and awareness of all that had happened the feeling was naturally muted.
Sir Thomas Allen's brief speech before the performance summed up a sense of determination not just to carry on but to let music speak as only it can. The work itself is, after all, an affirmation that love is eternal. It's also one of those massive logistical operations that ensures it's quite rarely performed: an orchestra of around 150, massive choral forces, particularly of men, and five soloists plus a speaker. The Hallé and BBC Philharmonic have formed a one-off "super-orchestra" before for big occasions, and they can do this sort of occasion proud. Led by Igor Yuzefovich, it made a many-splendoured sound. The Hallé Choir were joined by men from the London Philharmonic Choir and from the Edinburgh Festival Chorus.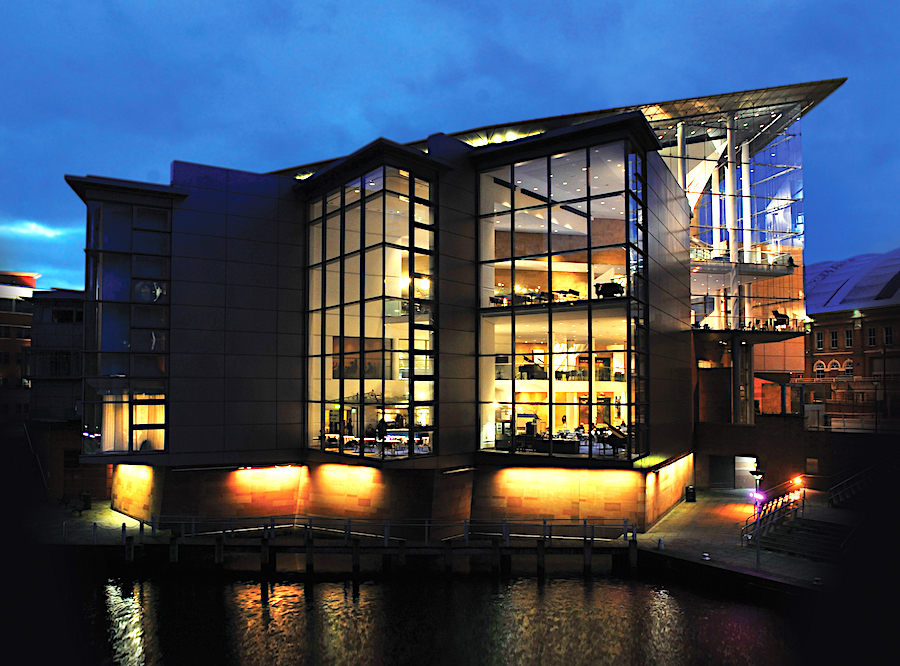 It's almost conventional to describe Gurrelieder in terms of its dimensions, its supposed Romantic excess, or (if you are more of a Schoenberg enthusiast) its place in his compositional development, as the after-orchestrated later movements betray a more economic and "modern" style than those before. In this performance, the unity of the work and delicacy of much of its construction were among its most striking aspects. Sir Mark began its evocation of a summer's evening with gentleness and the sweet string sound he loves to inspire from his players, while trumpet and horn solos softly pierced the texture. As the alternating songs for tenor (Waldemar, the royal lover of the story) and soprano (Tove, the object of his affections) built the work's opening scene, the tones of lower wind instruments resonated beneath a sheen of sound that allowed Brandon Jovanovich and Emily Magee to sing with mellow refinement and generous warmth.
There were much more testing times to come, as the tension rose and the orchestral dynamic level dramatically followed. I expect the microphone-mediated version, to be heard on Radio 3 on Friday, will show them at their best, for neither let the tones of young love give way to bellowing over the accompanimental volume, but these were Wagnerian emotions of romance and the sound was big and rich.
The sense of foreboding crept in quickly, balanced by Sir Mark (pictured below by Benjamin Ealovega) with a great climax of romantic ecstasy and a sense of resignation that had almost the quality of Elgar's writing to it. The orchestra was at its richest and most passionate in the intense and precisely articulated postlude to the first nine songs.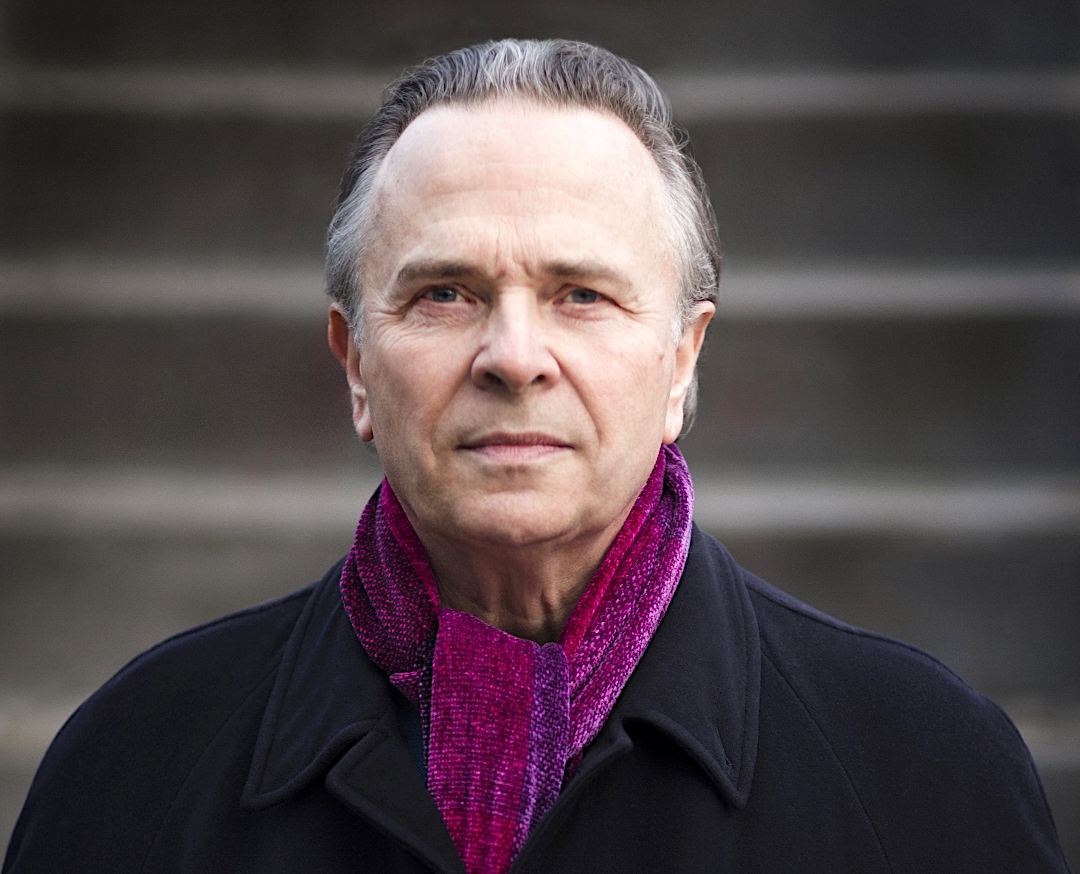 Alice Coote's Wood Dove, telling the tale of the death of Tove perpetrated by Helwig, Waldemar's queen, brought a new dimension altogether, with dramatic value added to every phrase (even every consonant). Like James Cresswell's singing of the Peasant (who describes the ghostly night army condemned to ride with Waldemar in punishment for his cursing of God), and Graham Clark's of the Fool (who continues the tale), these relatively brief contributions were vividly characterized and made their own impacts. Cresswell's Peasant was a pretty noble farming lad, and Clark was, I think, the only soloist to get a gentle audience laugh (as the undead jester says "If it were not too late, I'd hang myself").
The huge orchestral forces were in full cry by this time, and the choirs, singing at their fullest, had work to do to make themselves heard; but the score is a wondrously many-layered thing and the wealth of detail coming through the soundscape was remarkable. As Sir Thomas Allen delivered the Speaker's evocation of dawn and renewal (a challenge, in its touches of Sprechgesang, to which he rose magnificently), the playing was virtuosic and multi-splendoured, but never dissolved into sheer noise.
With no interval, the work was played with only the briefest break, and part-way applause would have been out of place. At the end, after a brief, awestruck silence, the 15-minute standing ovation came as testament to a musical experience that was immensely valued, a conductor who is very much loved, and a sense of unity that Mancunians feel with great strength right now.
The playing was virtuosic and multi-splendoured, but never dissolved into sheer noise
rating
Explore topics
Share this article