Q&A Special: Sir Mark Elder on Dvořák |

reviews, news & interviews
Q&A Special: Sir Mark Elder on Dvořák
Q&A Special: Sir Mark Elder on Dvořák
The Hallé's music director introduces a sumptuous festival of the Czech composer's work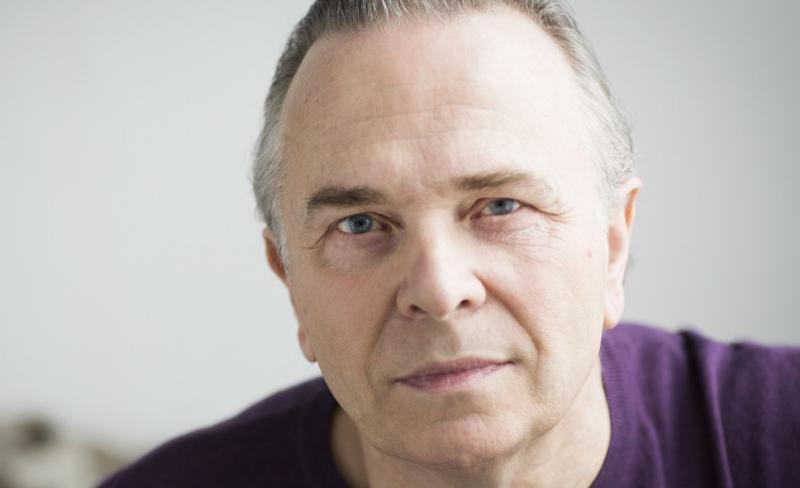 Sir Mark Elder: 'if you put on a piece that I'd never heard by Dvořák I would recognise it as Dvořák'
This May the Hallé is celebrating Dvořák. The orchestra's music director Sir Mark Elder has previously mounted a festival of the Czech composer's work in Chicago, but now brings him home to Manchester. Nature, Life and Love features seven concerts in under three weeks, and will obviously feature an outing for the big symphonies, nos 7, 8 and 9, and the hugely popular cello concerto. But it's not just about the headlines of Dvořák's music.
Among other sweetmeats – three Overtures, some Slavonic Dances, the Moravian Duets – the programme includes more arcane pleasures: an early-evening look at the tone poem The Golden Spinning Wheel, a rare outing for the piano concerto and an even rarer one for his late oratorio Saint Ludmila. One of the novelties for Bridgewater Hall audiences will be an evening getting under the bonnet of Symphony no 9 "From the New World". "Beyond the Score", presented by Gerard McBurney, will call on the combined forces of orchestra, singers, film and the actor Henry Goodman in the role of the composer to tell the story of what Elder describes as the most popular symphony of them all.
Sir Mark is an unapologetic and lifelong devotee of Dvořák, on whose simple virtues he expands in conversation with theartsdesk.
JASPER REES: When did this obsession begin?
MARK ELDER: The very first score that I ever possessed – and I can't remember how she got it – was a miniature score of the Czech critical edition of the New World Symphony that my mother gave me as a present.
You would have been how old?
I should think in my early teens. Let's say 14. And having been a chorister I could read anything at sight. But the idea of coping with the orchestra score was a completely new discipline. I still have that score and so it's been there since I really started to think about orchestral music. It grew 10 years later when I went to live in Sydney and Melbourne for two and a quarter years and gradually became a conductor. To conduct an opera by Dvořák at that time was just simply not on the cards, but what was so exciting to me was the possibility I had to go to the record shop in Sydney that had cascades of Czech recordings. I was always interested in how the Czechs made his music sound and what would it take the English to do it that way. What was it about the Czech Philharmonic that made it so exciting and so irresistible to me? The other aspect was that when I was a schoolboy I played the bassoon in orchestras as often as I could, and I played the Eighth Symphony and particularly the Seventh Symphony in the National Youth Orchestra in the middle of the 1960s. And so I heard his music from the inside, and what is so lovely about Dvořák is that's how he developed as a composer.
How important was it that the young Dvořák (pictured right) was a viola player?
What it meant was that he became very democratic about the way he perceived the orchestra. Rather than one of the outer limbs, he was there in the stomach, making the sonority of the orchestra function, and it developed in him an attitude to share out everything. He knew what it was to have an interesting part to play or not. And one of the things I noticed when I was young was that you could hear a solo on the horn and you turned round and it wasn't the first one, it was the third one. As a young bassoonist I suddenly got bits that were very exposed, but I was the second bassoonist. That quality that inhabits his music is to do with a very generous human spirit. I sometimes wish I felt more demons in his music. The link for me is with Schubert, who wrote blissful, inspired melodies that communicate directly to a first-time public.
Is it fair to dismiss him as a purveyor of folkloric bonbons?
He was one of the most successful late 19th-century composers to find a direct colourful thrilling voice for his country. He had a great gift for music that swept up in its grasp the folk legacy of Bohemia, and it gave his music a pulse of dance. But he would always alchemise it into something of his own. You never think he's quoting a song from his childhood unless it could from "Songs My Mother Taught Me". You just feel he has imbued his whole musical style with everything his country can give him. One should not underestimate that it exploded into the hearts of his audiences because of his ability to orchestrate so beautifully. Brahms really adored him. The older man saw in the younger man a really serious hope for the future.
And yet in his fictional homage Dvořák in Love the Czech novelist Josef Škvorecký quotes Brahms on "Dvořák's D major: nice to listen to over a glass of beer".

That is his most Brahmsian work because it recalls Brahms's own symphony in D major, but it's an extremely loveable piece. My dear friend Simon Rattle doesn't get this music at all. He sort of sweeps it away. I did that symphony in Birmingham for him and I remember his first wife saying, "Oh, it's not dirty enough." And I understand what they mean but it has a place for me in my heart and my work. The music is not straightforward to play, but one of the problems is that sometimes the structure of the music is a bit four-square, and you need to tease out how to soften it and not make it too obvious.
So is he unfairly typecast as a lyrical Bohemian?
That's completely accurate. It's just not the whole truth. Of course that's what he is!
What is most underappreciated about him?
His range, I would say. He is very famous for a small number of works, which is why he is the ideal person to build a festival on. He wrote the most popular symphony ever written and he wrote a handful of pieces that are equally popular and successful whenever you play them: the Seventh, Eighth as well as the Ninth are very very immediate and powerful and enjoyable pieces and they remain fresh. But what about nos three, five and six, three other symphonies that I've conducted a great deal and are also enjoyable? There is so much variety in his music dramatically. He wrote a piece about Jan Hus called the Hussite Overture which is a very exciting and thrilling piece if you can master it. He wrote beautiful songs, wonderful chamber music, all sorts of lyric music. I think that very few people have any contact with the scope of his music. Most remarkable is the series of late symphonic poems. He felt at the end of his life that he was ready to confront the inspiration of Richard Strauss or people who were turning towards programme music to replace the symphony. The thought of the symphonic poem was then a very exciting prospect for him because he felt he had mastered the orchestra and could make it describe anything that was required in these very grim fairytales.
The world premiere started at 11 o'clock in the morning and I think finished at three with a good lunch break, I suspect
You've programmed a large and rarely performed example for the end of the festival. Do you feel you are bringing Saint Ludmila home given Dvořák's status as a purveyor of huge choral slabs to Victorian English audiences?
If you're going to ask your audience to be interested for a very contracted period in the music of one man, you need the variety. I thought I would try and climax with one of the big pieces. None of them is known with any familiarity at all. I've been with this music for such a long time, I've been juggling The Spectre's Bride, the Requiem, Saint Ludmila, the Te Deum, the Stabat Mater, which is probably the best-known one. In the end I thought, right, this is the moment for me to do Saint Ludmila. It's a very very strong piece. It was written for the Leeds Festival. The world premiere started at 11 o'clock in the morning and I think finished at three with a good lunch break, I suspect. I always knew I was going to have to get the scissors out. We've made some, I hope, good cuts to keep the thing flowing forward and to be able to do it with one interval. I'm really thrilled that we're doing it in English. Dvořák wrote it in Czech but the world premiere was given in English. He would finish a few numbers, parcel them up and send them to England where a man who lived for this sort of thing, the Reverend Troutbeck, would translate them into English. What he gave us in the 21st century is completely unacceptable, full of old-fashioned words and word orders. I thought I would celebrate the whole business of doing it in English by asking my old friend David Pountney to energetically modernise it.
Can you hear the operas in it?
I would say no to that. Not because it's not dramatic, but its requirement comes from a different base. This is a poetic text, a reflective text, where the crucial dramatic moments are not so important as the celebration of a particular type of oratorio that he knew we had under our thumbs here in England, and that's Handel. He was very very stirred by his experience of hearing northern choirs singing Handel oratorios. He would have had a very large choir. How they all got into the Leeds hall I don't know. It's a celebration of a muscular, dance-filled tradition. It has all the fugal writing and celebratory climactic phrases that we associate with Handel. (Pictured below: Sir Mark Elder conducting the Hallé. Photograph by Russell Hart)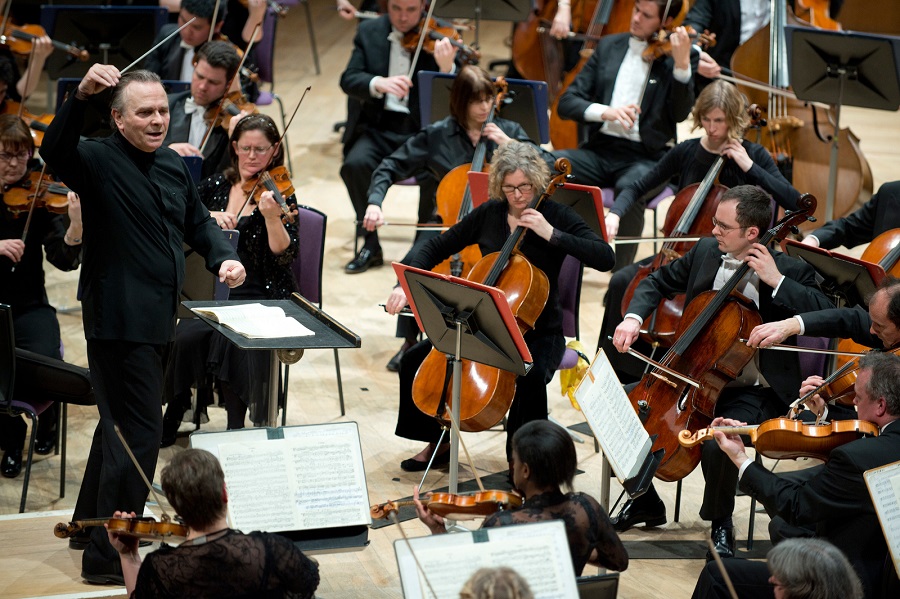 Do you think of the late pieces as a tantalising pointer to what might have been?
Yes I do, absolutely, because in responding to Grimm's fairy tales he stretched his orchestral technique way beyond anything he did in the symphonies. In the symphonies he was trying to keep his place in the German-Austrian symphonic tradition but full of Czech rhythm, Czech models and dance forms and his own particular lyricism. With these his imagination could roam free. And I would go as far as to say you can see the symphonic poems in Rusalka that came after it. Rusalka was technically speaking a 20th-century opera. I find the experience he had doing the symphonic poems all the time in Rusalka, and probably in The Devil and Kate as well with its bizarre story – the second act takes place in hell. It just allowed him to stretch what the orchestra would do and the sort of music he would find inside himself. I think it gave him incredible pleasure.
It's quite rare for the last three symphonies to be performed in such close proximity. Are you closer to the happy one – no 8 – or the Brahmsian one – number 7 – or number 9?
What I enjoyed about the idea of doing them together is the contrast. It is amazing how fresh the Eighth Symphony remains. It's like Bohème. It's indestructible. It's so beautifully written. But I still enjoy the New World. I never get tired of it. I think it's the most incredible achievement, the way he strings all the movements together and brings back so many of the musical ideas to help the climax of the entire work.
What has earned the New World Symphony its status?
Fundamentally three things. The power of its melodies, the power of the drama inherent in the way he conceived the work, the sheer physical excitement of it and his ability as a very mature experienced symphonist in writing some new piece for the orchestra. Because it is new; it doesn't recall anything he's ever written before, and there's a reason for that: when he went to America to take up this job with the conservatory in New York, he wanted to show American composers what they should be doing. He wanted to say, "You have the raw materials in this country to make your own music." And he called this symphony "From the New World" to say, "I've tried to write a European symphony using musical threads and ideas and dance and melodies, songs, that are available to you here. You don't need to try and copy Brahms. Find your own." And not many people know this, and it is an absolutely fascinating part of enjoying the piece, is what he really planned to do is to write an opera for them on Hiawatha. And he went quite a long way to planning it and a lot of musical ideas eventually found their form in the symphony. The second movement, this famous tune, which now we glibly and I hope not cynically refer to as the Hovis advert – I know! It's ghastly! – was originally Minnehaha's death. And the third movement was Indians doing one of their traditional celebratory dances round a camp fire in a glade. There is something epic about the scale about the music; there is something demonic in the first and last movements that can produce great excitement. But I think probably for the average concertgoer, the overwhelming thing is the tunes that just leap off the page and stay with you.
It's the life blood of music enjoyment. It's irrepressible How would you define his ability to tell stories in music?
His command of musical narrative is not as developed or intense as Mahler and Sibelius. But the way he makes the orchestra sound is unlike anyone else. I would say if you put on a piece that I'd never heard by Dvořák I would recognise it as Dvořák even though I didn't know what it was.
Does such a piece exist?
Yes, I don't know the legends. I know they're there. I've just never got to them. I think his ability to tell stories is very immediate and that has something to do with why certain types of musician aren't so interested in his music. What you hear is what you get. What it means is what you're taking from it immediately. It's very direct music. It's not bound up in an intellectual pursuit and when he tries to do that it's not so successful. He can't rise to that. But his music has such colour, it has such variety in the textures, and that's all part of his storytelling. And one should not disparage music that hits the bull's eye straight off. The cello concerto is the most popular cello concerto, isn't it? Because of its dancing rhythms, its melancholy, its sadness, and the sheer genius of its melodies.
Do the concertos manifestly come from the same musical brain or heart?
A different part of the heart, I would say. And the cello concerto is obviously the greatest of the three. It's written on a very big scale. It is in a way a symphonic work of great power and maturity. It really reaches for the skies. The violin concerto is absolutely gorgeous. It's just doesn't stretch out quite so much. I wanted to include the piano concerto in the festival because it is absolutely the right moment to do a piece on the fringe of the repertoire that more and more players are taking into the repertoire. My friend Stephen Hough has just started playing it and our soloist Francesco Piemontesi has recorded it as well and believes in it totally. If it's the least successful of the three that's not to say that it's anything other than a very enjoyable work. The melodies themselves aren't quite as inspired, but the handling of the whole work is very particular and it's very very hard to play.
What about the others operas? Are you intending to go deeper?
I don't think he was a great opera composer, but I think Rusalka is a great opera. Some of the other operas I've lived with for years. I've got the scores of them, and I long to find the opportunity to do them. Some of the very early ones are quite short. He's finding his feet, full of Czech folk rhythms, plenty of humour and melodic charm. Armida was the last one he wrote: that has very very beautiful pages in it. But the ones that I'm after are The Jacobin and The Devil and Kate. I would love to do both of those. I'm forever trying to find ways to do them.
You make him sound like a guilty pleasure.
Oh God. I wish there was a little bit more guilt. It's the life blood of music enjoyment. It's irrepressible. His music represents the purest balance that we teach children music is made up of: melody, rhythm and harmony.
One should not disparage music that hits the bull's eye straight off
Explore topics
Share this article