Kiss Me, Trafalgar Studios review - Richard Bean two-hander is affecting if slight |

reviews, news & interviews
Kiss Me, Trafalgar Studios review - Richard Bean two-hander is affecting if slight
Kiss Me, Trafalgar Studios review - Richard Bean two-hander is affecting if slight
Onetime National Theatre hit-maker offers a decided change-of-pace
A man and a woman and no guvnors: Ben Lloyd-Hughes and Claire Lams in 'Kiss Me'
Hampstead Theatre Downstairs' habit of sending shows southward to Trafalgar Studios continues with Richard Bean's Kiss Me. A character study set in post-World War One London, it's a two-hander concerning the attempts of a war widow to conceive a child via an arranged liaison with a younger man.
As slight as it is smart, it is grounded by two astonishing performances from Claire Lams and Ben Lloyd-Hughes, returning to roles they originated in Hampstead last year.
Bean, of course, is best known for grander comedies like One Man, Two Guvnors. This is cut from very different cloth. A period piece that never feels musty, it focuses on lorry driver Stephanie (Lams) who is, to quote the play, "a modern woman" dampened by the weight of postwar loss and the quiet destruction that guilt and longing can wreak after the battles have ceased. At 32, she is conscious that her social standing will be affected by parenthood but nonetheless arranges conception through an unseen doctor, who sends former public schoolboy, Dennis (Lloyd-Hughes), in her direction. So far so prescribed, you might think, until this arranged pairing gives way to something that could well be love.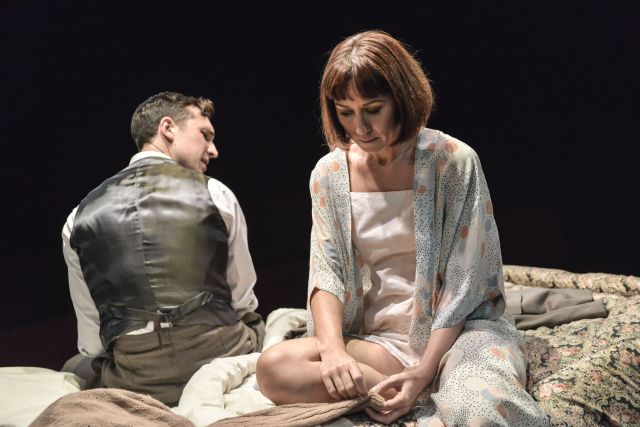 The duo (pictured above) are perfectly matched: Lloyd-Hughes's mysterious businessman is calm and composed yet prone to bursts of excitement and passion. The guilt he feels at having missed out on the war (he ran his Barbados-based sugar plantation instead) has transformed him into a serial impregnator, a status that generates laughter – 202 children from over 700 liaisons – before giving way to numbness as the grim realities of his "mission" are revealed. He fathers from a sense of duty to replace lost lives; he often walks past wounded and shellshocked veterans on his way to the various assignations. (The actor is the younger brother of Henry Lloyd-Hughes, seen recently at Hampstead in Occupational Hazards.)
Lams's grievously single Stephanie is the opposite, all nervous energy and stream-of-consciousness speech, with the occasional stern recrimination – instantly challenging, for instance, a wayward sexist remark. There is a steeliness and sadness behind the eyes that betray her playful exterior, and Bean deftly captures their complementary ways of being: Dennis frequently finishes Stephanie's sentences, finding the necessary articulacy for her. Nerves are seen to give way to passion, which leads in turn to a wounding finale.
Georgia Lowe's cramped bedroom setting – a further credit for the busy designer of An Octoroon and English Touring Theatre's recent (and terrific) Othello – has pockmarked mirrors that reflect the unglamorous situation back at the two bedmates; the bed itself is a slightly grubby number. Motivations at times are unclear: why does Stephanie yearn for a child when she is clearly independent and assured? And what drives Dennis's commitment towards a deeper relationship? Such questions linger alongside an abiding melancholy that the director Anna Ledwich captures in full. This is a tease of a play, but a touching one, too.
Kiss Me at Trafalgar Studios 2 until 8 July
The guilt Dennis feels at having missed out on the war has transformed him into a serial impregnator
rating
Explore topics
Share this article