National Gallery of Ireland review - bigger and better |

reviews, news & interviews
National Gallery of Ireland review - bigger and better
National Gallery of Ireland review - bigger and better
Dublin celebrates the reopening of its refurbished art gallery with Vermeer
The newly refurbished galleries maximise natural light - and seating
The marvellous National Gallery of Ireland, founded in the 1860s, has opened its doors to its brilliantly revamped, updated and expanded galleries. As a spectacular bonus in its opening summer, Vermeer and Masters of Genre Painting reposes in the enfilade of the newly re-done permanent galleries for temporary exhibitions.
After half a dozen years effectively closed for refurbishment, the new National Gallery of Ireland joins a roster of other modernised and expanded institutions. Just a year ago the Switch House opened at Tate Modern, and at the end of June, the V&A will open its massive new entrance, new public spaces and temporary exhibition gallery, while the National Portrait Gallery has announced plans to expand and effect a total re-hang by 2022. In this context, the NGI – in a country of 4.5 million – punches well above its weight, with a big community, education and events programme, its excellent café and its general buzz.
The statistics are awesome, with four wings dating from the 1860s to the 21st century, 15 different levels and new, more accessible entrances. Optimum viewing conditions have been achieved by careful navigation of the conservation issues, in order to upgrade to the best display conditions including much natural light. Eighty per cent of its galleries have been shut and have now emerged with a new chronological hang which no longer restricts schools of art geographically but demonstrates ever more clearly a zeitgeist that transcends boundaries.
Of the 650 or so works on view, two thirds have been restored. It is a telling collection of European art dating from the 14th century onwards, succinct and replete with masterpieces familiar and unfamiliar. For the visitor from outside Ireland the highly unusual aspect is their choice selection of Irish art (pictured above: Jack B Yeats, The Liffey Swim, 1923). There is a staggeringly over-the-top painting by the Cork-born Daniel Maclise (1806-1870), The Marriage of Strongbow and Aoife, dominating the Shaw gallery with its teeming crowd of warriors and celebrants of a 12th century political alliance between the Normans and the Irish, originally devised as a decoration for Parliament. It's Victoriana historical mishmash at its most hilariously beguiling.
Most of the artists, except perhaps Jack Yeats, who has a dedicated gallery, are not known in an international context. Those that are well known in the UK – Orpen and Lavery for example – had London careers. In a clever homage to Velazquez, Sir John Lavery's superb period piece depicts Lady Lavery and her two daughters in her husband's studio; Hazel was a renowned beauty and her portrait graced Irish banknotes until the arrival of the euro. The intensive look at Irish art includes a first-floor gallery dedicated to 20th and 21st Century Irish portraiture: several views of Seamus Heaney for example, and an affecting portrayal of Brian Friel.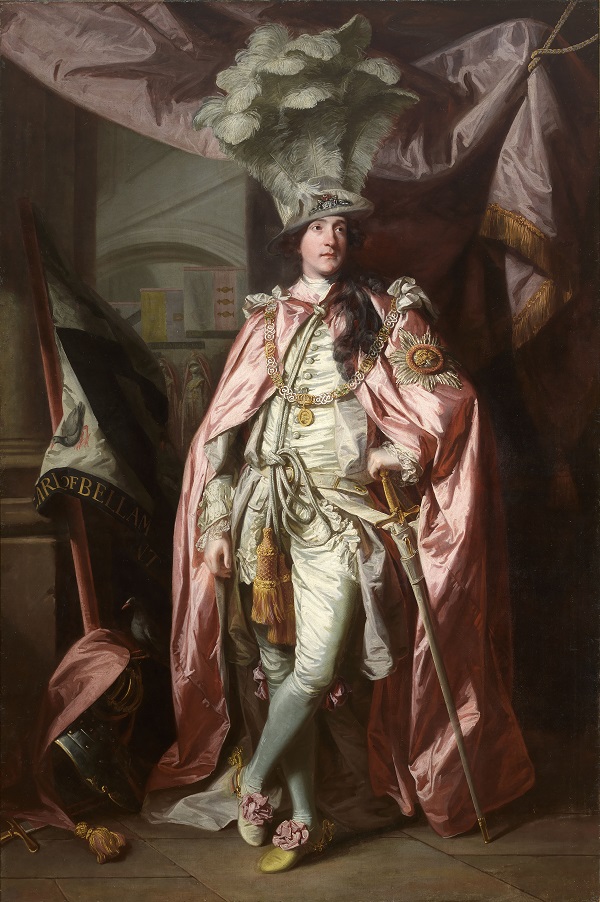 The chronological sweep of Irish material is on the ground floor, including an affecting collection of 20th century stained glass, an art at which the Irish excelled. The international plums on the upper floors entice the visitor to explore
further (it is often surprising how difficult it is to get people to leave the ground floor). Here are Rembrandt, Velazquez, Rubens, Bellotto, Chardin, to name but a few. And some real surprises to find housed in Dublin: Raeburn's masterpiece Sir John and Lady Clerk of Penicuik, 1790, on a large scale but curiously informal in its glimpse of marital affection, not to mention the swagger portrait to end all swagger portraits, Joshua Reynolds' Charles Coote, 1st Earl of Belmont, 1773-74 (pictured right), dominating the end wall of the Dargan Wing Grand Gallery. Brilliant and varied wall colours, ranging from bold reds and blues to exquisite greys, provide a fine foil for the paintings as well as a subliminal rhythm for the visitor's journey. These are galleries where it is both easy and pleasurable to see the art, which may seem such an obvious thing to say but which surprisingly few institutions manage with such understated elegance and subtle panache.
It is a brilliant coup to open with the thrilling exhibition of some 60 paintings from the Dutch Golden Age, centred on the 10 Vermeers (almost a third of his surviving work) including the NGI's own Woman Writing a Letter with her Maid, c1670-71 (pictured below left). Beautifully displayed against dark blue walls, this is a show with a difference: a genuine piece of detective work attempting to show the ways artists looked at each other's work – sometimes in terms of rivalry – in order to draw inspiration.
There is not much documentation as to who saw what when, but the curators treat the paintings as visual evidence, based on chronology and known acquaintance, reminding us too that Holland was a small country in which even centuries ago it was easy to travel. Poses and subjects were often in common: all on view here are interiors with people, almost exclusively those of the upper bourgeoisie, often with their servants: women and their maids, but sometimes working people on their own.
Music-making is a recurrent theme, as is the writing of letters, explored in a rather wonderful category called "Corresponding Love", and pets. Many a painting has a dog, but Vermeer eschewed, it becomes readily apparent, both children and animals, unlike most of his peers. From Gerrit Dou to Caspar Netscher, Gerard ter Borch to Pieter de Hooch, many of these charming and technically expert artists were better known and more successful in their day than Vermeer. And however realistic these scenes may appear to be, it is made apparent how intelligently the compositions were inventions, artistically contrived. And Vermeer shines, the glowing luminosity of his paintings even more aglow in their subtle complications than those of his peers. This may be one of the most enjoyable immersions in art history this decade.
Brilliant and varied wall colours provide a subliminal rhythm for the visitor's journey
rating
Explore topics
Share this article