Prom 3: Faust, COE, Haitink - Europeans tread air under 88-year-old master |

reviews, news & interviews
Prom 3: Faust, COE, Haitink - Europeans tread air under 88-year-old master
Prom 3: Faust, COE, Haitink - Europeans tread air under 88-year-old master
Sheer perfection and personality in Mozart and Schumann
The message must be getting through. On the First Night of the Proms, Igor Levit played as encore Liszt's transcription of the great Beethoven melody appropriated as the European Anthem; in Prom 2, Daniel Barenboim unleashed his Staatskapelle Berlin on Elgar's Pomp and Circumstance following an inspirational speech about European culture, education and humanism. Yesterday afternoon's manifesto was a given, showcasing the finest of all European bands under a Dutch citizen of the world who resided for many years in London. Bernard Haitink is also the world's greatest living Mozart conductor now that Mackerras is no longer with us - and at 88, his baton technique and his nuancing are more focused than ever in the love and passion they inspire.
You might argue that the Chamber Orchestra of Europe could play the programme in question without a conductor. But Haitink (pictured below) fine-tuned the dynamics in Mozart's "Prague" Symphony, No. 38, adding many more than are in the score, with a notably magical dimuendo back into the first-movement recap, and added his own subtle sense of space throughout, starting with the end of the slow introduction.
All repeats cried out to be heard with playing as hyper-alert and well sprung as this - and especially in Mozart's Andante, which Haitink now, surely, conducts more swiftly than he used to, making it a deeply expressive kind of minuet in a three-movement symphony where that ritual is officially missing.The woodwind playing was predictably both cultured and vivid, from Kai Frömbgen's very personal oboe solos to Clara Andrada's flute loudly protesting against the sudden ensemble rudeness at the heart of the finale.
Mozart's ubiquitous Third Violin Concerto might have seemed one-dimensional after that, a nice little exercise in 18th century gallantry, but not with another peerless artist, Isabelle Faust (pictured below), who as one-time COE member had to join her fellow violinists in the opening tutti. If from a distance in the Albert Hall you had to lean in to catch the nuances, that's no bad thing; and Faust's vibrato-light line in the Adagio was a delight. So was her choice of startling cadenzas by her frequent duo partner, pianist Andreas Staier, the last introducing a repeated pizzicato in homage to Mozart's use of it in a belated rondo-theme and carrying it over into the final fun and games.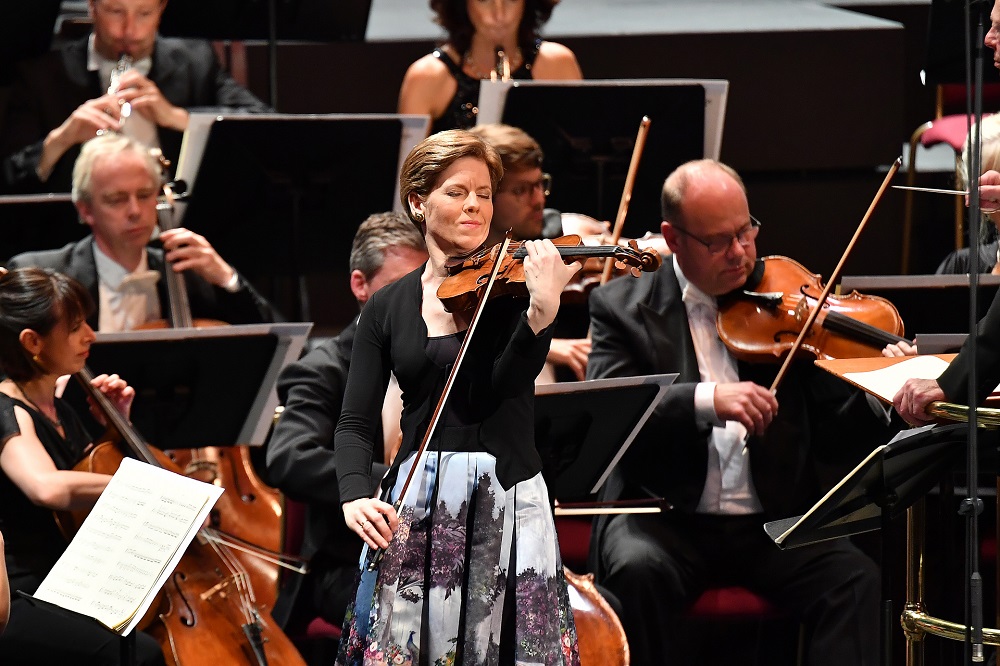 No doubts, either, about any aspect of Schumann's Second Symphony – not an obvious second-half work – could possibly remain in an air-treading performance like this. The much-derided orchestration seemed perfect, with low horn notes cutting as much as the rest of the orchestra through the Albert Hall vasts. Haitink convinced us that this is one of the most miraculous scherzos ever written, so deft and sleight-of-hand in its transitions that you really wanted to applaud it and even call for an encore, as they did of old mid-symphony. The actual bonus, then, was apt, perfection again: the most gossamer-light dance through the Scherzo from Mendelssohn's incidental music to A Midsummer Night's Dream, proving that Haitink at 88 is still an ageless Puck at heart.
Next page: watch Daniel Barenboim's inspiring pro-European speech in Prom 2
Daniel Barenboim on European culture, education and humanism at the first of his Staatskapelle Berlin Proms