Man in an Orange Shirt, BBC Two review - soft-focus view of 1940s gay love affair |

reviews, news & interviews
Man in an Orange Shirt, BBC Two review - soft-focus view of 1940s gay love affair
Man in an Orange Shirt, BBC Two review - soft-focus view of 1940s gay love affair
Patrick Gale's debut TV screenplay flirts with Mills & Boon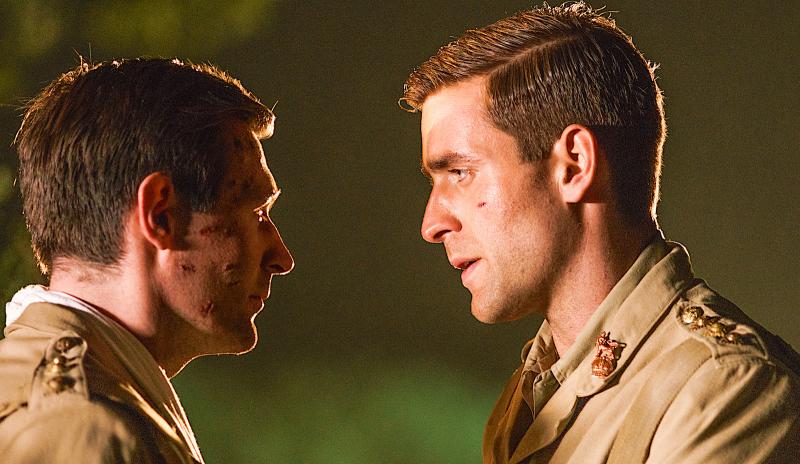 Love during wartime: Thomas (James McArdle) and Michael (Oliver Jackson-Cohen)
As chat-up lines go, "I can't do my fly up single-handed" is pretty full on – even if it is true. Thomas March (James McArdle) is speaking to James Berryman (Oliver Jackson-Cohen), who not only went to the same public school but has also just saved his life on the Italian front during World War Two. Furthermore, the come-on works. The wounded soldiers are soon sucking face.
Man in an Orange Shirt is Patrick Gale's first TV screenplay. He's a master of middle-class misery whose novels read like Alan Hollinghurst for beginners. Think pink potboilers, albeit very well written ones, that explore the problems, um, that black sheep cause in families. Fortunately Gale's generosity of spirit compensates for his tendency to melodrama.
This first of two parts opens in the present. Adam Berryman (dulcet-toned Julian Morris), James's grandson, is playing cards with his grandmother (Vanessa Redgrave, on top form): "I didn't know you owned a cottage." Cottage, alas, is the key word in this episode. In case there's a single viewer still unaware that it is 50 years since homosexuality was partially decriminalised in England – indeed, this drama is part of the current Gay Britannia season designed to mark that – before 1967 men who liked men often resorted to sex in public lavatories that were nicknamed "cottages" (and were often nicked for doing so).
As soon as James is demobbed (and before informing his fiancée Flora (Joanna Vanderham) of the good news) he hooks up with artist Tom, plying his trade in Soho (actually Spitalfields), for a week of domestic bliss in a cottage that belonged to his parents who were both killed in an air raid. Such bliss cannot last and it doesn't. Tom, against his better judgment, acts as best man at James and Flora's wedding. "I feel such a fraud," virginal Flora tells the older and wiser Daphne (Laura Carmichael, pictured above with Vanderham), the only other guest. Conveniently, the bride's parents are also dead. Daphne, certain James is "a real goer", tries to reassure her. The ensuing consummation, although James rises manfully to the occasion, is painful – for the unhappy couple and the viewer. Afterwards James retires to his own single bed.
Two weeks before she is due to give birth to their first child, Flora finds a cache of love letters to her husband from Tom. She burns them, a sure sign of things to come when her bowler-hatted banker boy gets home. James notices that Tom's wedding present to them – a painting of his parents' cottage – is missing, along with the letters. "Never touch me!" screams Flora. "You're disgusting. Criminal." And, betraying the homophobia of the time, asks: "Are you safe around children?"
And so it goes… Recrimination and regret slowly give way to a reluctant reconciliation of sorts. Tom is imprisoned for 12 months for gross indecency and forbids James to visit him a second time. Tom's mother (Frances de la Tour, pictured left, also on top form) suggests the boys run away to France where she has a second home in Cassis but, when James finally plucks up the courage to do so, Tom is swept away by his out-and-out friends.
Although we are in the 1940s, there is no sign of the stiff upper lip: James and Tom spend half the time in tears. This makes them seem weak when – struggling under such sexual and social pressure – they are not. Their agonies, in an age of bromide and prejudice, should be much more moving than they are. The only scene in which this old softy wiped away a tear was when Tom's mother offered James the picture of him (sans face) that Tom painted during their long-ago week together. Its title? Man in an Orange Shirt.
James is not the only fruit to turn his back on his true self. His grandson, a vet whose story is told in the much stronger second part, is also hesitant about his sexuality. We gays have come a long, long way together, through the hard times and the good, yet Patrick Gale seems to be suggesting that intimacy between men – real love rather than chemsex lustfests – remains problematic.
After Queer As Folk (1999) and Cucumber (2015), Man in an Orange Shirt feels curiously old-fashioned. Even The Lost Language of Cranes (shown on BBC Two back in 1991) was more explicit. Gale's good manners, and a lack of grit, reduce the heart-breakingly ignorant attitudes expressed by some of his characters to the level of a glossy Mills & Boon romance.