Edinburgh Festival 2017 reviews: Rhinoceros / Flight |

reviews, news & interviews
Edinburgh Festival 2017 reviews: Rhinoceros / Flight
Edinburgh Festival 2017 reviews: Rhinoceros / Flight
Zinnie Harris's new version of Ionesco, and Vox Motus take on the subject of migration
Wednesday, 09 August 2017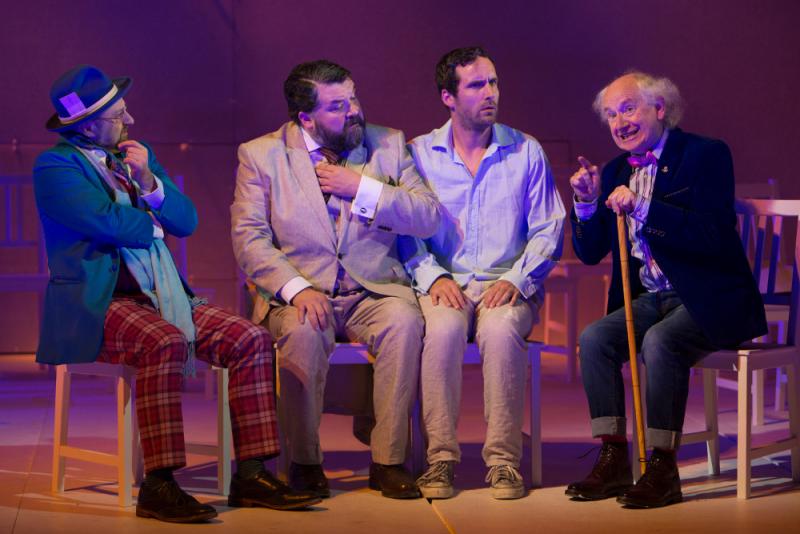 Steven McNicoll and Robert Jack (centre) with Harry Ward and John Cobb in the EIF's scabrously funny Rhinoceros
Marketed by an image of a Trump-quiffed and -besuited pachyderm, Zinnie Harris's new version of Ionesco's absurdist 1959 comedy is one of the International Festival flagship shows for 2017, a collaboration between Edinburgh's own Royal Lyceum Theatre and Istanbul's DOT Theatre. And with its wild, scabrous humour and its blazing, furious energy, it doesn't disappoint. This is a Rhinoceros very much for our times, with fake news, mistrust of immigrants and even a USA gone to the dogs under a tinpot dictator all firmly referenced, in amongst Ionesco's tale of the inhabitants of a sleepy French town giving in one by one to their primal, animal instincts, driven by a herd mentality or simply being too lazy to resist. Director Murat Daltaban manages the play's gradual shift from farce to desperate tragedy expertly, with Tom Piper's starkly beautiful set designs becoming increasingly claustrophobic as the evening progresses. Robert Jack is feisty but forlorn as Berenger, the sole figure to refuse to succumb, and his double act with Steven McNicoll as Jean (including some scripted fluffs?) is a comic joy. Cast as a brisk, interval-less 110 minutes, this Rhinoceros is a remarkable achievement, a chilling reminder of how simple it is for humans to discard their humanity, as hilarious as it is desperate, and as urgent as it is compelling.
Rhinoceros at Royal Lyceum Theatre until 12 August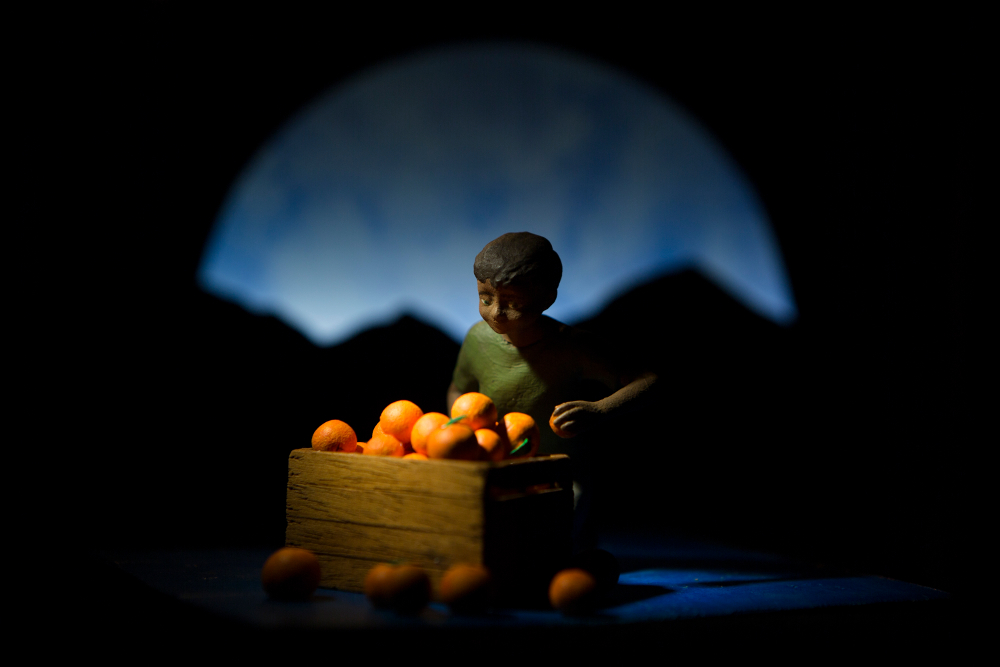 Flight ★★★★

Glasgow-based visual theatre company Vox Motus are Edinburgh festivals regulars, having had several hits on the Fringe, and a big success with 2015's spectacular, Chinese-inspired Dragon at the International Festival. Their new show, an EIF commission that's receiving its world premiere performances, is a world away from the flamboyant spectacle of Dragon, however. Seated in individual darkened booths, with headphones carrying the soundtrack and actors' voices in Oliver Emmanuel's gently tragic text, you watch a slowly revolving sequence of exquisitely crafted miniature tableaux, almost like a graphic novel in three dimensions. The subject is one of today's big issues: migration – in this case, a tale of Afghan brothers Aryan and Kabir, and their two-year struggle to reach London, based on the novel Hinterland by Caroline Brothers (itself based on refugees' testimonies). The result is a brilliantly bewitching, quietly heartbreaking experience, as you peer deeply into the slowing moving tiny dioramas to examine the boys' stories of abuse, hope and desperation. It's a gradually evolving piece, cumulative in its power – and quite unlike anything else happening in Edinburgh this year. But for such an intimate experience, Flight packs a massive emotional punch.
More reviews from the Edinburgh Festival and Fringe on theartsdesk
This is a Rhinoceros for our times, with fake news and a US tinpot dictator firmly referenced
Explore topics
Share this article