Proms 47, 48 & 49 review: Reformation Day - superlative Bach as the bedrock |

reviews, news & interviews
Proms 47, 48 & 49 review: Reformation Day - superlative Bach as the bedrock
Proms 47, 48 & 49 review: Reformation Day - superlative Bach as the bedrock
From organ glory to congregational chorales, another epic journey in the Royal Albert Hall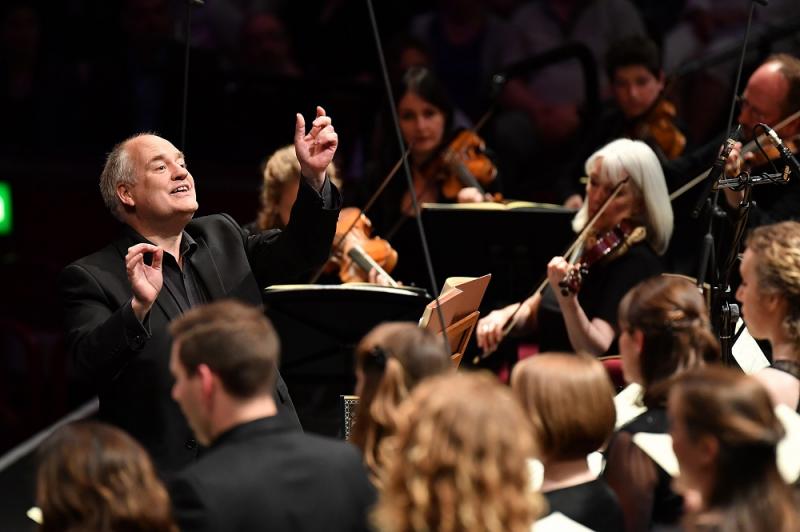 John Butt, heart and soul directing Bach's St John Passion
Reformation Day, Luther 500 - in Proms terms it can only mean Bach, the alpha and omega of music, flourishing roughly two centuries after the Wittenberg Nightingale nailed his 95 theses to the church door.
Those of us who headed home on Saturday night reeling from the C major sunburst at the end of Schoenberg's
Gurrelieder
were happy to hear an even greater blaze at Sunday lunchtime, albeit from only one regal instrument, the Albert Hall organ in the master's E flat major Prelude which the sometime neoBaroque Schoenberg revered and even arranged. But there were many other voices during the day, and it seemed fitting that the marathon ended not with the final chorale of Bach's St John Passion but with the communal rendering of a congregational hymn.
Masterminds of the day, and furnishers of notes in the three programmes which offered plenty of food for thought, were organist William Whitehead and John Butt of Dunedin Consort fame. Whitehead (pictured below) is currently engaged in a project to find composers for treatments of the 118 chorales left unrealised by Bach himself in his Orgelbüchlein or Little Organ Book (the "keep politics out of the Proms" brigade who have been so virulent in their condemnation of EU touches so far will be annoyed to know that it would not have been possible without ongoing support from the European Commission, though the programme nowhere mentioned this fact).
There were two newcomers to the Book yesterday lunchtime (★★★★) in two BBC commissions. Cheryl Frances-Hoad treated Luther's best-known hymn "Ein feste Burg ist unser Gott" by beginning with simple harmonic distortions but swelling to complex gargantuan force with, as she puts it, "Martin Luther and his Mighty Fortress approaching at an increasing pace until they were millimetres away"; Whitehead on the RAH monster applied due shock and awe. Jonathan Dove took the wateriness of Christ's baptism in the river Jordan to offer shimmering cascades and a fluttering of wings: magical. Daniel Saleeb's already extant offering gave us little but sombre mood-music - justifying its existence here as an anticipatory preface to what came earlier, but is in fact a much more substantial piece, his Toccata on the same chorale ("Erhalt uns, Herr, bei deinem Wort," with its fundamentalist aggression against "Papists and Turks").
The framing programme was a wonder. Robert Quinney has a way of making the organ dance and breathe - no mean feat with the one in the hall - so Bach's E flat masterpiece made it impossible to sit still in either Prelude or magnificent concluding Fugue. You'd not have thought Mendelssohn capable of approaching such sublimity, but the first movement of his A major Sonata, with another chorale heard in the bass, sounded glorious. Schumann, finally escaped the inevitable lugubriousness if you concentrate exclusively on BACH (the notes B flat, A C and B natural in German - Liszt's queasy example once contributed to my throwing up in the porch of Norwich cathedral). And it was a neat idea to throw in Samuel Wesley's Introduction to the Grand Fugue which ended the recital, allowing Quinney and Whitehead to duet, however briefly.
Later in the afternoon, Butt proposed a "Patchwork Passion" following the story chronologically in both senses with snippets from Johann Walter's penny-plain setting in the mid 16th century to the last word from the Cross in James MacMillan's climactic 1993 rendering and dematerialisation (high-wired violins especially haunting). This was quite a feat of stamina and versatility for the BBC Singers, City of London Sinfonia and conductor Sofi Jeannin (the Singers' new Chief Conductor Designate, pictured below). Up to Bach and Handel's eclectic Brockes-Passion, which I got to hear in its magnificent entirety at the Göttingen Festival earlier this year and which actually predates the two most famous settings by Bach, worked well.
The decadence began to set in, though, with an interminable aria by CPE Bach. We had two very different tenors, New Zealand-born Christopher Bowen slightly pushing his high, bright, choral-scholar tones for dramatic effect as various Evangelists, Thomas Elwin making a meatier sound to dignify Stainer's The Crucifixion.
Haydn's Seven Last Words has spectacular moments, but the Introduction and the chorus we heard are not among them. Mendelssohn does better with drama in Christus, but Stainer's hilarious reiterations of "Fling wide the gates" are fit only for sniggering. Redemption was to be had with the utterly individual homages of Sofia Gubaidulina and Arvo Pärt, bringing memories of superb Proms performances of their entire St John Passions (though the ritual repetitions of the Pärt are hard going unless you enter a meditative state). As a whole this was a great idea in principle, and always interesting for the history of the Passion, but not quite a winner in practice (★★★).
The greatest, though, was always going to be last: Bach's St John Passion given in the fascinating context - which absolutely did work - of a reconstructed Leipzig Good Friday vespers service (★★★★★). John Butt has been performing these dedicated imaginings with his Dunedin Consort for some years now, and their recordings are among the best Bach, which is saying something, but I'd never experienced the venture live until now. Chorale Preludes were part of the picture, plus earlier chorale settings in which those members of the audience who'd been lucky enough to be given a sheet with the music as well as the words (see comment below - none was apparent in my vicinity) joined - two took some picking up without the music printed out too as I wasn't familiar with them - and a revelatory glimpse of a highly original F sharp minor Prelude, regrettably abridged, by Buxtehude to lead us into Bach's opening chorus in the same key.
Predictably, on the evidence of their recordings, the Dunedin Consort and Choir blazed intensity from the start, searing strings with the occasional bass line surging to the fore and painful, clashing woodwind complemented by one of the best groups of singers in the business. The soloists participated in the opening tidal wave. Our Evangelist was Nicholas Mulroy, a little taxed by the vast space but as committed a from-memory narrator as you could wish (footnote - on subsequent TV viewing, he sounds perfect).
His fellow tenor for the arias, Andrew Tortise, is a true original; "Ach, mein Sinn," the aria of Peter's regret at his denial, touched those depths you always dream of achieving in the best meditations. So, too, did counter-tenor Tim Mead's exquisite, hall-filling beauty of sound in "Es ist Vollbracht" and the balm of Sophie Bevan's "Zerfliesse, mein Herze" (Bevan and Butt pictured below). These two really know how to blend instrumentally with the orchestral soloists - all superb, and it was fascinating to hear the two violins with the mutes on, but an essential special mention has to go to Jonathan Manson, principal cellist and crucial viola da gamba solo.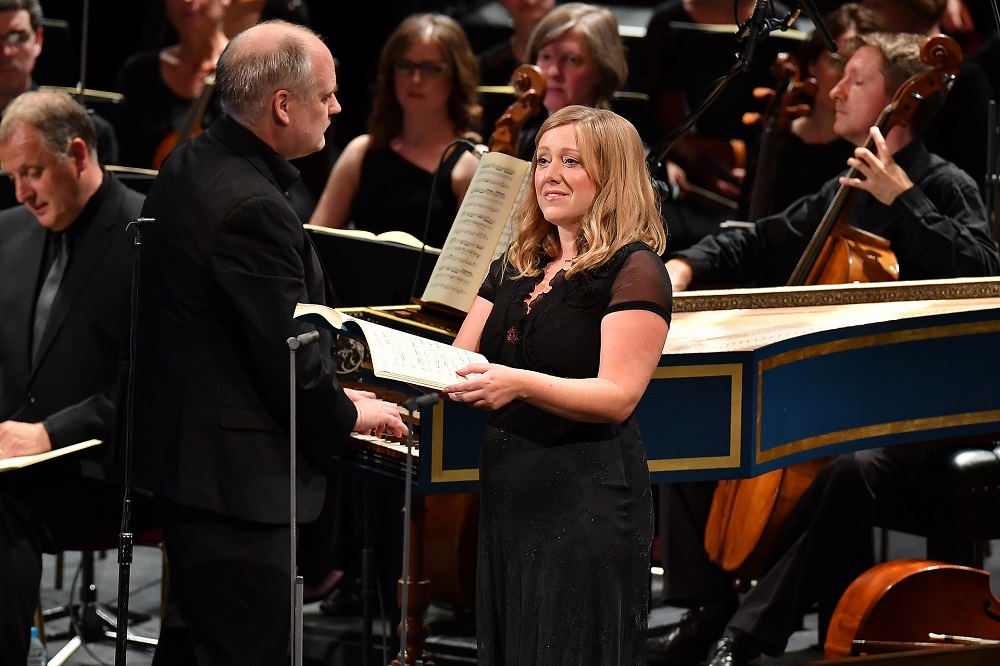 Authority and presence poured from Matthew Brook's Jesus; it was only a pity that the bass for the arias, Konstantin Wolff, disappeared like Mulroy in lower register. Otherwise, nothing but ecstatic praise for this line-up. Was the final sequence after the ineffable "Ruht wohl" and closing chorale a let-down? Absolutely not, only a steering into more everyday ritual after the operatic depths of Bach's peerless setting: a simple 16th-century motet by Jacobus Handl, a blessing, another chorale prelude and a tune we could all join in, knowing it well as the church hymn "Now thank we all our God". The ultimate uplift, and of course Bach is always there, as the diverse audience richly demonstrated, for people of all faiths or none.
Bach is always there, as the diverse audience richly demonstrated, for people of all faiths or none
Explore topics
Share this article