Agents of Mayhem review - digital déjà vu |

reviews, news & interviews
Agents of Mayhem review - digital déjà vu
Agents of Mayhem review - digital déjà vu
Crazy action wrapped up in a repetitive formula
Wednesday, 23 August 2017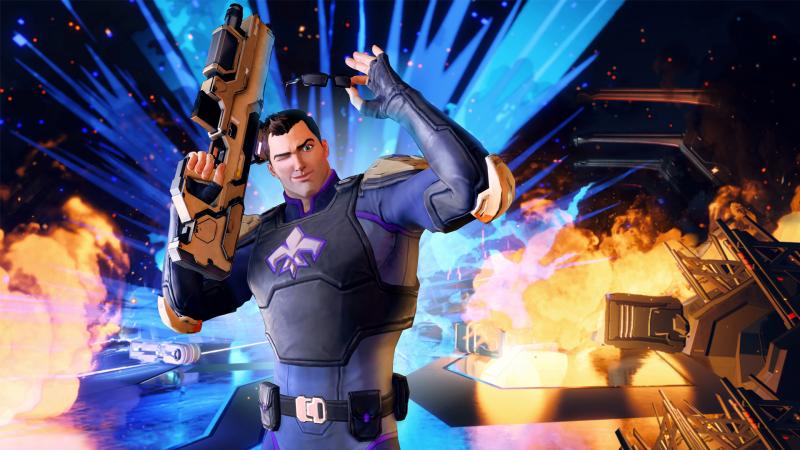 More mediocre than manic: Agents of Mayhem
Once upon a time there was a game called Grand Theft Auto that opened the door to free-roaming open-world games. It spawned a whole load of "me too" offspring, mostly bad, some good. Among the more promising relatives were the Saints Row titles, a more cartoon-esque version of GTA, but still resplendent with anti-hero crime drama and the visceral thrill of running or driving around the mean streets, looking for trouble.
Fast forward a few and we have Agents of Mayhem, in many ways a natural extension of the Saints Row games – same developer, same 18-rated humour, but this time you're on the side of the good guys, fictional cities have been replaced by a futuristic Seoul and the cel-shaded visual style leads it even more towards the pages of a comic book.
This is an action Role Playing Game (RPG), where OTT characters defy the downside of gravity (you can leap from skyscrapers without a scratch) while shooting crazy weapons at each other. You can switch between three agents at any time, changing between distinct fighting styles depending on the battle requirements. There are a dozen characters to unlock, all distinctly different combatants that come complete with back-story cartoons and solo missions to play through.
In addition to unlocking characters, upgrading abilities, building XP, crafting new weapons (the list goes on), there's also an over-arching storyline involving a big bunch of baddies looking to do damage to an unsuspecting Seoul. It's panto-villain stuff, but the witty one-liners, coupled with quality voiceovers keeps it all ticking along. The overt use of profanity is a bit off-putting though, with a multitude of swear words awkwardly crowbarring themselves into an otherwise passable script.
The fun is firmly embedded in the action. Using new weapons or interchanging characters to defeat a legion of troopers is a great blast. And levelling up your team to unlock new abilities doesn't get stale.
But the devil is in the repetition. There simply isn't enough mission scope and this world feels hollow. There's little variation to Seoul's cityscape, the metropolis is surprisingly small and there just isn't enough interesting stuff to do. The gameplay even forces you to repeatedly complete activities, due to enemies reclaiming sites you've previously conquered, further piling on the feeling of digital déjà vu.
Much of this could be overlooked if there was a local co-op or online multiplayer element, but for reasons that remain a mystery, this is a solitary soup-for-one affair and after a few hours, it really does start to grind.
So, where does that leave us? Somewhere far below the dizzy heights of GTA, that's for sure. Agents of Mayhem is a game that even stands in the shadow of its own predecessor Saints Row. It's decent enough fun for a while, but this futuristic escapade will only take you so far.