George Michael: Freedom, Channel 4 review - just a supersized commercial? |

reviews, news & interviews
George Michael: Freedom, Channel 4 review - just a supersized commercial?
George Michael: Freedom, Channel 4 review - just a supersized commercial?
Much-anticipated official documentary fails to deliver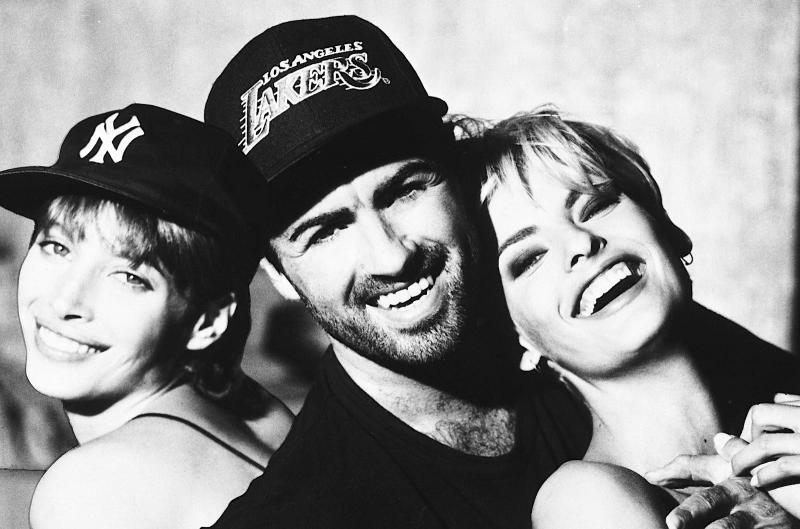 George with supermodels Christy Turlington and Linda Evangelista
You might expect a posthumous 90-minute documentary – and that's before you insert the ad breaks – about one of the biggest stars in British pop music over the last 30 years to shed some light on how said artist became so huge, but also how his career slowed to a crawl and his life came to such a depressing end.
Freedom
gives you some of the former but absolutely none of the latter. There's a brief introduction to camera by Kate Moss (all pout and cheekbones) which mentions George's death last Christmas and says that the film is "his final work", but other than that Michael's death might never even have happened.
George is billed as co-director, along with his friend since childhood, producer and manager David Austin, so one assumes that the film was designed precisely to the star's specifications. There's some pleasantly informal home-movie footage sprinkled through it and a narration by George himself which is at least revealing about some of the major highlights of his career. Other than that, the piece has been structured as a list of high-profile, ego-heavy celebrity friends and recording artists with wardrobes full of platinum discs, all queueing up to agree how enormously wonderful and infinitely talented George was.
Mary J Blige telling us "he had soul – period" is fair enough, but by the time you've sat through gushing encomiums from Ricky Gervais, Sir Elton (pictured above), French Vogue's editor Emmanuelle Alt, Naomi Campbell, Stevie Wonder, Nile Rodgers, a teary-eyed James Corden, Tony Bennett and, of all people, Liam Gallagher, you feel like you've been kidnapped and locked inside that brainwashing machine they used on Michael Caine in The Ipcress File.
There's a lengthy section about how George made his video for "Freedom 90", at a time when he refused to appear in promotional videos or on the album sleeve of Listen Without Prejudice Vol 1 (he wanted to be seen as a "serious" songwriter). Instead of him you got a cluster of the world's highest-paid supermodels (Linda Evangelista, Christy Turlington, Naomi Campbell etc), not to mention direction by David Fincher. It was all jolly entertaining, but made George seem, if anything, even more like a wanton playboy. When he says "I see hard-sell promotion as prostituting myself, I can't help it", you have to wonder what on earth he was doing in the music business in the first place. Then an Epic Records executive pops up to grumble about how much the supermodels charged for their services, though presumably these costs were recouped from George's royalties under his famously onerous contract.
The lawsuit he waged against Epic/Sony in the aftermath of all this is discussed at some length, and we hear George confessing that "the whole thing was a complete waste of time and I regret it to this day", though the huge buyout of his contract by Dreamworks and Virgin must have made things a little more bearable. The most compelling chunk of the film is about George's affair with Anselmo Feleppa, evidently the love of his life and the one person with whom he could finally feel glad to be gay, having agonised for years over how to deal with his sexuality. George's own account of learning that Anselmo had been diagnosed with HIV and living in terror that he might have it too was authentically chilling. His death in 1993 affected George in ways we can only guess at.
But the list of stuff that's been left out is endless. It was pretty obvious that George was suffering from mental and physical health problems for years, but none of that gets a mention. There's nothing about how he almost died from pneumonia when he was on tour in Austria in 2011, and nothing about his curious drug-driving brushes with the law (including the time he crashed into a Snappy Snaps store in Hampstead). Want to know how he fell out of his car on the M1 in 2013? Tough. I tried to watch without prejudice, but in the end I felt I'd just been watching a supersized commercial.