Natalie Palamides, Soho Theatre review - delightful and disturbing show about motherhood |

reviews, news & interviews
Natalie Palamides, Soho Theatre review - delightful and disturbing show about motherhood
Natalie Palamides, Soho Theatre review - delightful and disturbing show about motherhood
Playful and knowing character lays an egg every day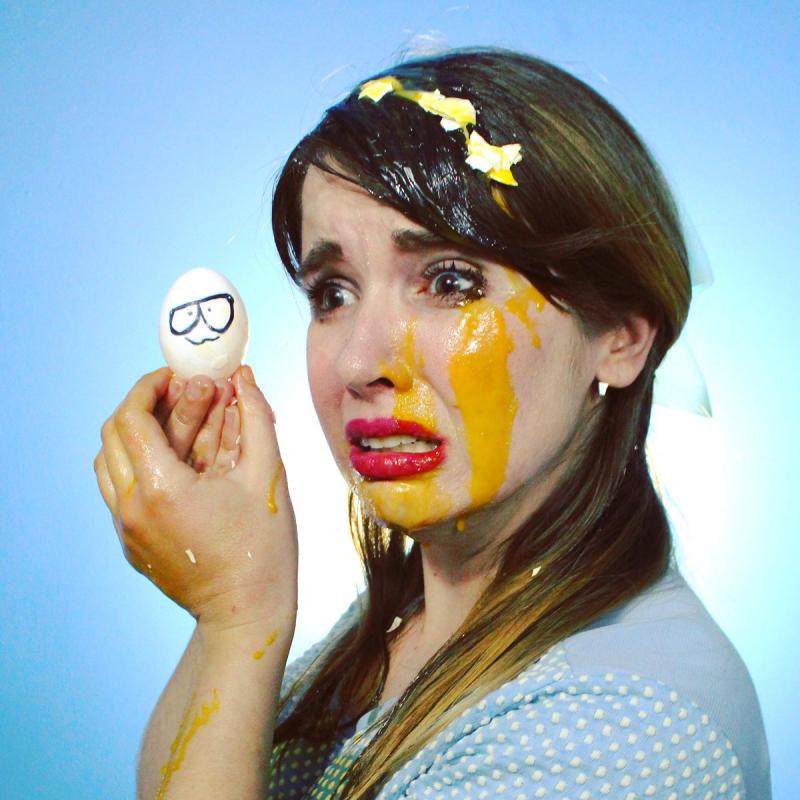 Natalie Palamides plays out the story incrementally, 'Groundhog Day'-style
It's not often the publicity material for a comedy show has a health advisory attached.
If you are allergic to eggs you may have to give Natalie Palamides' show
Laid
– which won best newcomer at the lastminute.com Edinburgh Comedy Awards at the
Fringe
in August – a miss, and that would be a shame.
It is by turns delightful and disturbing, as Palamides – a Los Angeles-based actress and writer from Pittsburgh who appears as Buttercup in The Powerpuff Girls – explores motherhood, fertility and many things beyond as she brings her playful but knowing character to life. Literally, as at the start of the show she hatches from a giant foam egg. I must admit these first few minutes of wordless mime filled me with dread, as Laid was created with former Edinburgh Comedy Awards winner Doctor Brown, a Philippe Gaulier clown school graduate and a performer who leaves me stone cold. But don't let that put you off, as what follows is terrifically funny.
The quick-witted perfomer has some wonderfully sharp putdowns
Palamides plays a woman who lays an egg every day and then has to make the decision whether to raise it or eat it – clue: there's a hotplate on stage – and we see her account for various choices as several real hen's eggs are produced from beneath the voluminous skirts of her costume, which is reminiscent of Judy Garland's in The Wizard of Oz.
But this isn't just daft clowning as Palamides moves from a messy recreation of her morning bathroom routine, complete with toothpaste, soap, shaving cream and water (those in the front row beware) to a shocking, greedy despatch of her latest offspring, or a heartbreaking scene as she tries to protect it from the outside world. The story is told incrementally, Groundhog Day-style, as each egg is laid, and she involves various members of the audience as the story's details unfold to play the child's father, teacher, the local newspaper boy – and even the local paedophile.
This could get awkward – indeed several times during the Edinburgh run, it did – but Palamides is such a charmer (ie, master manipulator) that most people do play along, but when someone resolutely refuses to, her improvisational skills come to the rescue. And should any audience member think that playing a character makes them the star of the show, the quick-witted performer has some wonderfully sharp putdowns too, but said so sweetly that no one could take offence.
Laid is sometimes unsettling, sometimes just riotous fun, but overall it's a bold, original and engaging entertainment.
Natalie Palamides is at the Soho Theatre until 8 November, then from 22 December until 13 January 2018
This could get awkward but Palamides is such a charmer (ie, master manipulator) that most people play along
rating
Explore topics
Share this article