Barnum, Menier Chocolate Factory review - a big, blowsy spectacle |

reviews, news & interviews
Barnum, Menier Chocolate Factory review - a big, blowsy spectacle
Barnum, Menier Chocolate Factory review - a big, blowsy spectacle
Energetic retelling of the showman's story
Wednesday, 06 December 2017
Scenes between Laura Pitt-Pulford and Marcus Brigstocke provide much of the evening's comedy
You have to hand it to Menier Chocolate Factory, a venue that doesn't let size matter as it stages an all-singing, all-dancing new production of Barnum, a musical about Phineas Taylor (PT) Barnum – the 19th-century showman famed for staging "The Greatest Show on Earth".
Director Gordon Greenberg stages a big, blowsy spectacle in this small theatre, in the round, and its cast of 18 pack a real punch.
Barnum (music by Cy Coleman, book by Mark Bramble, lyrics by Michael Stewart), was a hit on Broadway in 1980 and ran for more than 850 performances, before coming to the London Palladium in 1981, with Jim Dale and Michael Crawford the respective leads. At the Menier, comic Marcus Brigstocke takes the title role.
Barnum is MC, ring-master and narrator on Paul Farnsworth's inventive set (complete with revolving circus ring) as he tells his life story and introduces his circus acts, explaining how he uses the power of persuasion, or "humbug" as he calls it, to get the public to roll up, roll up at his shows. There are jugglers and tumblers – plus real-life characters from his shows such as Tom Thumb (Harry Francis), Swedish soprano Jenny Lind (Celinde Schoenmaker) and the world's oldest woman Joice Heth (Tupele Dorgu).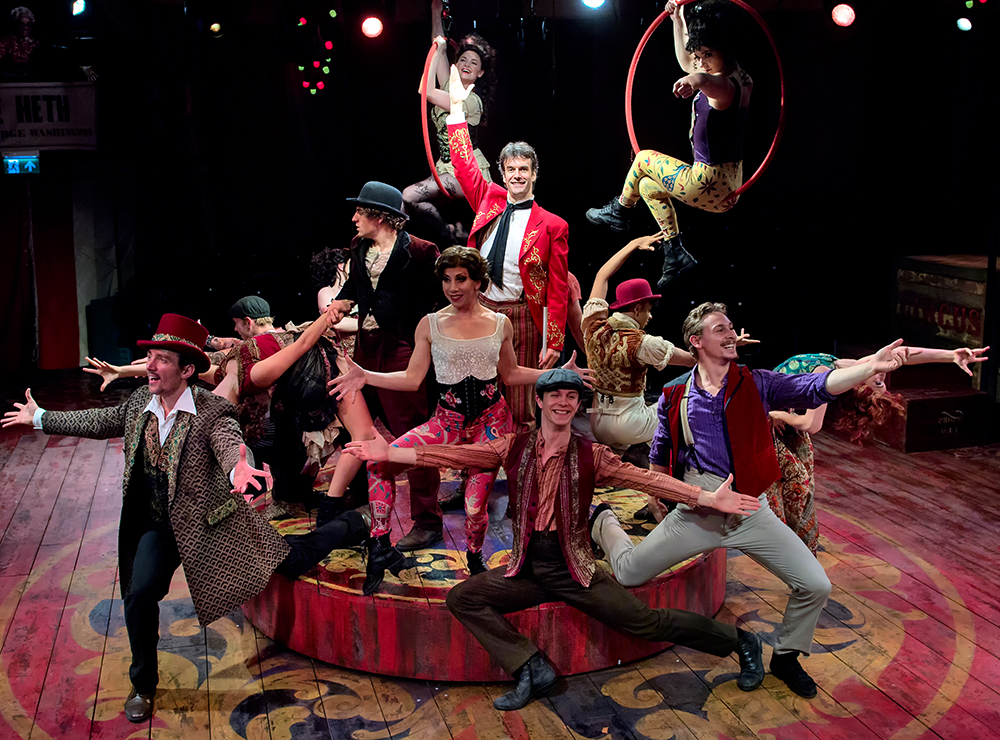 Much of what Barnum says is hokum – the opening song is after all "There Is a Sucker Born Ev'ry Minute" – but his serious-minded and loyal wife Chairy (Laura Pitt-Pulford) has his number. She's even represented in one circus vignette as "the most ferocious of all jungle beasts" and the scenes between husband and wife are often touching while providing much of the evening's comedy as they bicker over nothing much.
Brigstocke is not a powerful singer but what he lacks in vocal skills he makes up with humour and ease in a role where he is on stage most of the time. The singing by the two women in Barnum's life is, however, superb, and Pitt-Pulford laces Chairy's long-suffering sweetness with some guile, while Schoenmaker plays the vampish diva – Barnum loses his head, and almost his marriage, over her – with aplomb. The ensemble (pictured above) are terrific, and their tumbling and gravity-defying body throws often take the breath away, while Rebecca Howell's choreography cleverly marries movement and their circus skills in what is a very energetic show.
The frantic pace of the first half dips in the second as we see Chairy's death and Barnum successfully run for political office – he was a man ahead of his time, believing in universal suffrage – and the lack of jeopardy in Barnum becomes obvious. But then, Barnum wasn't about reality, he just wanted people to have a good time – and you certainly will at this show.
Barnum is at Menier Chocolate Factory until 3 March 2018

The ensemble are terrific, and their tumbling and gravity-defying body throws often take the breath away
rating
Explore topics
Share this article