Stronger review - Oscar-worthy straight talk and tough love |

reviews, news & interviews
Stronger review - Oscar-worthy straight talk and tough love
Stronger review - Oscar-worthy straight talk and tough love
Jake Gyllenhaal as a Boston Marathon bomb non-victim, in superb romance
Saturday, 09 December 2017
Erin (Tatiana Maslany) and Jeff (Jake Gyllenhaal)
There are many obvious Hollywood responses to someone losing their legs in the Boston Marathon bombing. Director David Gordon Green waits his whole film to make one.
His subject Jeff Bauman (Jake Gyllenhaal) possessed too little bullshit, and too much muddled angst, and had too much to drink to behave the way a crassly patriotic public which included his mum expected. He refused to be "Boston strong". So does
Stronger
.
The bombing itself is a matter of happenstance, as rangy warehouse worker Jeff makes a barroom promise to his on/currently off girlfriend Erin (Tatiana Maslany) to cheer her at the Marathon finish line. The bomber bumps by him, misty and faceless. Then the double explosion is seen at a distance, and in fragments. Surgery isn't lingered on either. Soon, Jeff is back in the upstairs apartment he shares with mum Patty (Miranda Richardson), gone below the knees.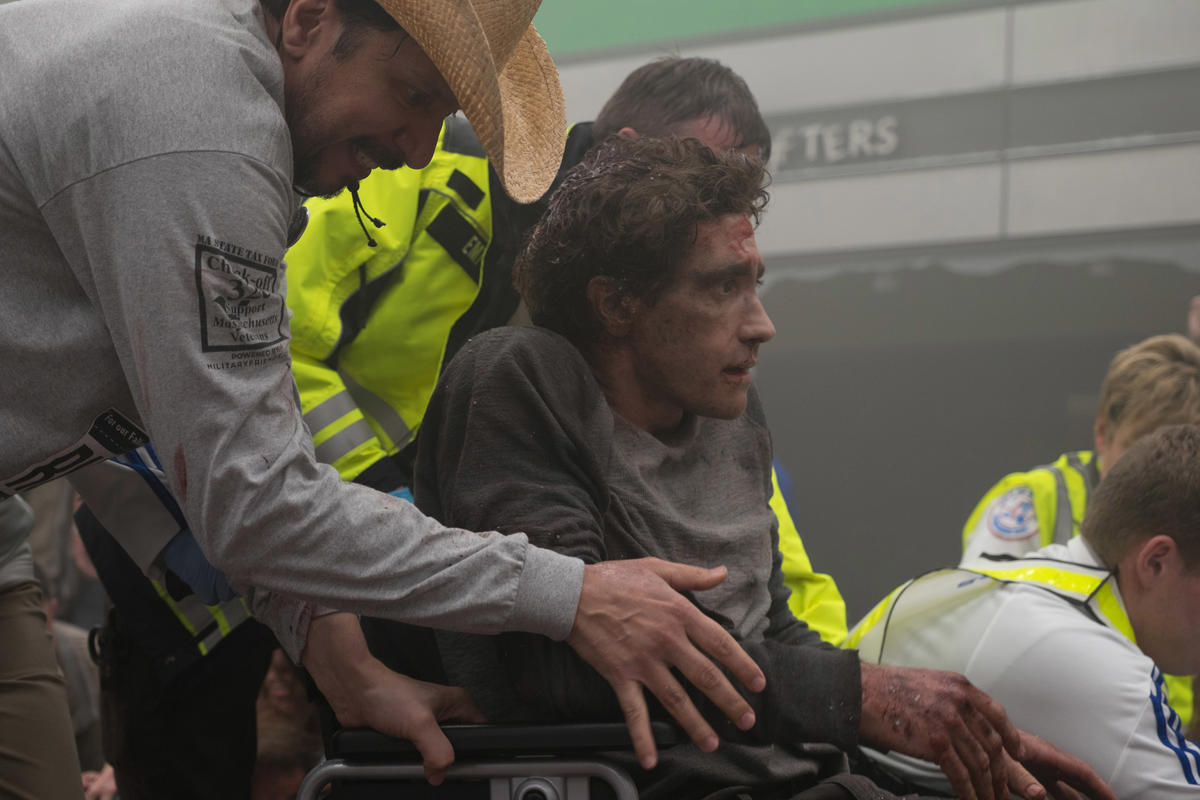 By this time, we've met the extended family and friends, a working-class clan who wouldn't usually be given house-room with a worthy subject like this. Led by pasty, sozzled Patty – Richardson at her immersive, subtly funny best – they're loud, argumentative, really like a drink, and don't have a clue what to do about Jeff. So they carry on as before, and so does he. There's not much time for heroic rehab, what with all the parking-lot parties, barroom fights and drunken car chases. Patty, meanwhile, soaks up the attention, unilaterally booking him on Oprah, and regaling him with "opportunities". (Pictured below: Jake Gyllenhaal, Miranda Richardson and Tatiana Maslany)
Appropriate mother-love in particular struggles to surface at all. Yet there is straight and true love here, minus middle-class manuals and money. His friends make his disability irrelevant, continuing to respond to his character, torpedoing the tough watch you might expect. In fact, Jeff turns into such an insufferable arsehole that it becomes easy to forget why, till a flashback's sudden, grisly reminder.
Green's career is only surpassed by Richard Linklater in recent times for its unpredictable turns, but he made his name with low-budget, romantic, sensuous character studies such as All the Real Girls. He taps that in the core relationship between Jeff and Erin. She's the sober straight-talker who brings him back to sexual life, and gets him to rehab even when he's hungover, washing him and wiping off his shit. Maslany fully, unglamorously inhabits a woman who leaves Jeff crawling across a car-park, wailing, when he's pissed her off. Playwright John Pollono's screenplay really doesn't know the Hollywood rules. It's so good to have them gone.
Gyllenhaall, meanwhile, is unfussy, undemonstrative and sardonic, dodging Oscar-bait clichés, and relishing a script which confronts the cruel demands of celebrity and patriotic symbol which strangers demand of Jeff. He doesn't feel like proof the terrorists haven't won, he tells one selfie-stalker, when he looks where his legs used to be. At the very last he accepts, even craves such responsibility. Green, though, is still making a stormy romance. When tears finally flow, Stronger, like its subject, has earned them.