Coates, Tenebrae, Short, Kings Place review - effective meeting of cello and choir |

reviews, news & interviews
Coates, Tenebrae, Short, Kings Place review - effective meeting of cello and choir
Coates, Tenebrae, Short, Kings Place review - effective meeting of cello and choir
Delightful programme of old and new music is a refreshing Christmas treat
Tenebrae choir with conductor Nigel Short
This time of year lots of choirs give lots of Christmas concerts that are more or less the same: traditional repertoire perhaps sprinkled with a few novelties.
But Tenebrae's concert on Saturday at
Kings Place
broke the mould with some imaginative programming, giving us
just
enough
Christmas
but no more, and some quite stunning choral singing.
Although scheduled as the final concert in the year-long "Cello Unwrapped" series, this was really a choral concert with obbligato cello items and a couple of solo cello numbers. But the occasional presence of the cello was enough to offer a distinctive tinge to the sound-world of the evening. Cellist Oliver Coates, an enterprising and boundary-crossing musician, was equally at home in the contrasting worlds of Gabriel Fauré and Jonathan Harvey.
The singers of Tenebrae, under the careful but not fussy direction of Nigel Short (pictured below), were similarly adaptable and sensitive to the individual demands of the pieces. I have not heard Tenebrae live before, although I know several of their discs very well. I was struck by the unforced purity of their sound, the pin-sharp accuracy of rhythm and pitch, and the constant subtle changes of colour. They were helped by the sympathetic acoustic of Kings Place, which must be very enjoyable to sing in.
The opening item, Poulenc's Quatre motets pour le temps de Noël, was beautiful, the first chords emerging as if from nowhere, the music simultaneously ancient and modern. The singers' responsiveness to Short was evident in the rhythmic corners of the second motet, and I loved the way they changed their tone according to shades of meaning in the text.
The other highlight of the first half, and the heart of the whole programme, was Jonathan Harvey's Lauds, for choir and solo cello. Harvey's choral music can be either very simple or very complex with little middle ground, and Lauds is certainly at the complex end. Tenebrae met the technical challenges of its dense chromatic harmony head on, creating at times a halo of voices, at others an edgy, bracing timbre. The cello offered a continual commentary, using a narrow range of pitches but a wide range of playing techniques, flamboyantly brought off by Oliver Coates.
Where the first half had a strongly French flavour, with Fauré, Debussy and Saint-Saëns represented, the second half was predominantly British, with Christmas coming to the fore.
One of the most modern sounding pieces was the oldest: a 13th century anonymous setting of Angelus ad Virginem in a two-part counterpoint full of contemporary-sounding progressions. Tenebrae bounced and buzzed through it with thrilling energy before coming straight back down to earth with Peter Warlock's I saw a fair maiden, which in its understated simplicity was perfection: it just could not have been sung any better.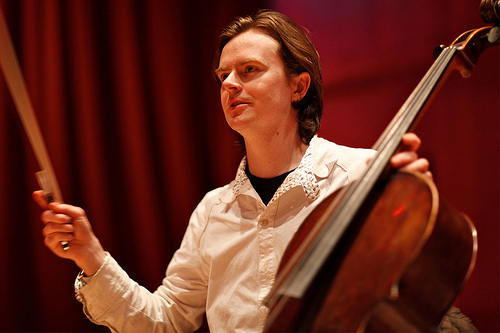 The most unusual item was John Luther Adams's Three High Places for solo cello. These meditations depict locations in Alaska, Adams's home, via the most minimal of means. The cello plays only open strings or natural harmonics: there are no stopped pitches at all. In their slow unfolding the pieces conjure a vastness and a stillness, the second using Bach-like string crossing patterns to create an utterly un-Bach-like effect. Played with committed intensity by Coates (pictured above, photo Jana Chielliano), the last one seemed to run out of steam a bit and, to paraphrase Stravinsky, finished too long after the end.
The final item – Vaughan Williams's Fantasia on Christmas Carols – was the most traditionally Christmassy, but felt like it had been earned. This single-movement medley of three traditional carols with cello and organ accompaniment is echt Vaughan Williams, firmly rooted in modal harmony and traditional tunes. Baritone soloist Stephen Kennedy moved from a hushed first verse to a full-throated "That he would redeem us by his Son". "The Sussex Carol", alternating verses between soloist and choir, was a joyous and high-spirited ending to an enterprisingly programmed and exquisitely performed Christmas treat.
I was struck by the unforced purity of Tenebrae's sound and their constant subtle changes of colour
rating
Explore topics
Share this article