Come to Dust: Glenn Brown, Gagosian Gallery review - seductive and disturbing |

reviews, news & interviews
Come to Dust: Glenn Brown, Gagosian Gallery review - seductive and disturbing
Come to Dust: Glenn Brown, Gagosian Gallery review - seductive and disturbing
Old masters given freakish new life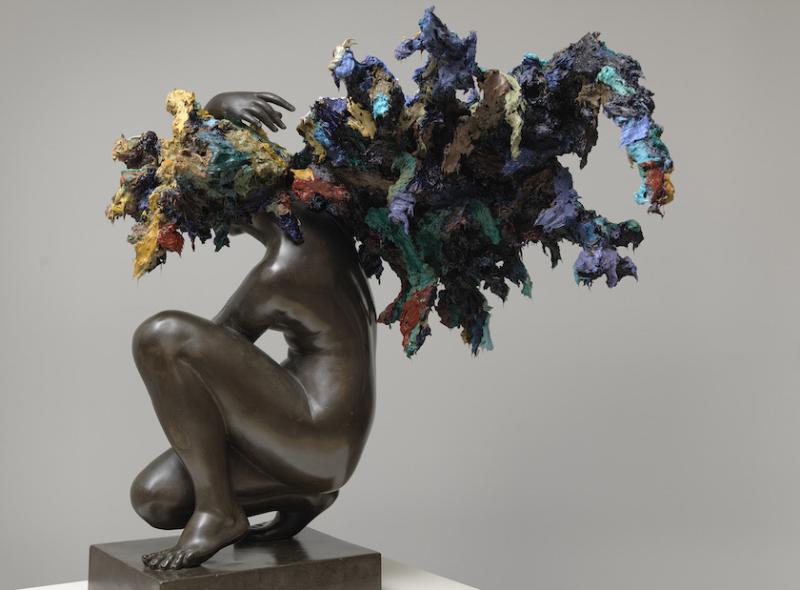 'Let me ferry you out to sea To see who you could have been When the time comes to row back in You'll be in the place you should have been', 2017, by Glenn Brown
When I began studying art history, my Bible was Ernst Gombrich's The Story of Art. The reproductions are mostly in black and white and, thumbing through my dusty old copy, I find a photograph of the Jesuit church in Rome, whose ceiling was transformed by the painter Giovanni Battista Gaulli into a glorious vista of the heavens teaming with cherubs, angels and saints.
The reproduction is less than 13 x 17 cms, so Gaulli's throng is reduced to an ecstatic tangle of tiny monochrome swirls comprising limbs, drapery, clouds and shafts of celestial light. The content is abstracted, yet the drama remains intact. And it looks remarkably like a
painting
by Glenn Brown.
Brown is fascinated by the way our understanding of works of art is mediated by second hand encounters like this. Changes in scale and colour are key aspects of the process and he often works from poor quality reproductions that introduce extreme discrepancies. Painted in black and white, Let's Make Love and Listen to Death from Above, 2017 (pictured right) is an S-shaped sweep of figures ascending to glory on billowing clouds.
The source could be by Gaulli or any number of Baroque artists, but identifying the original is not the point. The issue is how the meaning of a painting is affected both by time and the context in which it is seen. Once you've flown above the clouds, for instance, you are unlikely to think of them as vehicles for an ascent into heaven; but that need not destroy the euphoria which Brown's upward surge of the elect might engender, even if his figures are reduced to little more than squiggles and curlicues.
The artist clearly admires the artworks he appropriates, yet his relationship to them is paradoxical. Paintings of ascension are a declaration of belief in the afterlife, proof that faith can overcome death. But if, as an artist, you live in an age of scepticism and are working for yourself rather than a powerful institution like the 17th century church, what message can you hope to convey? Brown's title Lets Make Love... echoes the way hedonism often fills the gap left by loss of belief, while acknowledging the impotence of the lone voice crying into the wilderness.
Meanwhile, his paint handling is similarly at odds with the subject matter. His brushwork may appear to be expressive yet is as flat as the surface of a reproduction; freedom of expression is replaced by a meticulously controlled illusion of spontaneity. In portraits such as They Slipped the Surly Bonds of Earth and Touched the Face of God, 2017 (pictured left: detail) this has the disquieting effect of making the sitter's face look hairy or leprous. The sombre browns of Rembrandt's original have been transformed into lurid colours; with its yellow highlights, the turquoise skin looks sickly and corrupted, while the red nose and smiling red lips convey a clown-like cheeriness.
Even spookier is Life on the Moon, 2016; a woman gazes heavenwards through opaque blue eyes outlined in red, as if she were blind. While her porcelain smooth skin is a chilly blue, her red lips and the red ribbons decorating her green hair fail to infuse her with much warmth. The original sitter was Madame Grand, painted in 1783 by Elizabeth Le Brun, but over the centuries she seems to have morphed into an embodiment of the undead.
In sculptures such as Let Me Ferry You Out to Sea... 2017 (main picture), Brown achieves the opposite effect. The sterile perfection of a 19th century bronze sculpture is disrupted by a flurry of brushmarks that seem to have fallen off a painting and solidified into a chaotic morass of colour. Balanced on the head and shoulder of the naked nymph, this incongruous burden offers to warm the chilly bronze with wanton pulsations of unruly life.
Antique picture frames offer yet another starting point. An elaborately carved and gilded wooden frame provides the impulse for a drawing of a boy's head seen from above. His curls mirror the curves of the surrounding frame so closely that, although they clearly portray sinuous locks of hair, one tends to see them as abstract reflections of the woodwork.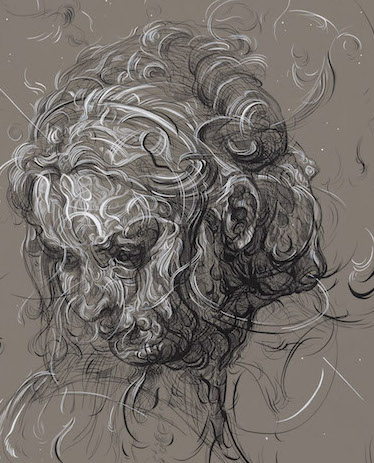 The duality of artworks as both images and physical objects is an ongoing preoccupation and, in this respect, the drawings are the most impressive. From a distance, The Music of the Mountains, 2016 (pictured right: detail) is a convincingly solid depiction of a woman's head, yet the image is nothing more than a loose web of marks through which the ground is visible. Close-to the head dissolves into a flurry of overlapping lines – black ink for dark areas, white acrylic for highlights. Acting both as supporting skeleton and surface texture, they construct an impression of volume yet, at the same time, record superficial details like eyebrows and hair. Although based on a work by Raphael, Brown's drawing employs a completely different technique to achieve similarly masterful ends.
Glenn Brown's work is seductive and disturbing in equal measure. This underlying ambiguity stems from the fact that the pictures look derivative but are highly original; while paying homage to the old masters, they also give new and sometimes freakish life to iconic images. By reinventing the language of painting and drawing, Brown unsettles our understanding of the familiar favourites that he appropriates and offers disquieting new insights.
Once you've flown above the clouds, you are unlikely to think of them as vehicles for an ascent into heaven
rating
Explore topics
Share this article