Mum, BBC Two, series 2 review - Lesley Manville is a discreet delight |

reviews, news & interviews
Mum, BBC Two, series 2 review - Lesley Manville is a discreet delight
Mum, BBC Two, series 2 review - Lesley Manville is a discreet delight
Stefan Golaszewski's sitcom returns for more gentle comedy about imperfect families
Wednesday, 21 February 2018
Cathy comes home: Lesley Manville in 'Mum'
This week brings a tale of two comedies. Both half-hour sitcoms are about widowed mothers with grown-up sons still at home. Each woman has an unattached admirer. Both shows star fine comic actresses who learned much of their craft in the films of Mike Leigh. And the new series started two days apart. On BBC One was Hold the Sunset.
Back for a second series on
BBC Two
was
Mum
.
I greeted the arrival of the former with a review to which John Cleese, who stars as the admirer of Alison Steadman, took great exception on Twitter. Humour is of course subjective. But commenters under theartsdesk's review all seem to feel likemindedly underwhelmed by Hold the Sunset. Several declared themselves to be in their sixties and therefore belonging to the show's target audience. They have reason to feel much more cheerful about Mum.
In the first episode the titular character Cathy (Lesley Manville) was celebrating her 60th birthday. Her son's girlfriend Kelly (Lisa McGrillis) didn't think she looked a day over 58, which is a wonderful old joke from Woody Allen's stand-up routine. The truly stupid Kelly doesn't do irony. When Cathy's admirer Michael (Peter Mullan in a new shirt) talked to her about the technical aspects of guttering, her eyes grew filmy with panic. "Can I go now?" she said after a bit. Sweetly deaf to her own insensitivity, she is the ideal partner for her boyfriend Jason (Sam Swainsbury, pictured below), whose goofy ability to misread situations is matched by a miraculous belief in his own intuitive wisdom. "People take the piss out of yer," he counselled Michael, "but you're a good bloke." Thanks to his meddling Cathy missed out on a bootful of presents in Michael's car.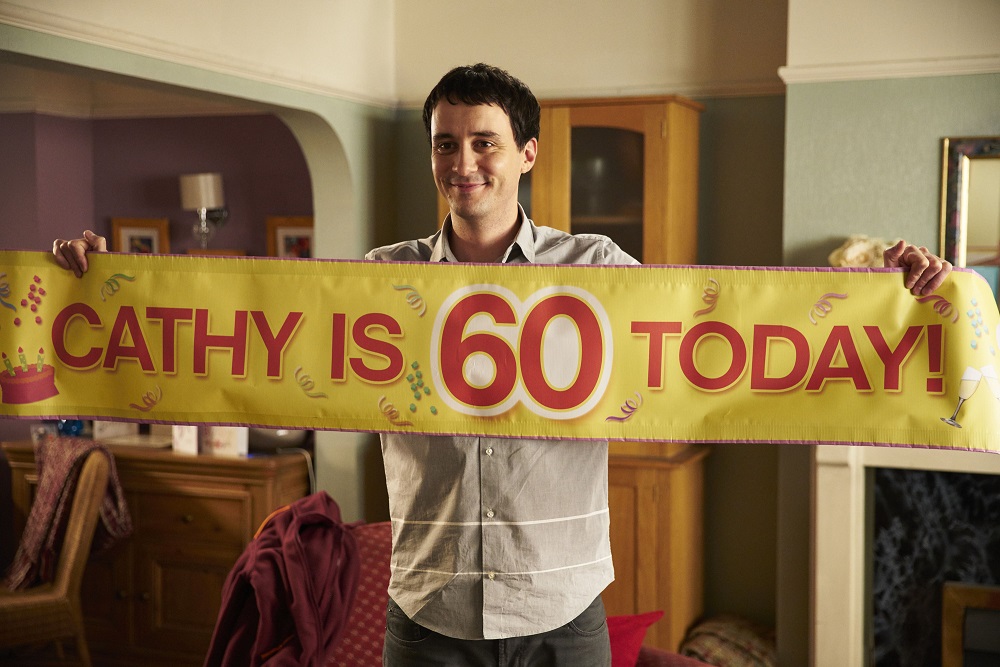 The thing that feels so true about Mum is its forgiving stance on the imperfections of families. Cathy's crotchety old in-laws Reg and Maureen (Karl Johnson and Marlene Sidaway) bring a cussed indifference to peace and harmony with their foul mouths and cruel laughter. The turbo-snob Pauline (Dorothy Atkinson) is a seething study in tightly coiled rage. Her little name-dropping fusillade about playing badminton with Rosalind Hampton-Jones, wife of Sir Nicholas, whose nephew was at primary school with Kate Middleton, who was "thick as shit at four", was priceless with detail.
Stefan Golaszewski's script steers clear of the big moments - the birthday lunch in the carvery happens off the premises – just as Cathy avoids the big emotions, greeting gross provocations with pinched smiles and tolerant silences. (Mum's the word.) Lesley Manville is as masterly in this on the small screen as she is in Phantom Thread on the big screen and Long Day's Journey into Night on the West End stage. What an actress she is. The previous series ended tearjerkingly with Cathy and Michael clutching hands as if on the station platform at Milford in Brief Encounter. By the end of this series, may their two hearts be one and wedding bells be ringing. And Kelly seems to be pregnant, which opens up whole vistas. Mum is a discreet delight.