A Fantastic Woman review - from Chile with heat |

reviews, news & interviews
A Fantastic Woman review - from Chile with heat
A Fantastic Woman review - from Chile with heat
Powerful romance about a young trans woman and her doomed lover
Daniela Vega as the eponymous heroine of 'A Fantastic Woman'
The woman of the title is not the first person we meet on screen; we meet her lover, a 57-year-old silver fox Orlando (Francisco Reyes). He's getting a massage in a sauna and then returning to his office where he owns a printing company. We meet him again later. He's looking for someone, a beautiful merengue singer performing in a fancy hotel. Marina (Daniela Vega, pictured below with Reyes) sings "Your love is yesterday's newspaper" and they lock eyes.
Marina has been Orlando's lover for a year, they share his flat, she adores his dog Diabla. They enjoy a romantic birthday dinner in a Chinese restaurant. But Orlando has an ex-wife, a seven-year-old daughter and an adult son by a previous marriage. And Marina is not only 30 years Orlando's junior, but a young trans woman. She may long to be his life partner and a singer, but she is not destined for a long romance with Orlando.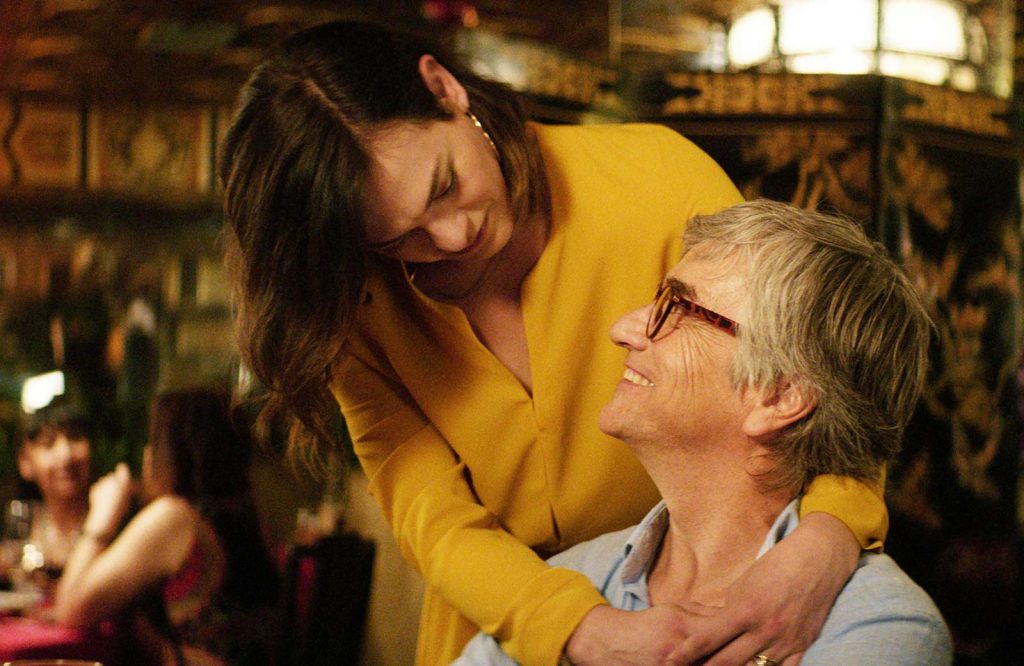 Chilean writer-director Sebastián Lelio made the wonderful Gloria in 2013 and has deservedly won a 2017 Best Foreign Language Film Oscar nomination for A Fantastic Woman. This is an extraordinarily moving romantic drama with shades of Hitchcock's Vertigo. Marina finds herself accused of murder, humiliated, evicted, excluded, bullied and deprived of the right to mourn.
Through it all, the camera holds the actor Daniela Vega centre frame. We watch Vega's beautiful, powerful face and her defiant body, scorned by a transphobic culture. Predominantly realist in style and set in the ultra-modern city of Santiago, there are several distressing scenes where Marina is brutally abused and yet stays strong. But these scenes are countered by Lelio's more visionary elliptical sequences. Marina is framed over and over again in mirrors and the director's brief sequences of camp fantasy and ghostly sightings of Orlando recall Jean Cocteau at his finest. We see Marina walk in a trance through a series of underground, labyrinthine corridors, searching for her Orpheus.
As well as Chilean torch songs, the soundtrack pays homage to Bernard Herrmann and Cat Stevens while ruthlessly deploying Carole King's ballad (You Make Me Feel Like A) Natural Woman and a superb Handel aria. It's an audacious mixture of musical genres which matches perfectly the film's daring subject matter and its refusal to conform to any one stylistic model. If Daniela Vega can be both a man and a woman, then Lelio can make a film that crosses genres and defies conventions too. A Fantastic Woman is magnificent in every way.
Overleaf: watch the trailer for A Fantastic Woman
It's an extraordinarily moving romantic drama with shades of Hitchcock's 'Vertigo'
rating
Explore topics
Share this article